Art and science mix in the Art Gallery of Alberta's Spring/Summer exhibitions, starting April 30. Ociciwan Contemporary Art Collective presents an exhibition of new works by internationally known artists Duane Linklater and Tanya Lukin Linklater.
The exhibit is entitled A Parallel Excavation: Duane Linklater & Tanya Lukin Linklater and it will be on display from April 30 – September 18, 2016. Featuring installation work by both artists, the exhibition explores notions of excavation in relation to the intellectual, environmental and cultural resources most immediate to the artists.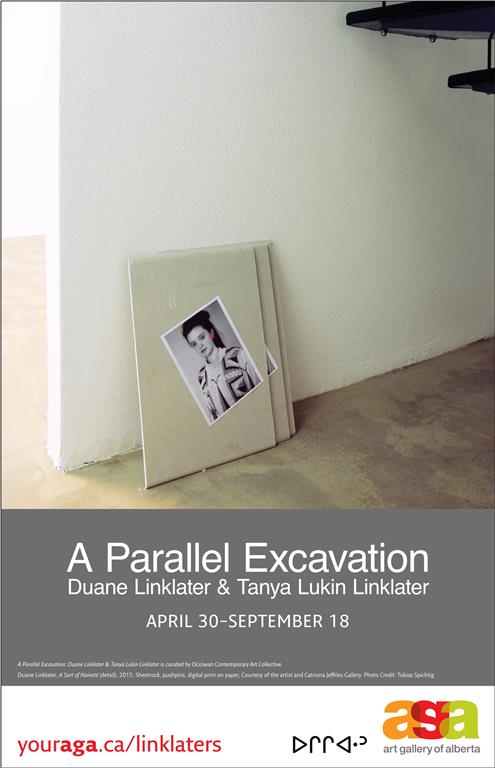 Duane Linklater investigates the structure and materiality of the gallery wall itself, which includes gypsum, wood and steel, and considers the political implications of those materials as resources extracted in Canada. Tanya Lukin Linklater's sculptural work excavates the Art Gallery of Alberta's archival records to investigate the complex relationships of Indigenous peoples and artists to institutions, museums and galleries.
While you are at the Art Gallery of Alberta, located at #2 Sir Winston Churchill Square in Edmonton, be sure to visit the breathtaking 7: Professional Native Indian Artists Inc. that features the extraordinary art of the highly acclaimed Indian Group of Seven – Norval Morrisseau, Eddie Cobiness, Alex Janvier, Daphne Odjig, Jackson Beardy, Carl Ray and Joseph Sanchez. Click here for related coverage.
Also on exhibit is a very interesting display from the Bearhat sisters entitled Little Cree Women: Sisters, Secrets, Stories. Click here for related coverage.