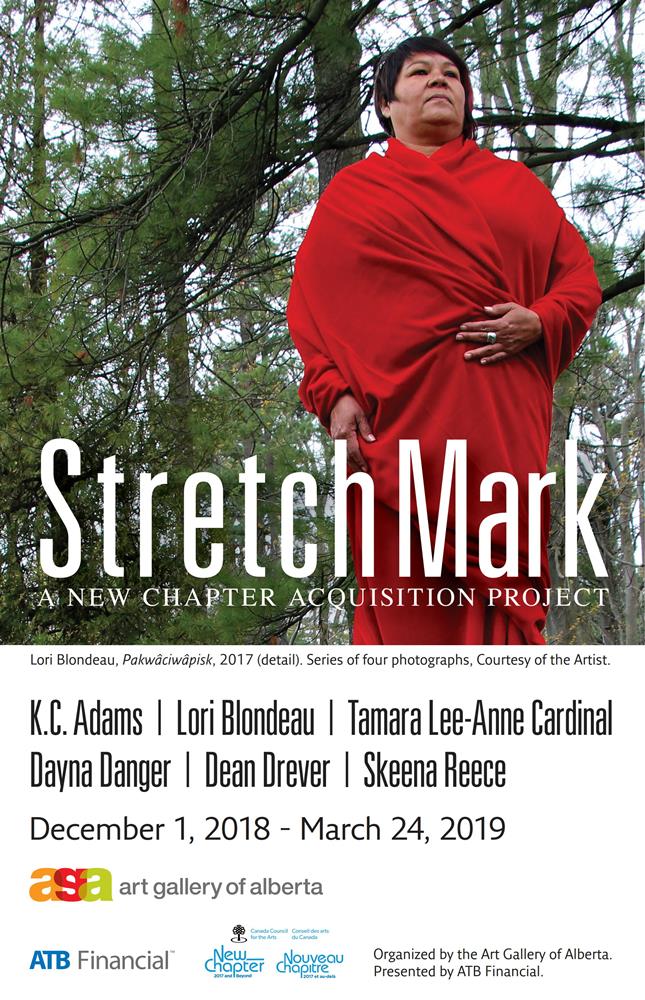 (ANNews) – The Art Gallery of Alberta presents the third in a series of four exhibitions featuring works by six contemporary Indigenous, First Nations, Inuit and Metis artists, newly acquired for the AGA's collection. StretchMark opens at the Art Gallery of Alberta on December 1 and continues until March 29, 2019. The exhibit explores tension resulting from moments of rapid growth or change, like stretchmarks. These marks, in the artistic sense, are physical manifestations which honour the difficulty of these processes.
StretchMark: A New Chapter Acquisition Project is curated by Franchesca Hebert-Spence, AGA Adjunct Curator of Indigenous Art, and supported by a New Chapter grant from the Canada Council for the Arts. This initiative ensures that works by significant contemporary artists are shared and maintained for the future. The exhibit is organized by AGA, located in downtown Edmonton at #2 Sir Winston Churchill Square and it is presented by TD.
StretchMark is one of the 200 exceptional projects funded through the Canada Council for the Arts' New Chapter program. With this $35M investment, the Council supports the creation, and sharing of the arts in communities across Canada.
The following artists are featured in the exhibit:
KC Adams graduated from Concordia University in 1998 with a B.F.A. and has had numerous solo exhibitions, group exhibitions and several Biennales over the course of twenty years. She has participated in residencies around the world and received several grants and awards from Winnipeg Arts Council, Manitoba Arts Council and Canada Council for the Arts. Adams has been an arts educator since 2001 and is currently teaching at Brandon University. Twenty of her Cyborg Hybrid photographs are in the permanent collection of the National Art Gallery in Ottawa and her installation Birch Bark Ltd is in the collection of the Canadian Consulate of Australia, NSW.
Lori Blondeau is an interdisciplinary artist working primarily in performance and photography. She is Cree/Saulteaux/Métis from Saskatchewan and holds an MFA from the University of Saskatchewan. In addition to her extensive exhibition history, Blondeau is co-founder of the Indigenous artist collective, TRIBE, and has sat on the Advisory Panel for Visual Arts for the Canada Council for the Arts. Blondeau has exhibited and performed nationally and internationally. In 2007, Blondeau was part of the Requickening project with artist Shelly Niro at the Venice Biennale. She recently had a solo exhibition at Urban Shaman Contemporary Aboriginal Art Gallery, Winnipeg and was part of the Scotia Bank Contact Festival in Toronto. Her art is held in both public galleries and private collections.
Tamara Lee-Anne Cardinal is a multi-media artist, community activist, oskâpêwis, storyteller and life-long learner. Born and raised in Lloydminster, she now lives in Calgary and traces her ancestral roots to Saddle Lake Cree Nation. Since graduating from the Alberta College of Art + Design in 2015, she attended Culture Camp at Blue Quills First Nations University, participated in Emily Carr University of Art + Design's Urban Access to Aboriginal Art Program, was awarded the BMO 1st Art National Award and has attended the Indigenous Visual + Digital Arts Residency 2016 in Banff, Alberta. Her artwork continues to reflect the teachings she receives along her journey, inviting all people to become a part of the process.
Tio'tia:ke – Moonyang, (Dayna Danger) is 2Spirit, Métis, of Anishinaabe (Saulteaux) – Polish descent with a BFA, MFA. Through utilizing the processes of photography, sculpture, performance and video, Danger creates works and environments that question the line between empowerment and objectification, by claiming the space with her larger than life works. Ongoing works exploring BDSM and beaded leather fetish masks address the complicated dynamics of sexuality, gender and power in a consensual and feminist manner. Danger has exhibited her work nationally and internationally and has been the recipient of various grants, awards and honours, as well as participated in residencies at the Banff Centre for the Arts and at Plug In Institute of Contemporary Art. Danger currently serves as a board member of the Aboriginal Curatorial Collective (ACC/CCA) and is an Artist in Residence through Initiative for Indigenous Futures at AbTeC.
Dean Drever(b. 1970) is a member of the Haida First Nation. He was born in Edmonton and studied sculpture at the Alberta College of Art and Design in Calgary. His work has been shown nationally and internationally. Recent exhibitions include Villa Toronto at Union Station in Toronto, Everything's Going To Be OK Again Soon – a survey show of Drever's work from 1998 to present, curated by Robert Enright at the Art Gallery of Grande Prairie, and Fiction/Non-Fiction – a group show curated by Naomi Potter, Wayne Baerwaldt, and Steve Loft at the Esker Foundation in Calgary and "MKG127" at 57w57 in New York City. Drever is currently working on three large public art commissions to be installed in 2018, and a book project with American novelist Barry Gifford.
Skeena Reece is a Tsimshian/Gitksan and Cree artist based on the West Coast of British Columbia. She has garnered national and international attention most notably for Raven: On the Colonial Fleet (2010) her bold installation and performance work presented as part of the celebrated group exhibition Beat Nation. Her multidisciplinary practice includes performance art, spoken word, humor, "sacred clowning," writing, singing, songwriting, video and visual art. She studied media arts at Emily Carr Institute of Art and Design and was the recipient of the British Columbia award for Excellence in the Arts (2012) and The Viva Award (2014). For her work on the award winning film, Savage (2010) by Lisa Jackson, Reece won a Leo Award for best actress. She participated in the 17th Sydney Biennale, Australia. Recent exhibitions include, The Sacred Clown & Other Strangers (2015) a solo exhibition of her performance costumes and documentation at Urban Shaman Contemporary Aboriginal Art, Winnipeg and solo show Moss at Oboro Gallery, Montreal (2017). As well an iteration of Sweetgrass and Honey/Moss traveled to the Comox Valley Art Gallery as Touch Me solo show in 2018.
Curator Franchesca Hebert-Spence is an MFA candidate at the University of Winnipeg, in the Masters of Arts in Cultural Studies stream with a BFA in ceramics from Ishkabatens Waasa Gaa Inaabateg, Brandon University Visual and Aboriginal Arts program. Her research focuses on identity both as an Indigenous woman as well as a feminist. Hebert-Spence began her art journey as a maker which has created an empathetic lens within her curatorial praxis. Kinship is a common theme within her projects and those responsibilities direct the engagement she maintains within her community. Hebert-Spence is currently Programme Coordinator at Manitoba Craft Council.
Click here for more information.
Celebrating its prominent location in the heart of the Arts District in downtown Edmonton, the AGA connects the Gallery and the community, welcoming visitors to experience art first hand. It is a world-class centre for the presentation of regional, national and international art, education and scholarship. The 85,000 sq. foot building, which opened in 2010, is itself a work of art that solidifies Alberta's Capital as a world-class city. For information visit youraga.ca.