by John Copley
(ANNews) – If you haven't yet visited the Art Gallery of Alberta's (AGA) latest series of exhibitions there's no time like the present to do so. The main and second floors of the gallery are filled with a unique blend of artistry. The first of the two newest exhibits, Calling Stones (Conversations), October 28, 2017 to February 19, 2018, was created by southern Alberta-born Kainai artist Faye HeavyShield. The second exhibit, WordMark, October 28, 2017 to March 25, 2018, features a series of creations by Raymond Boisjoly, Bob Boyer, Dean Drever and Amy Malbeuf that engage the viewer via "the complexity of visual communication, through the interweaving of language, image and symbolism."
HeavyShield, whose work mainly comprises sculpture and photography, is presenting a new body of work inspired by her visits to the Majorville Medicine Wheel (Iniskim Umaapi) in southern Alberta and the stories of her ancestors that are rooted there. An important centre of traditional ceremony and worship, Iniskim Umaapi has been continuously used for over 4,500 years, making it one of the oldest religious monuments in the world.
"Drawing from her responses to this site, its history and her own heritage, HeavyShield's work provides both a personal and conceptual connection to the past, linking generations of Indigenous peoples to the present lives of the Kainai people," explained AGA Executive Director and Chief Curator, Catherine Crowston. "Faye is a senior Alberta artist whose work is very connected to the landscape of southern Alberta. Her art work is based on the story of the woman who came back to earth on the web of a spider; a story that's connected to the Medicine Wheel."
"My art," noted HeavyShield in her artist's statement, "is a reflection of my environment and personal history as lived in the physical geography of southern Alberta with its prairie grass, river coulees, and wind and an upbringing in the Kainai community (with a childhood stint in the Catholic residential school system). The past, present and imagined make up the vocabulary used to realize my thoughts and ideas; responses and references to the body, land, language."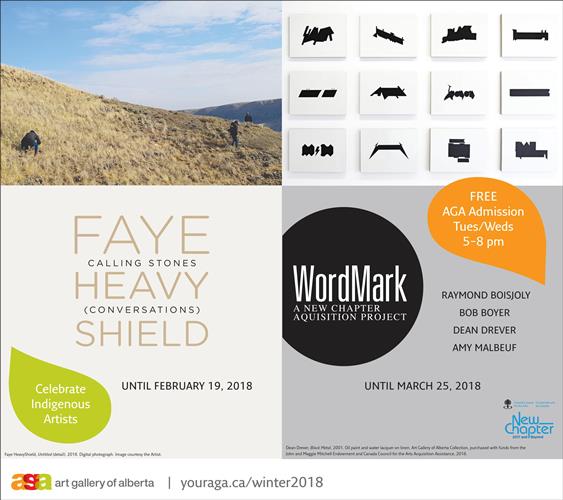 Her new work, she notes in the statement "is driven and inspired by her memories, her family and her community and are often composed of circles, spirals, grids and lines, recalling the bonds of families and the gathering of communities."
Organized by the AGA, WordMark is the first in a series of four exhibitions that will feature works by contemporary First Nations, Inuit and Metis artists, newly acquired for the AGA's permanent collection.
"It is through the creation and public exhibition of museum collections that histories of art are written and remembered," noted Crowston. "This important initiative, funded by the Canada Council for the Arts "New Chapter" grant program, will ensure that works by significant contemporary artists are shared with the public and maintained as a lasting legacy for the future."
Crowston approached the Canadian Council for the Arts for money to purchase Indigenous art from Alberta artists "and from other artists whose work is important, artists like Bob Boyer, an important and influential Canadian artist."
Unfortunately, Boyer a well-known Saskatchewan-born Métis artist passed away in 2004. Born in 1948, he earned a Bachelor of Education degree (1971) at the University of Saskatchewan and during his life served in many art and education positions while pursuing his artistic practice. His positions included curator at the MacKenzie Art Gallery in Regina and Head of the Department of Indian Fine Arts at the Saskatchewan Indian Federated College in Regina. Boyer's art has been exhibited across Canada and internationally, most recently through a major posthumous retrospective of his work organized by the MacKenzie Art Gallery titled "Bob Boyer: His Life's Work."
Boyer addressed colonial issues both through his work and his political actions. He advocated for increased recognition of Indigenous artists through the Society of Canadian Artists of Native Ancestry (SCANA) and highlighted contemporary Indigenous artists through his role as a curator.
"Our goal was and is to purchase art from both emerging artists such as Amy Malbeuf and from established artists such as Boyer and Raymond Boisjoly, a Haida artist who makes his home on Canada's west coast."
Amy Malbeuf is a Métis artist from Rich Lake, Alberta. She graduated with a BFA from the Alberta College of Art and Design in 2010 and received a Native Cultural Arts Instructor Certificate from Portage College in Lac La Biche in 2012. She has also earned an MFA from the University of British Columbia's Okanagan campus and continues to participate in residencies and exhibit her work internationally. By combining media such as caribou hair tufting, beadwork, installation, video and performance, Malbeuf addresses the intersections of language, place and ecology.
Malbeuf has received many accolades for her artistic creations and just last year received the Lieutenant Governor of Alberta Emerging Artist Award and the William and Meredith Saunderson Prize for Emerging Artists in Canada.
"This particular exhibition showcases some of the beautiful work she creates via a technique known as tufting, in this case caribou hair tufting," created primarily in circular images with written messages that deliver food for thought to those who view them.
Dean Drever is a Haida/Canadian who was born in Edmonton in 1970. His unique 2011 creation, Black Metal, is an interesting and thought-provoking piece of art that highlights the symbols of well-known rock band legends.
"Drever's work will definitely inspire the imagination of the viewer," noted Crowston, "because though he is interested in creating work that has a particular or specific message, he takes something away from the original and makes its identification a little more complicated."
In this particular exhibit, as in some of his previous work, Drever references a series of popular and recognizable cultural icons that are void of original content (save the shape) and blacked-out to create one-dimensional shapes that seemingly resemble Haida art forms.
"The positive and negative space created through Drever's alterations," notes the work's bio, "resemble the graphical blocks of colour used in the visual traditions of Northwest Coast peoples. Hovering between recognizable logos and abstract forms, the black and white logos offer dual perspective on the corporatization of identity at the expense of Indigenous or personal expression."
Black Metal highlights the logos and summons of rock bands that include: Judas Priest, Black Sabbath, Slayer, Nazareth, Motley Crue, Metallica, Iron Maiden, AC/DC, Black Flag and others.
Born in 1981 Raymond Boisjoly is an Indigenous artist of Haida and Québécois descent who lives and works in Vancouver. For the past several years he has exhibited extensively across Canada and internationally in both solo and group exhibitions. In 2016 he was a recipient of the VIVA Award, presented by the Jack and Doris Shadbolt Foundation for the Visual Arts, Vancouver and is one of the five artists shortlisted for the 2017 Sobey Art Award. His name is also on the list as a finalist (announcement Dec. 4, 2017) for the prestigious Aimia | AGO Photography Prize. The organization is celebrating its 10th Anniversary this year.
Boisjoly is an Assistant Professor of Interdisciplinary Studio in the Department of Visual Art and Material Practice at Emily Carr University of Art and Design and is artistically represented by Vancouver-based agent, Catriona Jeffries.
Treat yourself to an early Christmas present and visit the Art Gallery of Alberta; these are two exhibitions you will not want to miss.
The Art Gallery of Alberta is located at #2 Sir Winston Churchill Square in downtown Edmonton. For more information visit youraga.ca.