(EDMONTON) – Redpatch is a must-see show that tells the story of the First World War from the perspective of a Metis solider on the Western Front. Featuring an all-Indigenous cast, Redpatch is presented in partnership with Arts Club Theatre Company and Hardline Productions.
The production began in November 2011, due to a conversation between co-creators Raes Calvert andSean Harris Oliver about Calvert's Métis grandfather, who served in the Canadian Expeditionary Forces during the Second World War.
Calvert and Oliver spent three years researching Canadian military history and working on a script. They workshopped the production at Presentation House Theatre in winter of 2016, with the World Premiere of Redpatch taking place in April of 2017 (which coincided with the 100thanniversary of the battle of Vimy Ridge). Now, in time for the momentous 100th anniversary of the Armistice, Redpatch comes to the Citadel Theatre before being presented at Arts Club Theatre Company in spring of 2019.
"Redpatch is a story that was inspired by the sacrifice that Aboriginal, First Nations, and Métis soldiers made for Canada in World War I, also known as 'The Great War' or 'The War to End All Wars.'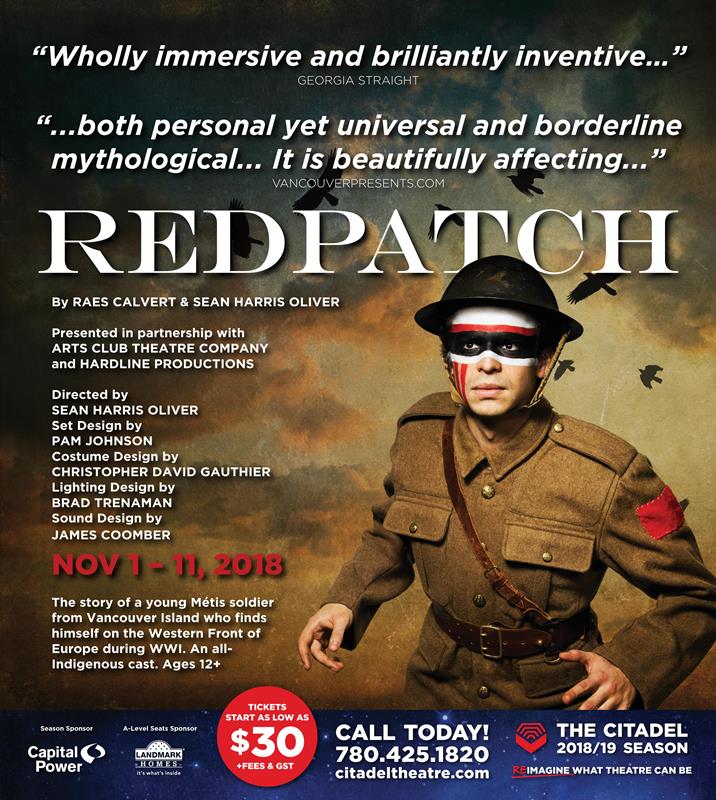 The military history of Aboriginal veterans, and their contributions to the various conflicts that this country has been involved in, is a subject that is relatively unknown to the average Canadian citizen," says Sean Harris Oliver, co-creator and director. "With the hope of drawing attention to this obscure part of our national history, Raes Calvert and I are extremely proud to contribute Redpatch to Canada's theatre canon."
The show features a cast of six Indigenous performers, including Raes Calvert (Citadel's Children of God) as Half-Blood, Jennifer Daigle as Bam-Bam, Taran Kootenhayoo as Howard Thomas, Joel D. Montgrand as Jonathon, Chelsea Rose as Dickie, and Odessa Shuquaya as She Rides Between. Sean Harris Oliver directs, with set and prop design by Pam Johnson, costume design by Christopher David Gauthier, lighting design by Brad Trenaman, and original sound and music design by James Coomber.
Redpatch runs November 1 to 11, 2018, in Maclab Theatre. For more information or to purchase tickets, call the Box Office at 780.425.1820 or visit www.citadeltheatre.com.