(ANNews) – Nathalie Bertin is an acclaimed multi-disciplinary artist whose new works will be featured at Bearclaw Gallery in Edmonton from March 31 – April 12, 2018. The theme of the new exhibit is Rise, Love, Heal, Celebrate and it highlights the resilience and empowering of Indigenous Women. Her stunning painting "Two Kokums in Party Hats" from the new collection, appears on the cover of this month's Alberta Native News.
The meaning in Bertin's art comes from her personal interactions between her culture and her surroundings and the upcoming exhibit truly reflects the realities that she has experienced about Indigenous people throughout her life – especially women.
"Social media has allowed us all a window into the troubles and the absolute joys of what it means to be indigenous in Canada today," remarked Nathalie. "Although Indigenous women continue to be targets of violence, we rise to face oppression. We hang on to traditions as we take our rightful space in modern society. We work hard, we are passionate, we love, we heal and we celebrate.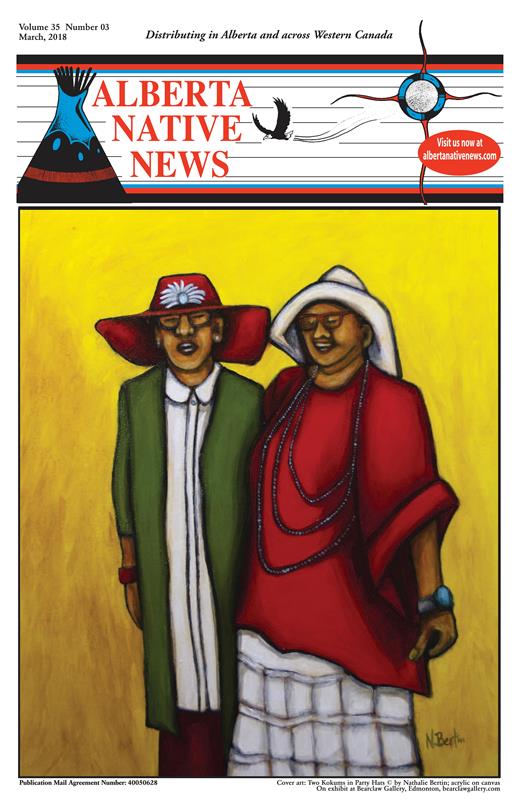 "My aim is to present a different view of Indigenous women – one that is positive, powerful, knowledgeable, gentle and kind – because these are the women I know. The artwork in this latest series are inspired by the moments in time that shine a light on our humanity."
Born in Toronto in 1969, Nathalie Bertin currently divides her time between her home studio in Newmarket, Ontario and her home-away-from-home in central Ontario's District of Muskoka, a scenic and quiet community near Georgian Bay. Bertin, a multi-disciplinary artist whose style is often described as luminescent, energetic, bold and colourful, began to publicly display her art in 2009. She is also fond of strong shapes and textures.
"I am more concerned about expressing feelings about my subject matter than recreating a technically realistic representation," explained Bertin.
The artist often incorporates elements of her French and Algonquin heritage in concepts that blend her two cultures. The land is also a common subject since it supports her physically and spiritually. "I am inspired by the art of my divergent cultures. My goal is to explore how my cultural connections and lifestyle interact with the natural environment that I live in and vice versa."
Bertin has had numerous exhibits across Canada and her work can be found in collections of the Government of Manitoba, Government of Alberta, corporate organizations and private collectors across Canada, the US, Europe and Africa.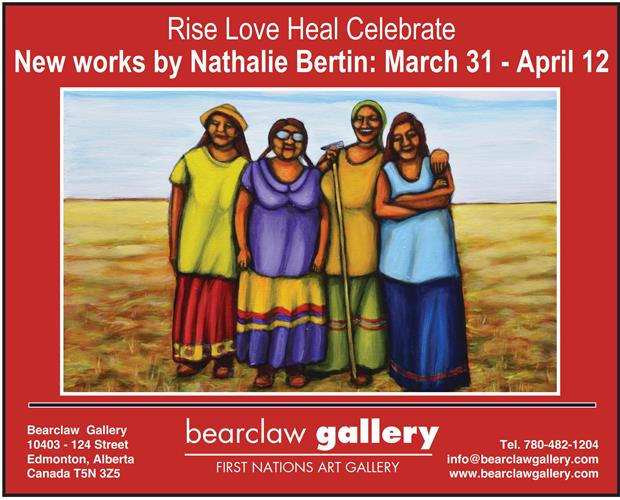 A few of Bertin's recent projects were inspired from traditional storytelling and folk tales. Some of these have been reproduced by the Royal Canadian Mint on collector coins for release in 2013, 2014 and 2015. In June 2010, Bertin was selected as an artist ambassador for the G20 Summit in Toronto, a volunteer position that garnered global media attention for Canadian artists from Muskoka. Her art has also addressed social issues and in 2017 she was featured in "Call to Action #83: A Reconciliation Project" which toured across Ontario.
The Bearclaw Gallery, located at 10403 124 Street in Edmonton is well-known and highly regarded as a fine Canadian First Nations art dealer and gallery. Over the last three decades, the Bearclaw Gallery has established solid relationships with First Nations artists from across Canada and has proudly promoted Canadian First Nations and Inuit art and artists to buyers both at home and internationally.