by Clint Buehler
(ANNews) – "Before and After" by Jane Ash Poitras is the striking image on the cover of this month's Alberta Native News.
Poitras exemplifies the values of the Order of Canada: "They desire a better country." Her recent appointment to that honour is just the latest of her many awards that include the Queen Elizabeth II Diamond Jubilee Medal and honourary doctorates from the University of Calgary and the University of Alberta.
Those honours are in recognition of her influence and acclaim internationally as an artist and lecturer.
Born to the Mikisew Cree First Nation in Fort Chipewyan, she was orphaned at an early age when her mother died of tuberculosis and was fostered by an elderly German lady – a devout Catholic. She was not aware of her community and her culture until she was befriended by another First Nation student in university.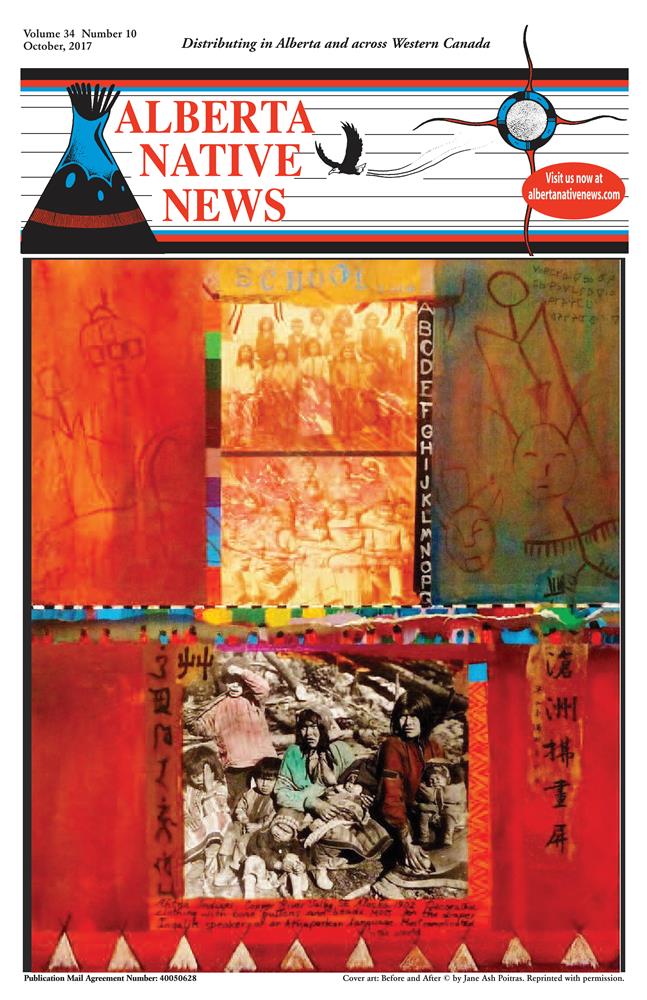 Reconnecting with her Indigenous roots, she was enthusiastically welcomed "home" by her relatives and community. Her exploration of Indigenous history and culture, and the issues that impact their lives, have informed and inspired her life and her art ever since.
Despite a life-long interest in art, she first gained a science degree in microbiology but, dissatisfied with that choice, she soon switched paths, earning a BFA in printmaking from the University of Alberta. Impressed by her talent, her instructors Liz Ingram (also a recent Order of Canada recipient), Lyndal Osborne and Walter Jule encouraged her to pursue a post graduate degree. Accepted by several top universities, she chose Columbia University in New York City, graduating in 1985 with an MFA in painting and sculpture.
She returned to Edmonton just in time to become a significant influence in the beginnings of the development of a new visual vocabulary for First Nations perspectives in contemporary art.
Her unique style combines postmodern artmaking techniques–like collage and found objects–with a deep commitment to the politics and issues common to Indigenous peoples.
"I think that the role of the artist today is to become free, to transcend. Then they can transform, enlighten and become empowered," Poitras told New Trail, the magazine of the University of Alberta Alumni Association.
"Residential schools were designed to assimilate Indigenous peoples, taking them from their families and denying their language and culture. They were treated not as equals, but as secondary citizens trained to be kitchen helpers and farm workers.
"This strategy rejected the rich history, knowledge and wisdom they had to offer.
"It is satisfying that their valuable contributions, which were denied by systematic assimilation are now at the forefront of many scientific fields. Indigenous people are now taking leading roles in the evolution of ethnobotany, environmentalism and the inclusion of traditional healing in modern medicine, among others."
Her work has been featured in numerous solo and group exhibitions internationally and is included in many prestigious private, public and corporate collections.
She was a sessional lecturer in the U of A's Faculty of Native Studies for more than 20 years and has lectured extensively internationally, including Paris, Amsterdam, Mexico City and Washington, DC at the invitation of the Canadian government, and at numerous conferences, universities and public galleries across Canada and the United States.
Jane Ash Poitras is represented in Edmonton by the Bearclaw Gallery, in Banff by the Canada House Gallery, in Toronto by the Kinsman-Robertson Galleries and in Ottawa by Galerie d'Art Vincent.