(ANNews) – From March 10 – 22, the Bearclaw Gallery in Edmonton will feature a collection of new works by acclaimed artist Jessica Desmoulin. The exhibit is entitled "Ancestral Memories."
"I do not know how to describe my inspiration to paint," explains the artist. "In this series of work the ideas were fluid, like I had seen all the images before. I feel like there is this incredible spiritual place that I connect with when I paint, and that what I lay down on canvas has been passed to me through those before me, through Ancestral Memories. Everything came together with such ease. I would look at the colours on my palette and not even hesitate to make a choice. The images and composition were immediate, I did not labour over any of the details. In my mind I was guided by my ancestors."
Jessica Desmoulin was born in Saskatoon, Saskatchewan on September 18, 1978. She is Ojibway of the Pic River First Nation. As a child she lived in Rochester, Alberta and later in Sparwood, British Columbia. Jessica currently lives with her family in Edmonton.
After the birth of her second child, Jessica developed an illness that left her unable to work outside the home. Jessica took this opportunity to approach her art seriously and began to paint canvases and occasionally buffalo skulls. She credits the love and support of her family for allowing her the chance to explore her love of art.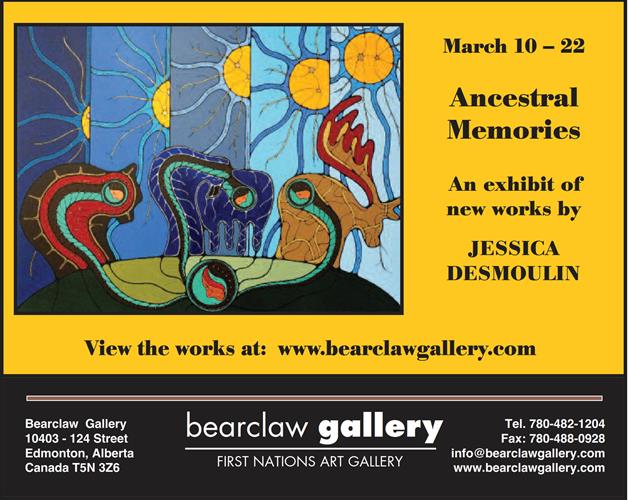 Jessica is fascinated by the patterns that appear in nature and she expresses that fascination in her art.
"Patterns occur in nature over and over," remarks Desmoulin. "They are found in the rings of a tree, the waves in the ocean, the cracks in the earth and the petals on a flower. I am fascinated by these patterns and by how colour plays an essential role in creating their design. It is said that Nature is 'the greatest artist', and I cannot argue with that. I draw my inspiration from Nature and from the Patterns I see in its many creations."
Animal symbolism is also very important to Desmoulin and plays a very large part in influencing many aspects of her art. "I try to put myself into my art through the use of intuition and emotion. I use the colours that are mainly natural tones and earth tones. I also like to use silver, gold and copper because it is like Mother Nature's jewellery to me. I am greatly influenced by nature. When I was young I used to enjoy walking through the bush and sitting under a big old spruce tree where I would daydream about my future and the things I wanted to do in my life.
"In Sparwood I could look outside my window and see the mountains. I was also very lucky to see a lot of wildlife in its natural environment. All of the animals I paint have special meanings to me. The swan represents mother, keeping its young safe and warm through all stages of their life. The bear represents protection, being strong not only in body, but in spirit. The animals in my paintings quite often reflect my family and loved ones."
The Bearclaw Gallery, located at 10403 124 Street in Edmonton is well-known and highly regarded as a fine Canadian First Nations art dealer and gallery. Over the last three decades, the Bearclaw Gallery has established solid relationships with First Nations artists from across Canada and has proudly promoted Canadian First Nations and Inuit art and artists to buyers both at home and internationally.