(ANNews) – The cover of this month's Alberta Native News is a beautiful painting called "Protecting" by Aaron Paquette. It is part of a stunning exhibit presented at Bearclaw Gallery entitled "element·ally" and it features new works in clay by Dianne Meili and new works on canvas by Aaron Paquette. The exhibition is opening Saturday, October 22 and the artists will be in attendance from 1 – 4 pm. The exhibition continues through to November 3, 2016.
Aaron Paquette is one of Canada's premiere First Nations artists known for his bright colours, strong lines and for sharing new ways of looking at age-old experiences and beliefs. Based in Edmonton, Alberta, Aaron has been creating art for the past 20 years. He apprenticed and has become both a Cathedral Stained Glass artist and a Goldsmith, influences of which can be seen in the line and structure of his paintings – displayed in various galleries throughout the country.
Aaron is also an experienced facilitator, trainer and engaging public speaker. He has worked with the Royal Conservatory's adjunct program -Learning Through the Arts- as both a Mentor Artist and as the First Nations Representative and Consultant in Alberta.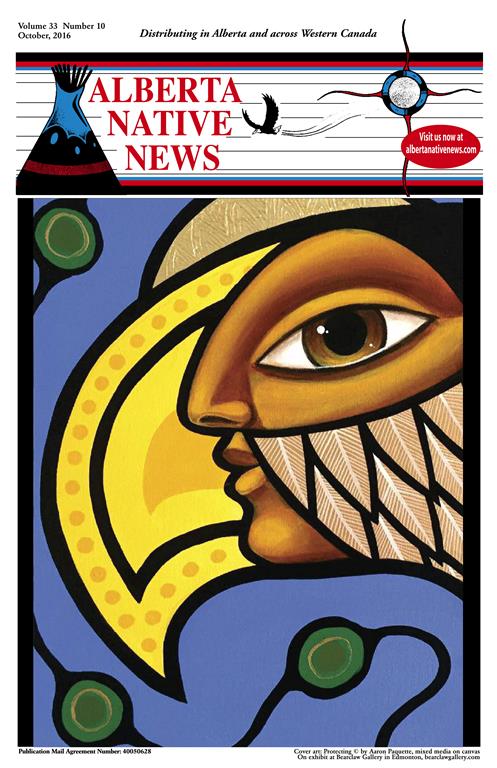 A skilled communicator, Aaron has worked with Alberta Education in reconciliation, specifically between communities and school administration. He has worked for years with the Edmonton Public School Board with both in-class sessions and special sessions for promising young artists. The Catholic School Boards in the Central and Northern Alberta region have also enlisted Aaron in many projects ranging from elementary school visits that tie art into curricular learning to mural painting with High School students.
Aaron also has regular art shows in Galleries across Canada, takes on public art commissions, works as a guest curator for The Art Gallery of Alberta, St. Albert's public Gallery: Profiles, and the McMullen Gallery at the University of Alberta Hospital. He currently has a traveling exhibit with the Art Gallery of Alberta called Halfbreed Mythology.
"I am an artist," explains Paquette. "In my paintings, I seek to nurture a relationship with the viewer.  I try to use colours that are calm or soothing, but also fresh and exciting.  My goal is to create work that a person can be comfortable with and can invite into their home.  In this manner, I hope to deliver a message.  In each painting I try to include a story that is meaningful to me and encourages discussion.  I hope that my work can act as part of a catalyst for greater understanding.  I feel that it is important to allow art to be beautiful while conveying deep and sometimes very serious meaning.  My work almost always features an aspect of nature and our relationship with the earth."
Paquette has studied on his own and followed his own path.  "I feel that this has strengthened my art and allowed me to retain a portion of valuable naiveté," noted Aaron.
"In addition to painting, I am also working on a series of illustrated books for my children, so that they can know who they are and gain an appreciation for their history."
Aaron is sharing the top billing at Bearclaw Gallery this month with Dianne Meili – a Cree Metis potter who has been "playing in the mud" for five years, creating pottery that begs to be picked up and touched.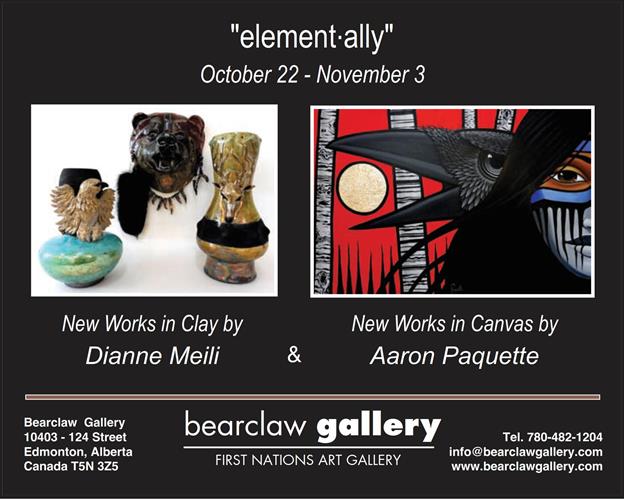 Meili creates sculpture and decorative bowls intended to make the beholder feel a connection between themselves and the Creator, as well as all living things – animal and human.
Spending hours shaping and carving each piece, there is a true symbiosis between Dianne and her medium. She is both respectful of, and thankful to, the powers that allow her to share her creative talents. In exchange, it seems she has been rewarded with clay that yearns to hold her intensely animated shapes and glazes and firings that give a unique finish to her spiritual vessels.
The Bearclaw Gallery, located at 10403 124 Street in Edmonton is well-known and highly regarded as a fine Canadian First Nations art dealer and gallery. Over the last three decades, the Bearclaw Gallery has established solid relationships with First Nations artists from across Canada and has proudly promoted Canadian First Nations and Inuit art and artists to buyers both at home and internationally.  For more information, visit www.bearclawgallery.com.