by John Copley
(ANNews) – Anthony Antoine is a gifted Dene sculptor who uses his hands to create beautiful art. Though he was born in the Northwest Territories, he has been firmly rooted in Edmonton for the past 15 years.
"I still have a lot of family back home, but when you are raising a family of your own there's not always a lot of time or money available to travel," he said, noting that he hasn't been back to his home in Ft. Simpson since 2011. "I have a wife and three children to care for and I am trying to establish myself as a bona-fide artist willing to go the extra step for those who are interested in purchasing my work."
The 51 year old artist has worked with various media but noted that "art is my life and it's how I make a living. Although I have dabbled in such things as painting over the years, my greatest pleasure and the one that gives me the most satisfaction is sculpting and carving."
Antoine's creations come in many sizes and shapes and are made with many different materials including Brazilian soapstone, moose antler, muskox horn, buffalo horn, alabaster, wonder stone and other materials as they are available. The artist enjoys working on bigger pieces of art, like the Figure Skating Bears he created for world renowned figure skating champions David Pelletier and Jamie Rae Salé who won the gold medal at the 2002 Olympic Winter Games in Salt Lake City, Utah.
"I create virtually every size of sculpture, but I do enjoy working on the more detailed pieces whenever I have the opportunity," Antoine explained. "The more intricate the piece the better. I like telling a story through the art that I am creating; sometimes that can be achieved with simplicity, other times it is the fine detail that brings out the meaning you are trying to portray."
Antoine's artistic prowess wasn't inherited and his skills weren't passed down to him from other artists in the family.
"No artists, but lots of politicians in my family," he smiled.
His artistic side was discovered by chance – he ran into some trouble with the law and found himself incarcerated. There wasn't a great deal of opportunity for self improvement in jail, but the opportunity that did come his way is one he took advantage of.
"They had a carving program going on at the facility when I got there," he explained, noting that that particular inmate initiative was cancelled a few years ago when a new prison was built. He knew some of the people in the carving program.
"I told them that I wanted to try it and they encouraged me to give it a try. I had just got my income tax check back so I bought my first piece of rock and did just that."
The rest is history.
"My first sculpture took me a full two weeks to complete," he explained. "It was a beluga whale with the mother diving under it; I called it 'Feeding Time.' I also created another piece while I was there; it was also a whale sculpture, but this one was done in the Zodiac sign, Pisces. The person in charge of pricing the goods put a value of $1,000 on my Beluga and $800 on the Pisces whales. I was told not to expect them to sell."
Art created by the inmate population, explained Antoine, was set into a large glass display case where it could be seen and purchased by the ongoing flow of guests and others who visited or worked at the site.
"Their predictions would not prevail," noted Antoine. "Within a week of the sculptures being put up for sale, I sold them both. I was very happy to make the $1800 and said 'wow this is what I'm going to do to keep myself out of jail."
And, with the exception of some minor scrapes, it's been that way ever since.
Anthony, like both his father and mother, were victims of the Indian Residential School System.
"I was part of the 60's Scoop," he explained. "I was taken away from my parents when I was just two years old and was a ward of the government until I was 16. When I was 18 and in Edmonton I learned that there was an Aboriginal liaison from the Northwest Territories in the city; the people at the Herb Jameson Centre suggested I contact him. I did and found out that he knew two of my uncles – my Uncle Rene was working with the NWT Government and my Uncle Jim was Chief at the time."
A phone call and an airline ticket later and Anthony was back home.
"I arrived there in September of 1982 and met my dad; my mother had passed on when I was just 10 years old; I didn't find out until I was 13. I met so many of my cousins and other relatives; I could hardly believe it but it was good, real good."
He stayed for nine years before moving on to Yellowknife, where he met his wife, and together they moved to Edmonton.
If you look online for authentic Aboriginal sculptures you will know that they are expensive. Anthony Antoine has no hidden costs; he's fair and his work is beautiful. His sculptures can be viewed and purchased at the Wakina Gallery online at www.wakinagallery.com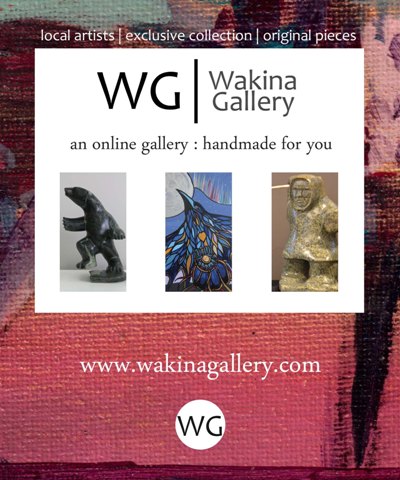 He also accepts custom orders.
"If someone sends me a photo of what they'd like to see in a soapstone sculpture or carving, I will make it for them. I've created many different pieces over the years including bison and bulldogs, horses, donkeys, ravens, whales, narwhals and more. If you have some particular idea, give me a call and we'll go from there."
"Costs have gone up in recent days but I still manage to keep my prices within most budgets," he assured.
Most of Anthony's work is sold privately, though some of his masterpieces have also been exhibited and sold in galleries in both northern and western Canada.
He has recently teamed up with the Wakina Gallery, a new online gallery specializing in Indigenous artwork, and sculptures. They have a wide variety of exclusive Anthony Antoine pieces.
"I've had several pieces at the Bearclaw Gallery in the past and they don't stay on the shelves very long," he noted. "I have also sold my creations through Northern Images in Yellowknife and I hope to do more in the north."
In the meantime, if you need a great piece of art for a collection, a gift or a special occasion, contact Anthony Antoine by visiting www.wakinagallery.com