The stunning art featured on the cover of this month's Alberta Native News is by Daphne Odjig, one of the most respected and uniquely individualistic New Woodland artists working in Canada today.
The art is entitled "Thunderbird of Courage" and it is part of an incredible exhibition of 1970s era works of the Indian Group of Seven that will be on display at the Art Gallery of Alberta in Edmonton from March 5 to July 3, 2016. The exhibition is called 7: Professional Native Indian Artists Inc. and features the rare collection of paintings by the legendary artists Jackson Beardy, Eddie Cobiness, Alex Janvier, Norval Morrisseau, Daphne Odjig, Carl Ray and Joseph Sanchez.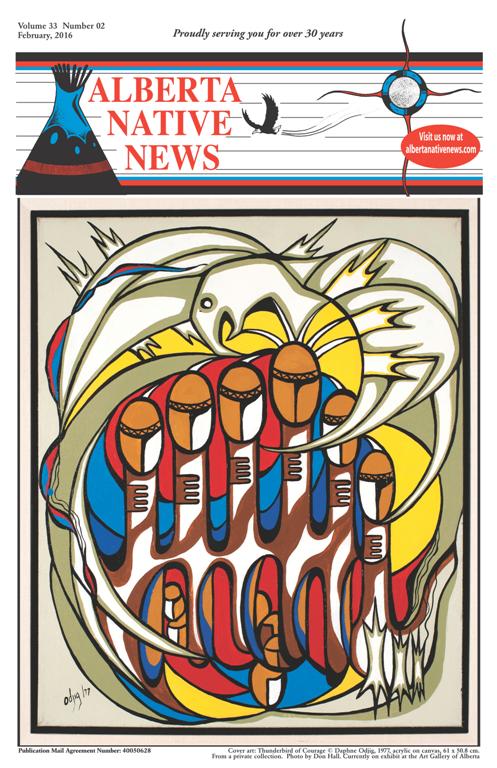 At the age of 96, Ms. Odjig has created a momentous body of work in her lifetime. She is highly respected and revered as an internationally renowned artist as well as lovingly referred to as the Grandmother of Native Art in Canada.
Daphne's paintings reflect many recurring and distinctive themes including nature's beauty, family love, legends of the Ojibway and an underlying presence of spiritual connection.
Click here to read more about this iconic artist, her numerous accolades and to view a prior cover by Daphne Odjig featured on the September 14 edition of Alberta Native News.
Click here to read a recent interview with fellow Indian Group of Seven member Joseph Sanchez where he describes the tenacity of Daphne Odjig in organizing the group, mentoring him as an emerging artist and securing an important place for Indigenous artists in Canada.
Don't miss the opportunity to see this exceptional collection of historical works by Daphne Odjig and the other artists who comprise this legendary exhibit – 7: Professional Native Indian Artists Inc – at the Art Gallery of Alberta. Artists Alex Janvier and Joseph Sanchez will join Mackenzie Art Gallery curator Michelle LaVallee at a free lecture discussing their experience in the creation of this exhibit. Click here to reserve a seat at the public lecture. For more information visit youraga.ca.
Concurrently this month from March 3 – 15, the Bearclaw Gallery in Edmonton is featuring an exhibit entitled Group of Seven that will showcase new and older collectible works by these same pioneers of the 'Native Art' movement.  Meet artists Alex Janvier and Joseph Sanchez at an opening reception at the gallery on March 3 from 6-9 pm. For more information visit www.bearclawgallery.com