(ANNews) – The powerful image on the cover of the May edition of Alberta Native News is entitled "Grizzly Fishing at Sunset." It is an image of a gorgeous soapstone carving by Dene sculptor Anthony Antoine. The beautiful red colorations in the soapstone give the carving a stunning sheen that transports the viewer to a northern lake where the beams of the setting sun are ricocheting off the enormous body of the grizzly as he fishes for his supper. It is nature at its finest!
Anthony Antoine is a gifted Dene sculptor who uses his hands to create beautiful art and his spirit to bring life to his carvings which often tell a wondrous story of nature and culture.
The 51-year-old artist has worked with various media but noted that "carving is my life and it's how I make a living. Although I have dabbled in such things as painting over the years, my greatest pleasure and the one that gives me the most satisfaction is sculpting and carving."
Antoine was born in the Northwest Territories but has been firmly rooted in Edmonton for the past 15 years. His large creations appear in many corporate offices throughout the city (and surrounding area) and a range of small to large carvings can be viewed online at wakinagallery.com and at the boutique pop-up location at Suite A 10632 124 Street in Edmonton.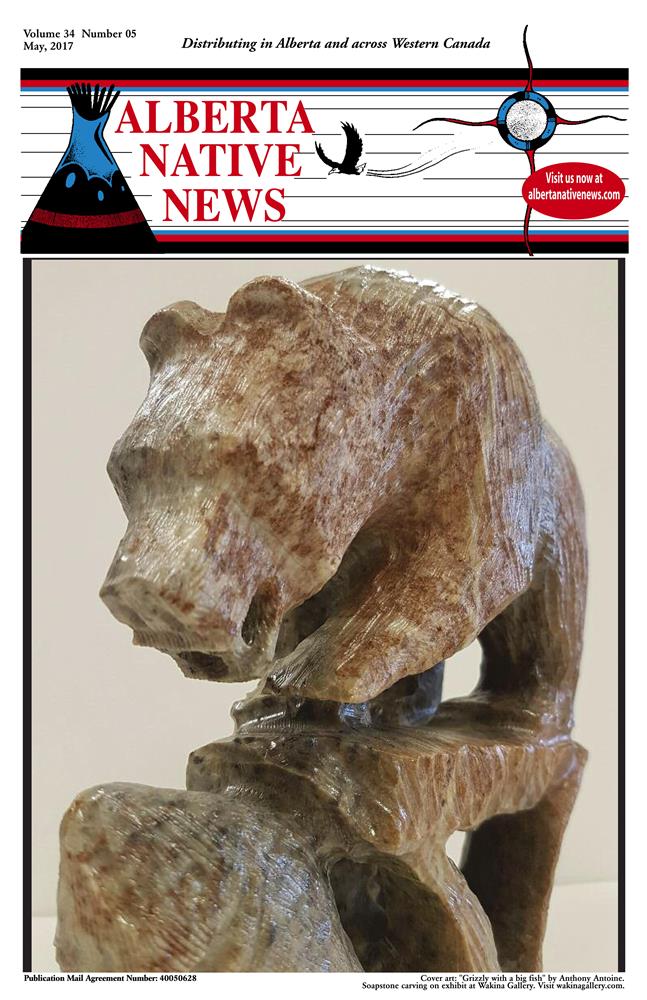 Anthony is somewhat of a bear specialist and is renowned for his large polar bears, his stunning bears on inukshuks, his fishing grizzly bears, his black bears with glorious striations and of course his whimsical dancing, drumming and marching bears of all sizes. Each bear seems to have its own personality.
He is masterful at creating bears and many stones speak to him in the voice of the bear that they will become but he particularly enjoys creating abstracts. "Each abstract is definitely one of a kind – there is no duplication. The rock guides the carving," he said.
"I create virtually every size of sculpture but I do enjoy working on the more detailed pieces whenever I have the opportunity," Antoine explained. "The more intricate the piece the better. I like telling a story through the art that I am creating – sometimes that can be achieved with simplicity, other times it is the fine detail that brings out the meaning I am trying to portray."
Anthony's creations come in various media including Brazilian soapstone, moose antler, muskox horn, buffalo horn, alabaster, wonder stone and other materials as they are available.
Wakina Gallery is a small boutique gallery that features Anthony's carvings as well as illustrations and paintings by contributing artists that have graced the pages of Alberta Native News over the years such as Bill Roy, Roger Noskiye and Christopher Chambaud.
For a peek at the collection visit wakinagallery.com or to view the entire collection in person call Dan at 780-237-1556 or email [email protected] to book an appointment.