by John Copley
(ANNews) – St. Albert's spacious Servus Place will continue as it has since 2010 when it plays host to the 2018 Métis Spring Festival, an annual event hosted by Métis Child and Family Services Society. The May 18-20, 2018 festival will get underway with a Talent Show competition on Friday evening, May 18 at 7:30. More than $5,000 in first, second and third place prize money is available for the top three contestants in junior, youth, adult and senior vocalist categories. Registration deadline is scheduled for 6:30 p.m. Friday, one hour before the talent show begins.
"This is a great opportunity to come out and demonstrate your talents and your abilities," assured MCFS Executive Director Don Langford. "We'd like to encourage tots, kids, youth, adults and seniors of all ages to come out to the annual event, show off your talents and your culture and maybe win some prize money at the same time."
As it has for the past several years the Métis Spring Festival is appealing to beginners and intermediate jiggers and fiddlers. Professional dancers, and those who currently dance with an organization or group, will not compete for prize money, and as established in 2013, paid performers will not compete for prizes.
"We've got a very good agenda again this year," Langford said, lauding festival coordinator, Florence Gauther's commitment, work and development of the annual festival. "The program is designed to help develop our young dancers and fiddlers. If anyone reading this article would like to participate we encourage you to come out and do so. You'll have an opportunity to compete on equal footing for nearly $20,000 in prize money."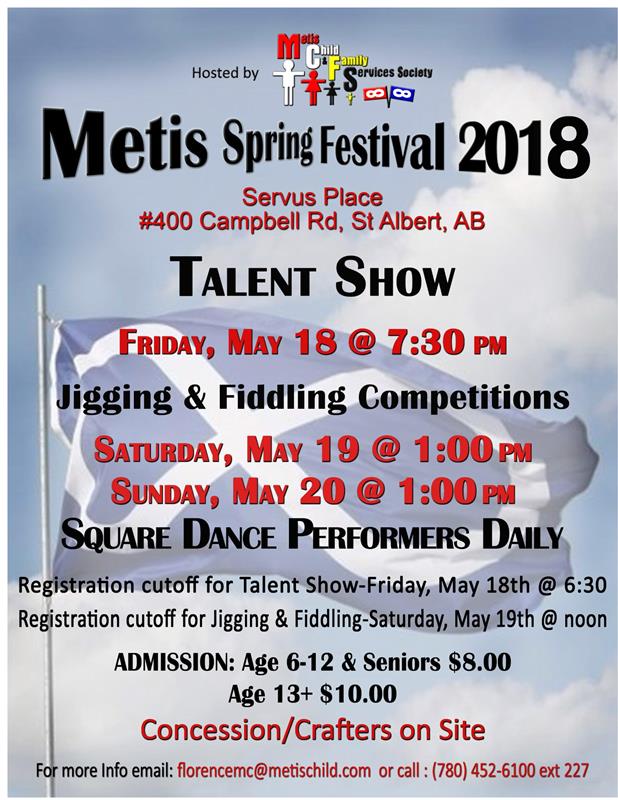 Of course, in the Tiny Tots category, every dancer gets a prize.
There are no entry fees for the competitors in any category but there will be a nominal admission charge to help offset costs. There is no charge for babies and toddlers. Admission for seniors and youth six to 12 years of age will be $8.00, and for those 13 years and older it will be $10.
This year's festival will once again showcase several professional entertainers and musicians, including Festival band members: Alfie Myhre, Calvin Volrath and Alex Tusturok with back-up members Chad Pelletier (guitar), Don Marrotte (bass) and Richard Chernesky (rhythm).
Performers will include, among unconfirmed others, Dauphin, Manitoba's well known and popular dance group, the D'Steppers, well known performer and dance instructor, Rhea LaBrie, a Métis dance family known as the United Steppers, the young Wabasca-based square dance group, Northern Reelers, the Métis Child and Family Dancers and the Métis Family and Child Junior Jiggers.
During the two-day competition that took place during the 2017 Spring Festival, more than 100 contestants vied for a range of prizes that totaled nearly $30,000. The top three winners in each category took home the bulk of the prize money.
This year's top prize money will go to the top three winners in the six jigging competition categories and in the five fiddling categories. First Place jigging prize money ranges from $200 to $500 while First Place fiddlers' prize money ranges from $200 to $1,000. Second and third place prize money ranges between $100 and $600.
Langford said he "encourages our entire community to come out to the festival this year to participate, share some good times and gather some new memories."
He also encourages anyone planning to compete to register early this year. It helps the organizers set up the program for smoother transitions. Registrations for the Fiddling and Jigging Competitions get underway at 9 a.m. on Saturday morning and close at noon. Competition begins at 1 p.m.both Saturday and Sunday.
Langford said he takes every opportunity he can to encourage Metis youth to invest time in their culture and traditions and to be proud of who they are. He said Métis youth who participate in their culture and stay involved with their community, tend to live healthy and successful lives. He should know; his grandchildren have been involved in their culture since early childhood and each has grown up with the annual festival. They've also remained involved with the culture and their traditions. Granddaughter Jillian has been teaching school for the past two years while Jolene is in her second year as a social worker. Grandson Luke works for Native Counselling Services and Jada for the Ben Calf Robe Society; Jordan works with MCFS.
"Our culture is important to us and it is equally important that we have our children involved with it at an early age, through both everyday communication and when possible, Métis celebrations," Langford said.
"It is important that our youth know who they are and how important they are to us all. As Métis people we have a place in the history of Alberta and a role to play in that history. We are a proud people; we have our own spirituality, traditions and ancestry. As Métis we like to celebrate our skills, our music and our dance; we also like to share all of these things, including our values, with others."
St. Albert has proven to be the ideal place to share those values and traditions through the annual spring festival celebration.
"St Albert has been very accommodating over the years," Langford explained. "Historically and traditionally, the city has been a long-time home to Alberta's Métis. The region is known as a large French-speaking Métis area – that's a big part of our culture. I think a lot of the people in St. Albert are rediscovering their Métis heritage and they're becoming proud of it. The attendance records we've been setting indicate that. Last year we were down to standing-room-only. The crowds keep getting larger and we get a lot of support from citizens throughout the region. The community has been a great supporter of the venue and Servus Place has more than enough room to accommodate the crowds who turn out every year to watch the competitions."
MCFS works diligently to ensure that they make a positive difference in the lives of both those they serve and in society as a whole. The organization has a proven track record and a lengthy list of objectives that work to ensure that Métis children, women and families have access to services and opportunities that they may not be able to access by themselves.
MCFS endeavours to improve the quality and effectiveness of social services to Métis children and families in need and in doing so develops and provides programs that preserve and strengthen Metis families. The organization also promotes the health and well-being of Aboriginal children and families by building capacity in the Métis community through the provision of culturally sensitive and appropriate services and programs.
MCFS programs include: Aboriginal Child and Family Support, Family Services, Choices/Choices a Partnership Stay in School and Youth Support Program, Community Support Homes (Foster Care), Family Violence, Protection of Sexually Exploited Children and the Street Outreach Team Assisting community resources.
For more information about Métis Child and Family Services visit metischild.com. To learn more about Métis Spring Festival 2018 contact Florence at 780-452-6100 or email [email protected]