by John Copley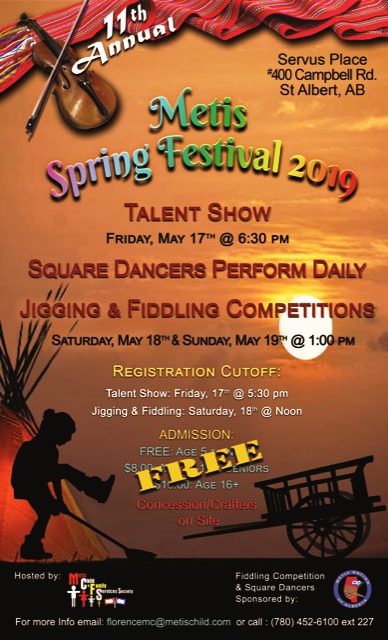 (ANNews) – The 2019 Métis Spring Festival will take place in St. Albert's Servus Centre during the weekend of May 17-19, 2019. The Friday night opening of the annual event will get underway with a Talent Show that begins at 6:30 p.m. Talent Contest competitors will vie for the more than $5,000 in first, second and third place prize money available for the top three contestants in junior, youth, adult and senior vocalist categories. Registration deadline is scheduled for 5:30 p.m. Friday, May 17, just one hour before the talent show begins.
"Once again," noted organizer Florence Gaucher, "the Talent Contest will present an ideal opportunity to come out and demonstrate your talents and your abilities. We encourage individuals of all ages to come out to this annual event, show off your vocal talents and win some prize money."
The event, sponsored by Edmonton-based Metis Child and Family Services (MCFS), has taken place in the popular and spacious St. Albert venue since 2010.
Métis Spring Festival organizers continue to encourage beginners and intermediate jiggers and fiddlers to come out compete for prize money, and note that there will also be a category for "paid professional" performers to compete in the Red River Jig competition. There are no registration fees for fiddle or dance competitors – entry into the competition is free.
"We've got a very good agenda again this year," noted MCFS Executive Director, Donald Langford. "This event is designed to encourage and support our young dancers and fiddlers. If anyone reading this article would like to participate we encourage you to come out and compete on equal footing for the dollars that will be awarded to contestants." Of course, every child who participates in the Tiny Tots categories all receive a cash prize which is determined by the number that have entered.
This year the Métis Nation of Alberta (MNA) is joining the celebration in partnership with MCFS by sponsoring the Fiddling competitions and the Square Dance performers that are coming from out of Province. The groups are the Fort Qu'apelle Dancers, (Regina, SK); the Ivan Flett Memorial Dancers (Winnipeg, MB); the D-Town Steppers (Dauphin, MB); the Pine House Square Dancers (Pine House, SK) and the Lii Michif Buffalo Gals (Kamloops, BC).
"We are very grateful to the Métis Nation of Alberta for their support; their generous donation has enabled us to drop all admission fees this year. Everyone is welcome to attend and to note once again – there is no charge to attend the 2019 Métis Spring Fest. This will make a substantial cash difference to the average family, planning to attend this year. If you have a family of six, the free admission means a savings of more than $60; hopefully this will help to attract many competitors and our largest audience ever."
This year's festival will once again have Calvin Vollrath, Alfie Myhre as fiddlers for the jiggers and square dance performers. Riel Aubichon from St Paul is a new addition to the fiddlers this year. Other musicians will be Clint Pelletier and Byron Myhre (Rhythm Guitar); Darryl Campbell (bass).
During the two-day competition that took place during the 2018 spring festival, more than 100 contestants vied for a range of prizes that totalled nearly $30,000. The top three winners in each category took home the bulk of the prize money.
"This year, registrations for the Fiddling and Jigging Competitions get underway at 9:00 a.m. on Saturday morning and close at noon. We encourage all contestants to come early as possible as the cutoff is at noon. Competition begins at 1:00 p.m. both Saturday and Sunday."
Don Langford said he takes every opportunity he can to encourage Metis youth to invest time in their culture and traditions and to be proud of who they are. He said Métis youth who participate in their culture and stay involved with their community, tend to live healthy and successful lives.
"Our culture is important to us and it is equally important that we have our children involved with it at an early age, through both everyday communication and when possible, Métis celebrations," Langford said.
"It is important that our youth know who they are and how important they are to us all. As Métis people we have a place in the history of Alberta and a role to play in that history. We are a proud people; we have our own spirituality, traditions and ancestry. As Métis we like to celebrate our skills, our music and our dance; we also like to share all of these things, including our values, with others."
St. Albert has proven to be the ideal place to share those values and traditions through the Annual Spring Festival celebration.
"St Albert has been very accommodating over the years," Langford explained. "Historically and traditionally, the city has been a long-time home to Alberta's Métis. The region is known as a large French-speaking Métis area – that's a big part of our culture. I think a lot of the people in St. Albert are rediscovering their Métis heritage and they're becoming proud of it. The attendance records we've been setting indicate that. Last year we were down to standing-room-only. The crowds keep getting larger and we get a lot of support from citizens throughout the region. The community has been great supporters of the venue and Servus Place has more than enough room to accommodate the crowds who turn out every year to watch the competitions."
Servus Centre is a large and well-serviced facility with lots of parking space and the popular 320,000 square foot multipurpose leisure centre that houses three NHL-sized arenas, an aquatic centre, fitness centre, indoor playground, three gymnasium courts, two field houses, a teaching kitchen, and numerous retail operations and food service outlets.
MCFS works diligently to ensure that they make a positive difference in the lives of both those they serve and in society as a whole. The organization has a proven track record and a lengthy list of objectives that work to ensure that Métis children, women and families have access to services and opportunities that they may not be able to access by themselves. MCFS endeavours to improve the quality and effectiveness of social services to Métis children and families in need and in doing so develops and provides programs that preserve and strengthen Metis families. The organization also promotes the health and well-being of Aboriginal children and families by building capacity in the Métis community through the provision of culturally sensitive and appropriate services and programs.
MCFS programs include: Aboriginal Child and Family Support, Family Services, Choices/Choices a Partnership Stay in School and Youth Support Program, Community Support Homes (Foster Care), Family Violence, Protection of Sexually Exploited Children and the Street Outreach Team Assisting community resources.
For more information about Métis Child and Family Services see the website at: www.metischild.com. To learn more about Métis Spring Festival 2019 contact Florence at 780-452-6100 or email: [email protected].