by John Copley
(ANNews) – They say good things come in small packages and that may be true when you're talking about a birthday or anniversary gift for your loved one, but good things also come in large packages and Solar Power provides an ideal example. In fact, installing solar panels on your home, business or community infrastructure is one of the most beneficial means of generating electricity, both financially and environmentally.
Today there are numerous businesses across the nation that have answered the call of Canadians who want to produce their own clean energy while cutting back on carbon intensive fuels. Kuby Renewable Energy Ltd (KRE) is one of these companies. Owned and operated by partners Jake Kubiski and Adam Yereniuk, Kuby Energy is based out of Edmonton, Alberta and services all of Western and Northern Canada, including Alberta, Saskatchewan, British Columbia, Yukon Territory, Northwest Territories, and Nunavut.
"Both Jake and I are former heavy industry employees and as such we recognize the important role that oil & gas/mining has played here in Alberta and throughout Canada and will continue to play for decades to come," explained Yereniuk.
"It is paramount that the transition towards a wind and solar power based society not only provides environmental benefits, but creates jobs, positive social change, and is economically beneficial for homeowners, business owners, and everyone involved."
One of the first projects completed by Kuby Energy took place on the Beaver Lake Cree Nation when the company, working with and training 15 high school students, mounted 30 solar panels on the flat roof of the Amisk Community School and then added an additional 64 panels on the metal roof of the same building.
"This solar array," note Yereniuk, "will offset more than 15 tons of carbon emissions every year. This groundbreaking First Nation solar project, which received assistance from Keepers of the Athabasca and the Alberta Indigenous Solar Program (AISP), was one of the first to receive funding from the Alberta Indigenous Solar Program."
The company is currently in the process of completing the sixth building (community hall) in the community. When completed, the Beaver Lake Cree Nation will have a total of 165 kilowatts of solar powered energy. Other buildings in the community to have solar panels installed include the administration building, the daycare, the health centre and the treatment centre dormitory.
Other solar power projects on the company's repertoire of work include Red Deer College, the Barrhead Regional Aquatics Centre, the Edwin Parr High School in Athabasca, the Fort McKay First Nation Arena, the Ft. Simpson Education Complex, the Lubicon Cree First Nation and various other farm and residential job sites.
Members of the Solar Energy Society of Alberta, Kuby Energy guarantees that every job they take on will be completed by certified electricians who go beyond the standards set by the Canadian Electrical Code.
Yereniuk noted that "solar panels provide a means of producing your own clean energy from a renewable source" rather than relying on carbon intensive fuels. Photovoltaic (PV) modules "not only eliminate tons of carbon every year, they earn you money by reducing your monthly power bill. What you don't use is sold back to the grid (for grid-tied applications) and credited to you accordingly."
Over a 25-plus year lifespan, the cost of generating electricity from home solar panels is significantly less than continually leasing your electricity from a retailer.
Kuby's mission is "to advance the energy industry and economy in Canada while reducing society's environmental impact through the implementation of solar power and renewable technology.
There is no cookie-cutter model when it comes to solar power projects; every community, company and individual homeowner has his or her own preferences and Kuby Energy experts will work with you to ensure that your plan is viable and that your needs are met.
"We take pride in our work and in knowing that we provide the highest quality products and experienced personnel committed to continued improvement and client satisfaction," assured Yereniuk.
"We create innovative solar energy solutions that are efficient, economic, and environmentally friendly. Our team of experienced electricians and solar experts will work with you, so you can reduce your carbon footprint and start earning money from your home or business. Our vision is to provide you with the knowledge and means to a cleaner world, built around sustainable solar energy. By utilizing the unlimited resource of the sun, you can reduce your carbon footprint, add value to your home, and save your hard-earned money."
Yereniuk noted that when it comes to solar power and solar energy, which are relatively new topics for power generation, there is a great deal of misunderstanding and thus many myths to dispel.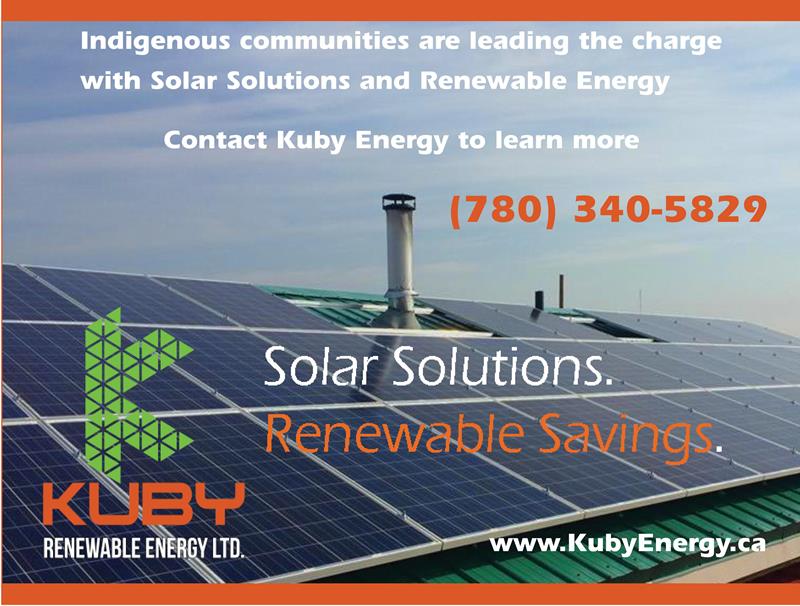 "There is no shortage of information on the internet these days," he explained. "With the endless supply of news comes a proportionate amount of misinformation as well. Some of the misconceptions are based on belief ("there's too much snow for solar in Canada") and some are based on truth which has been misinterpreted by emphasizing unimportant factors ("solar energy is not that efficient").
"To combat these solar myths, it is important to look at the broad scope of a system on an annual basis and over a 30+ year lifespan since that is how long the investment will last. The day to day performance is not as much of an issue as the amount of energy generated over a year, or whether or not solar panels can supply 100% of your required energy demand."
When evaluating the viability of solar PV, added Yereniuk, it is important to ask the right questions, and not get drawn into narrow arguments against one aspect of the industry.
"For example," he said, "some say that solar doesn't work in Canada because there is too much snow. It's a little surprising that the misconception of solar panels in winter is still mentioned as frequently as it is. Winter does not hinder the performance of solar panels as much as one might think. Yes, if there is 30cm of snow covering the modules, then they will not produce energy but at the same time, the amount of hours they are covered with snow on an annual basis is minimal. Most solar irradiance comes in spring, summer, and fall months when there is no snow coverage. If most 'sun-hours' come when there is no snow, then the effects of snow coverage are minimized. To quantify this trend, NAIT performed an in-depth study of snow coverage on solar modules in Edmonton, Alberta and Grand Prairie, Alberta. This study determined that snow coverage will only reduce annual solar energy output by ~5%."
Some people say that it's too cold for solar panels in Canada to work
"This is just not true," he explained. "The fact is that solar panels operate more efficiently in cold weather. The cold weather actually increases the efficiency of electrical current transmission throughout all electrical devices by reducing the resistance of the wiring. According to Gordon Howell of Howell-Mayhew Engineering, a solar power system will operate at "29% better than its rating" when it is -45C. So cold weather is actually extremely beneficial for solar energy systems. Because solar panels operate so much better in cold climates, engineers must plan for cold weather generation."
Another myth, he noted, is that solar panels do not pay for themselves.
"This myth is based on knowledge that is five to 10 years old, but a lot has changed in that time. Efficiency of solar panels continues to increase, and material cost as well as installation costs steadily decrease every year. Solar panels will pay for themselves in 8 to 16 years depending on what province you're in. Your location will determine the key metrics when trying to assess the cost of solar panels. These factors are what solar power incentives are available to you, how much you pay for energy/transmission & distribution, and how developed the solar market is (more solar installers typically means more competitive pricing).
"Solar panels have now reached the point where they will pay for themselves. It is still a medium to long-term investment, but it makes sense especially if you plan on being in the same house for the next 15 years.
If you're looking to get your money back in 5 years, try private equity investment. If you are looking for a very safe long-term investment which will pay for itself over time while providing you insurance against a volatile electricity market, then look no further than solar panels."
Solar panel installation from Kuby Renewable Energy begins with a phone call from you and a free appraisal from Yereniuk and his team of experts. If you are planning on an environmentally friendly future, there is just no better place to begin than by installing solar panels on your home, on your business and in your community. To learn more about Kuby Renewable Energy visit kubyenergy.ca or call 780-340-5829. Kuby Energy is located at 14505-114 Ave NW, Edmonton.