The stunning art featured on the cover of this month's Alberta Native News is by Daphne Odjig, one of the most respected and uniquely individualistic New Woodland
artists working in Canada today. The art is entitled "Majesty and Mystery" and it is part of an incredible exhibition of recent sketches and historical works that will be on display at the Bearclaw Gallery in Edmonton from September 20 – October 30, 2014.
At the age of 95, Ms. Odjig has created a momentous body of work in her lifetime. These recent drawings reflect the many themes that are a constant in her paintings; nature's beauty, family love, legends of the Ojibway and an underlying presence of spiritual connection. These pieces have a special place in Daphne's career and in Canadian art history.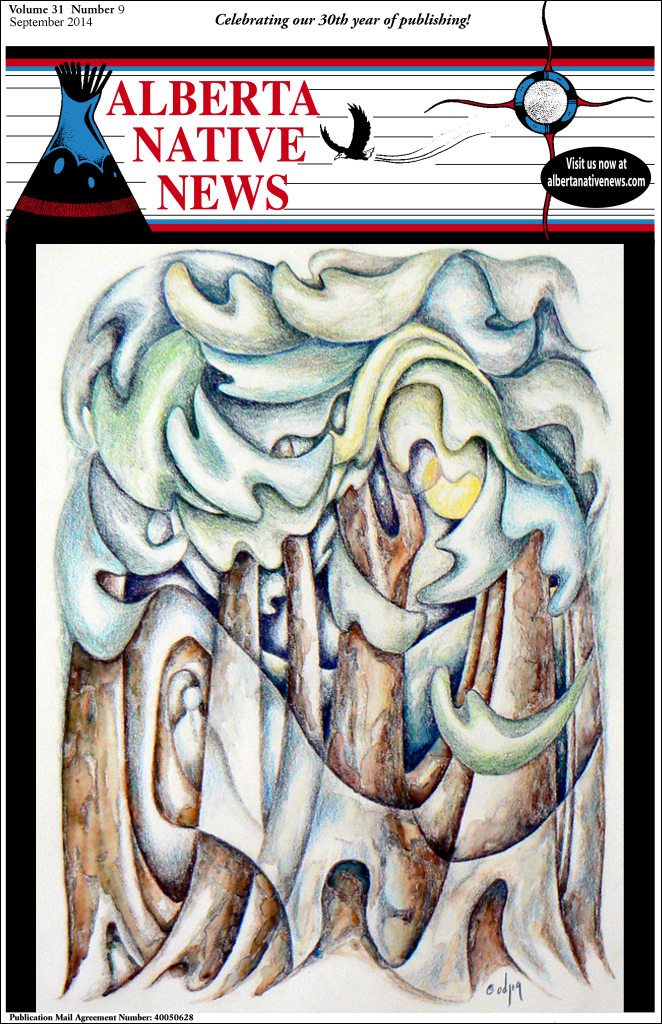 Born in 1919 on the Wikwemikong Reserve on Manitoulin Island, Daphne Odjig is a member of the Ojibwa tribe. Over decades, Odjig has developed a distinct style based on the beautifully abstracted human form.  The visual motif central to her work is the circle, which to the Ojibwa signifies completion and perfection and is symbolic to women.  This motif is characterized by undulating, rhythmic lines, often heavily outlined, enclosing local colour in soft harmonious shades.  Her subject matter deals with human relationships in the context of Native culture, the importance of grandparents, the function of the family unit, and the universal theme of mother and child.  Today the continuing tradition of the Woodlandists seems to be assured in contemporary Canadian art.
Odjig has received numerous accolades for her art.  These include an appointment to the Order of Canada, an election to the Royal Canadian Academy of Art, Honourary Doctor degrees from the University of Toronto, Laurentian University and Nipissing University of North Bay, and most recently, the National Aboriginal Achievement Award.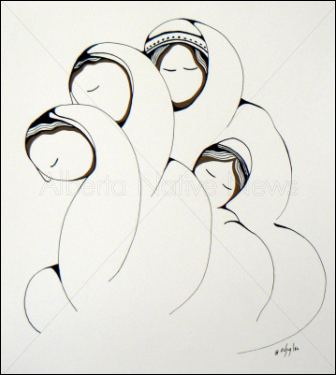 Since 1964, Daphne Odjig has exhibited her work in solo and group exhibitions in Canada and abroad.  Her works have been collected by many public and private collectors including the Canadian Museum of Civilization, McMichael Canadian Collection, the Department of Indian Affairs, and the Canada Council Art Bank.
Daphne recently described the sense of mystery and wonder that she has experienced and continues to experience in her life and her art. She stated, "As an artist and as a person, I have been impressed since childhood with the process that takes us from the inner image to the external reality of an image.  For me it has been an endless source of delight and wonderment that awareness, thoughts and recognition can come seemingly unbidden from an inner source that, in adulthood, I learned to call the unconscious. I know now, as an adult, that everyone of us is a fusion of the eternal, of ancestral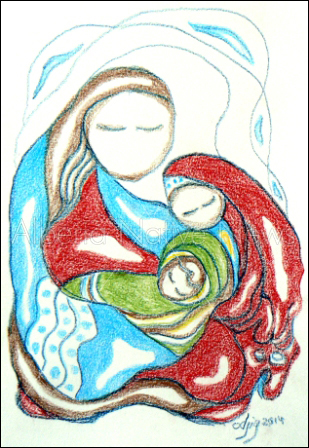 wisdom or caution and a seer of the future – but some part of us always remains capable of responding to the here and now with originality.  Every one of us is an inexhaustible source of wonderment, mystery and problem-solving potential.  Somehow, each day, some part of all those throughout our bloodlines, who have walked before us, walk with us now.  Yet there is always the aspect of unexpected newness."
"Every artist, either wittingly or unwittingly, must draw on this eternal source which is both practical and mystical," continued Ojdig.  "When I look at my completed paintings, I have elements of satisfaction of authorship and at the same time, the sense of mystery that accompanies the essence and the reality of the creative process.  In that sense I am both humble and unknowing in the outcome; I am as much a viewer with fresh eyes as you might be upon first viewing any of these works.  I hope within them you will find some element or theme that will speak to your own universality and as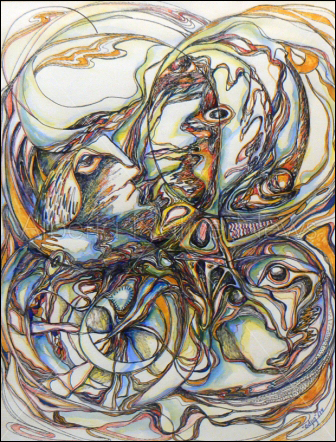 well, something that speaks to your own uniqueness."
Don't miss the opportunity to see this exeptional exhitibion of new and historical works by Daphne Odjig. The Bearclaw Gallery, located at 10403 124 Street in Edmonton is well-known and highly regarded as a fine Canadian First Nations art dealer and gallery. Over the last three decades, the Bearclaw Gallery has established solid relationships with First Nations artists from across Canada and has proudly promoted Canadian First Nations and Inuit art and artists to buyers both at home and internationally.  For more information visit www.bearclawgallery.com