(ANNews) – The beautiful image on the cover of the September 2017 issue of Alberta Native News is "Bird at My Moms" and it's a detail from an acrylic painting by Linus Woods, an extremely gifted artist from the Long Plain First Nation in Manitoba.
"Bird at My Moms" is part of an extraordinary installation of new works by Linus Woods that will be on exhibit at Bearclaw Gallery in Edmonton until October 4. The exhibit, entitled "See My Shadow Fly," opens on September 23 and 24, coinciding with the Fall Gallery Walk Weekend on 124 Street in Edmonton. Linus Woods will be in attendance at the gallery on September 23 from 1-4 pm.
The focal point of the upcoming exhibition has been described by the artist in a fluid and poetic manner: "See my shadow fly out of the corner of a watering eye. A life in art is free like a bird. A Kestral Hawk lives by my house in Long Plain Reserve and in the winter, they fly to the mountains of Peru. I am lucky and free to paint whatever I want. I paint every animal on Mother Earth."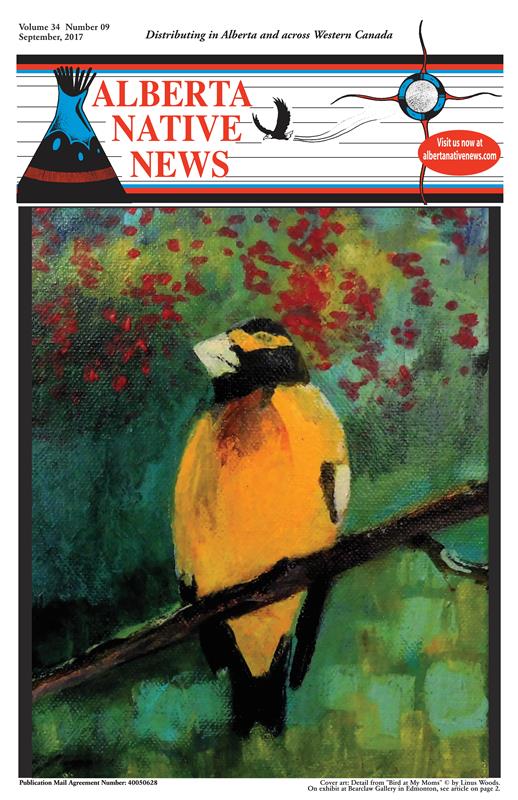 Many of Linus' paintings feature animals and in particular, horses as a central figure. He explains his fascination and appreciation of horses, "Of all the animals, the horse was the best friend of the Indian. Without it he could not go on long journeys. A horse was the Indian's most valuable piece of property. If an Indian wished to gain something, he promised that if the horse will help him, he will paint it with native dyes. All may see that help has come to him through the aid of his horse, paraded around camp just before evening."
Linus, born in 1967, is a descendant of Sioux and Ojibway parents. He is primarily a self-taught artist with his own distinctive style, although he did study art at Brandon University and honed his skills in Edmonton. Since 1994, Linus has traveled extensively throughout North America intent on acquiring native legend and folklore from the different Aboriginal nations across Turtle Island. During this time, Linus participated in many ceremonies and experienced cultures steeped in their distinctive tradition. In some cases, he lived with people who only spoke in their native language and practiced a traditional way of life. It is these experiences that have influenced Linus' works and that are the subject of many of his paintings.
Linus loves creating art and he also enjoys helping to educate youth about the joy and power of art. While living in Edmonton, he has been Artist in Residence at Highland Junior High School where he has worked with students and delighted in their ability to "create something beautiful and vocalize themselves through artistic expression."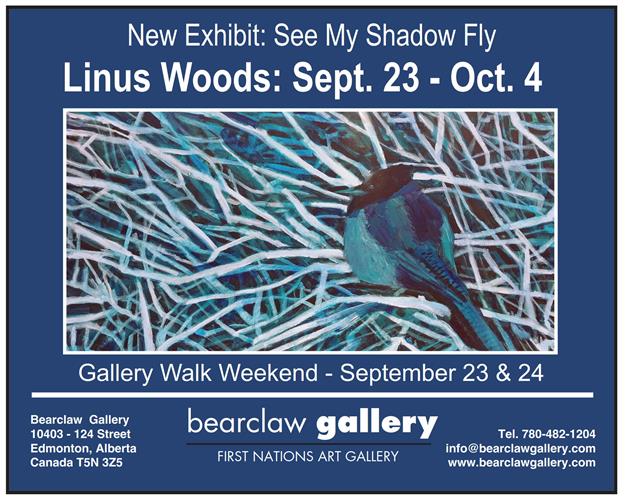 Linus has received numerous awards and prizes for his art work. His paintings hang in many corporate and private collections throughout Canada and the USA and he has participated in exhibitions across Canada as well as in New York and a sold-out show in Los Angeles. Linus has had six feature exhibitions at Bearclaw Gallery since 2007.
Bearclaw Gallery, located at 10403 124 Street in Edmonton is well-known and highly regarded as a fine Canadian First Nations art dealer and gallery. Over the last three decades, the Bearclaw Gallery has established solid relationships with First Nations artists from across Canada and has proudly promoted Canadian First Nations and Inuit art and artists to buyers both at home and internationally.
For more information and to view new works by Linus Woods electronically visit bearclawgallery.com.