The beautiful art that appears on the cover of the August 2015 edition of Alberta Native News is by Linus Woods, a Dakota/Ojibway  artist from the Long Plain First Nation in Southern Manitoba.
While he has taken a few art and Native studies courses at Brandon University, and has studied with artists such as Jane Ash Poitras, he is largely self-taught. Linus sees his paintings as expressions and extensions of his spiritual journey. His art: acrylic, oil and collage on canvas are subtle works featuring pastel pallets and geometric shapes, and often including collaged images.
Linus Woods is a winner of a the Peace Hills Trust Company Art Competition and his work is in the Peace Hills Trust Collection and in a number of other collections including Winnipeg Children's Hospital, Long Plain First Nation, Curtis Joony Productions, Brandon University and Mae Moore.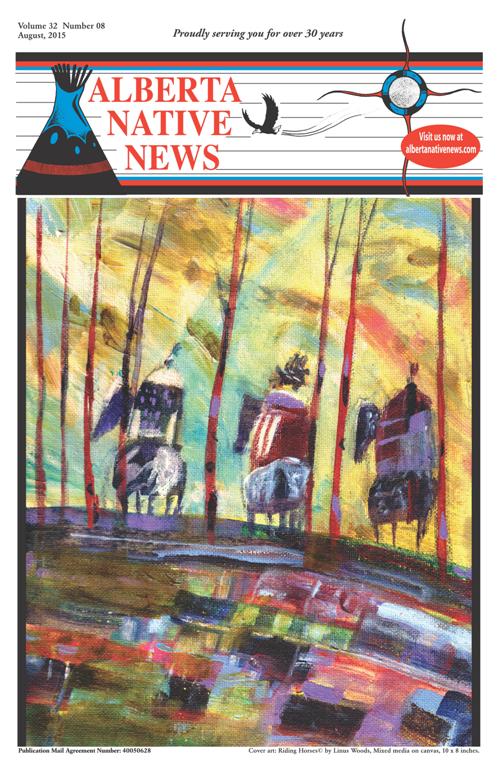 He is an active member of Urban Shaman Gallery in Winnipeg where he has shown his works in both solo and group exhibitions. Other exhibitions include, Gallery One One One, School of Art, University of Manitoba and "NO X PLAIN NATION" at the Winnipeg Art Gallery, as well as Bearclaw Gallery in Edmonton.  Linus has also exhibited widely across North America and Europe including a major contemporary art exhibition in Venice, Italy.
His art is a reflection of his own style, which he has developed by experimenting with various mediums and techniques to create very unique paintings. Often his artwork reflects his culture, however his passion is to paint subjects that reflect his personality. Linus paints in the moment using several different styles including block painting, which is very characteristic of his work.