By John Copley
(ANNews) – The beautiful cover – Secret Guardian – on the December 2016 issue of Alberta Native News is the work of 34-year-old Edmonton-area resident and artist, Amy Keller-Rempp. Her creation Spirit River took home the second-place prize when the winners of the 34th Annual Peace Hills Aboriginal Art Contest were announced in October.
"It was an exciting moment for me, and one that I'll likely never forget," noted the artist in a recent interview about her work and her second-place finish. "It was a humbling experience to be chosen in the top three this year; there were so many talented artists and so many beautiful works for the judges to choose from. I was quite surprised when I received the call and I think I've been smiling ever since."
Spirit River is an astoundingly beautiful portrait of a grizzly bear relaxing in a stream of water as the gentle wind pushes a multi-coloured array of mini-waves towards him.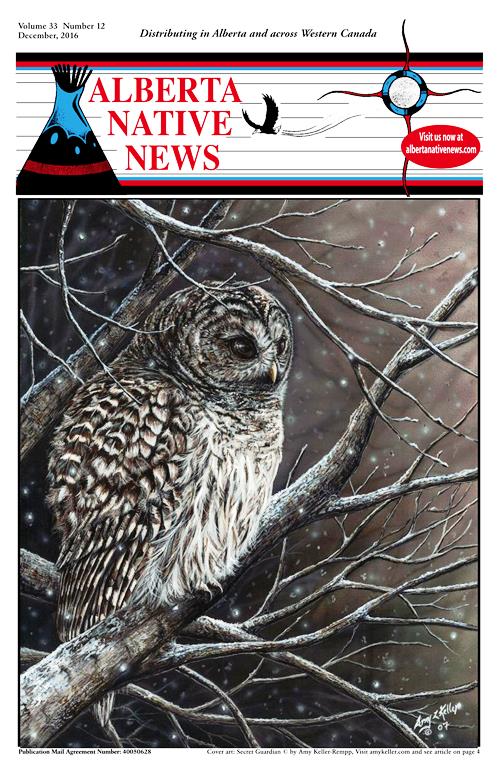 The winner of the 2016 Peace Hills Aboriginal Art Contest is Bonny Graham, a resident of Hope, British Columbia and an artist whose work is inspired by the richness of her Indigenous ancestry and her strong desire to preserve Aboriginal language through her art.
"My designs," she explained, "are a tribute to my heritage, to language and the environment, life and culture (and) the physical and spiritual power it embraces."
Graham's winning entry, Diversity/Vibrant Reflections, is a colourful feathered-design painting that reflects the culture of West Coast Indigenous nations.
Third place finisher is Lloydminster, Saskatchewan resident Danielle Vachon, whose entry, Process of Peace, highlights a beautifully coloured group of tipis standing in front of a mystical background that embraces silhouetted city buildings and mountainous terrain.
First, second and third place prizes in the adult category are $5,000, $3,000 and $2,000 respectively.
"Placing second in this prestigious annual competition is a tremendous honour and one that I will cherish for many years to come," smiled Amy Keller-Rempp, who has been creating art since she was ten years old.
She has spent the last 20 years developing what has become an incredible talent, not only in the work she creates but also in the way she constructs it. Her creations are stunning, her talents, multi-faceted. Her work combines realism and modern impressionism and her finished masterpieces must be seen to be truly appreciated. Keller-Rempp works with pen, pencil and paint, and also with beaver pelts and moose antlers. Her expertise with an airbrush is something she finds particularly valuable, especially when it comes to her latest media, metal (aluminum).
One of her metal creations can be seen at the Fort McMurray Airport, along with that of Jane Ash-Poitras and other renowned Canadian artists. Another – Spirit River – can be seen on the Peace Hills Trust webpage.
"Amy is a very impressive person and a brilliant artist," noted Scott Clements, CEO and President of the Fort McMurray Airport Authority. "Other airports also have art programs and I talk to my colleagues about the various artwork and how aware and proud we are of it. About 350 artists applied to have their artwork installed at our airport and it was (difficult) to choose the four that we did from so many entries. When I saw Amy's work I was immediately impressed and after seeing it we added a fifth piece of art."
That work embraces an eagle in full flight in the midst of the Northern Lights, something that Clements said was both awe-inspiring and "very suitable" to the northeastern Alberta airport terminal.
Keller-Rempp says the airbrush has always been a favourite tool but her work with metal is a more recent undertaking.
"When I was growing up my dad often took me aside and told me that I needed to improve my art – at least the realism of the art I was creating," she explained. "He was an avid outdoorsman and as such he knew the animals and just how they appeared in the wild – he'd teach me things about the colour, the contrast, the thickness and highlights of the fur, the shape it took. It was amazing and from his guidance I learned a great deal – today I like to see every hair in its place. That's the realism of what I create. I took up working with metal because of its uniqueness. I draw the design I want, then take a grinder to the piece and lightly etch in what I am trying to create. It's a process that requires time and expertise, and I got that thanks to the guys at Baker Boyz Designs here in Edmonton. I had already had some experience with airbrushing but after completing the course they offer, I became much more proficient. I learned a great deal; Shane Baker and his team are great!"
Amy Keller-Rempp is Métis, the daughter of a hard-working German-born pipeline worker (Dale) and a proud and nurturing Tyendinaga Mohawk woman (Bonnie), both of whom supported and encouraged her to pursue her artistic talents. Growing up in rural Ontario provided the aspiring artist with many ideas, a great deal of inspiration and an opportunity to study animals and their habitats.
"My parents," she explained, "have always been the driving force. They often told me how proud they were of me; both said I would be famous one day. They encouraged me to continue to grow and though my dad is no longer here, I still feel that encouragement."
Keller-Rempp was also encouraged by other family members, including her uncle, Jerry Fuller, a talented artist who once had his own private art show.
When Amy was just seven years old her father was diagnosed with multiple sclerosis, a disease he battled for 15 years; he passed away in 2004 at the age of 48.
"He was a real inspiration to everyone who knew him," she sighed. "He was dedicated to his family, his work and his passion for the outdoors. He spent every possible moment teaching me how to fish, hunt, trap and simply observe nature."
Amy's mother continues to encourage her development, fully supports her work "and is definitely my biggest fan," chuckled Keller-Rempp.
Amy moved to Alberta in 2008; she currently resides in the Capital Region with her husband and business manager, Antoine and their two daughters, aged two and three.
"I like the west; it's given me an opportunity to see a larger perspective of this beautiful country," she explained. "It has also allowed me to expand as an artist and provide an opportunity to explore new and exciting styles of painting. I love wildlife and that love is reflected throughout much of my work. I also like to reflect the spirit of the creatures I create through their eyes, actions and expressions; every small detail counts."
That beautiful work, created with either oils or acrylics, is indeed a sight to behold. The effort and attention to detail that Amy Keller-Rempp puts into her creations is synonymous with the finished products, which to this viewer, are perfect in every way. Her paintings on beaver pelts are stunning; her "Realism series" is a gallery filled with wildlife – with each branch, every critter, every hair on every head just as it should be, both in colour and texture. Her "Skydance series" is filled with owls and eagles and ravens that sit, fly and soar across the northern-lit skies in a variety of designs and colours guaranteed to catch the eye of the beholder; her airbrush series showcases wolves, bison, owls, eagles and landscapes. And there's much much more – you can see it all at amykeller.com.
Keller-Rempp completed her education at Sir Sanford Fleming College's, School of Fine Arts, in Haliburton, Ontario. Her work can be seen in various Alberta, B.C. and Ontario galleries and of course on her website. A repertoire of her art shows and exhibitions, and a full list of artwork that she has donated to various causes throughout the years can also be found there.
Amy continues to work to improve and refine her talent and her art; her goal is to bring life, feeling and energy to her creations. Check out the website and I think you'll get an emotional boost as you think: wow – these works are filled with life and feeling and emotion; they give me goosebumps!
amykeller.com – be sure to check it out.