by John Copley
(ANNews) – It's now or never for Indigenous artists interested in competing for the substantial prize money being offered to winning entries in the 2016 Peace Hills Art Contest, an annual event that is celebrating its 34th anniversary this year. The deadline has been set for 4 p.m. on September 8, 2016. See the website at peacehills.com or call 1.800.661.6549 for the full details. The website also has an application/entry form and an explanation of all requirements.
There's an adult and a youth competition; to qualify, contestants must be Indigenous, Canadian residents who have submitted a fully completed and signed Entry Form; submit an unframed two-dimensional work of art in any graphic medium, no larger in size than 4 feet by 6 feet. Adults may enter up to 10 works of art; youth may enter up to three works of art, all of which must be delivered to the Peace Hills Edmonton office on the 10th Floor at 10011-109 Street, at or before the deadline.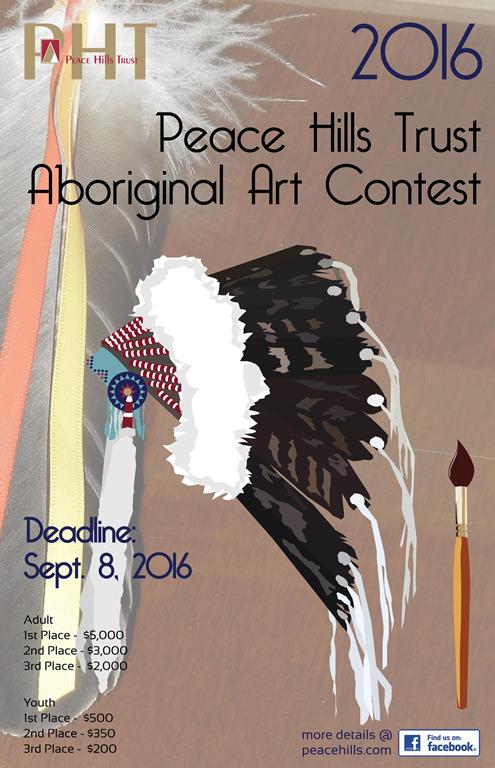 Entries must be 'unframed' paintings or drawings and may be done in oil, watercolour, pastel, ink, charcoal or any two-dimensional graphic medium. All entries are judged on the basis of appeal of the subject, originality and the choice and treatment of the subject, and the creative and technical merit of the artist.
Judges for the 20016 competition include Mario Swampy (Samson Cree Councillor), Terry Danyluck (University of Alberta Bears Volleyball Coach) and Debbie Semeniuk (Edmonton Public School Support Staff)
The Peace Hills Trust Company (PHT), founded in 1980 by the Maskwacis-based Samson Cree Nation, launched the now-renowned Peace Hills Art Competition in 1982 to encourage Native artists from across Canada to develop, preserve and express their culture through artistic expression. 2016 marks the 34th year that the art contest has taken place.
"The annual art contest continues to be one of our highlights of the year," noted Creative Director Erin Buffalo, who has been coordinating the art contest since 2013. "The competition not only allows Indigenous artists from across our great country to compete with one another for prizes, it also promotes the significant contributions that each has made to Canada's art scene. The art contest comprises two main categories: Adult and Youth. The Adult category includes prizes of $5,000.00 to the first place finisher with $3,000 going to second place, and $2,000.00 for third. Youth category winners receive $500.00, with $350 awarded to second place winners and $200 to third place finishers."
Every October the artists who participate in the competition are invited to have their work on display at the Peace Hills Trust annual gala. Because of the overwhelming popularity of the contest, and because space is limited at the venue, the annual gala is an invitation-based event. All proceeds from the sales made at the annual gala go back to the artists who created the work.
Established in 1980, PHT has 35 years of experience serving the financial needs of First Nations and their members, corporations, institutions and associations both on and off reserve.  Peace hills Trust also offers financial services to non-Native clientele.
Peace Hills Trust and its staff of nearly 100 employees currently serve a client base that exceeds 20,000 personal and business accounts. Wholly owned by the Samson Cree Nation of Maskwacis, Alberta, Peace Hills Trust, whose head office is located on-reserve, provides financial services to most regions of Canada through its network of eight Regional Offices and electronic services.
The annual art contest is just one of the ways that Peace Hills Trust promotes Aboriginal achievers. The company also offers scholarships, awards and bursaries via five different outlets, including the University of Alberta, Maskwacis Cultural College, National Aboriginal Trust Officers Association, National Indigenous Economic Education Fund, CANDO and New Relationship Trust.
The competition allows Aboriginal artists the opportunity to both show and sell their wares to interested art lovers and collectors. The products they produce also provides marketing opportunities for Peace Hills Trust, who utilize the artwork for their annual calendars and Christmas cards.
"It's a great opportunity for both the artists and for Peace Hills Trust," noted Buffalo, who praised the efforts of the many people who've worked diligently over the years to ensure that competing artists are able to glean maximum exposure from the annual initiative.