Stats Canada says that more than 360,000 citizens are enrolling in apprenticeship programs every year but notes that only half of those who enrol actually finish the programs they are enrolled in. There can be a number of reasons for those low completion rates, but money and accessibility often comes into play. That's where the North East Alberta Apprenticeship Initiative comes in.
"We can help," said Eva John-Gladue, Operations Manager for Tribal Chiefs Employment and Training Services Association, the organization that oversees the North Eastern Alberta Apprenticeship Program (NEAAI). The program is an initiative the association launched a few years ago to ensure that Aboriginal peoples, particularly those living in the northeast regions of Alberta, are able to participate in the province's growing economy.
The apprenticeship initiative ensures that Aboriginal workers receive the proper training they need to compete for the growing numbers of skilled workers being sought by companies throughout the country. The Conference Board of Canada says more than a million skilled workers will be needed in Canada within the next half decade.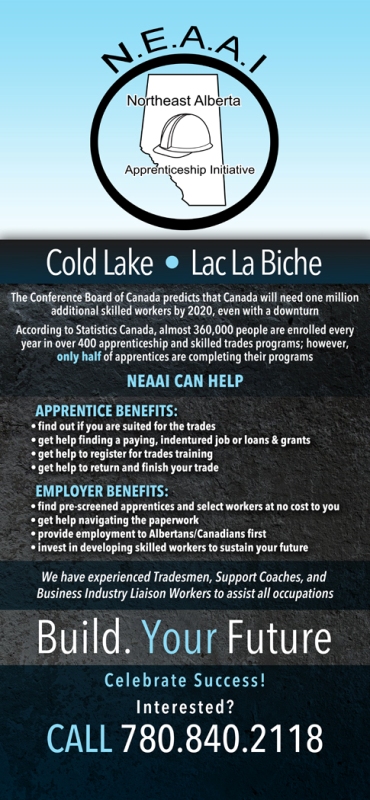 "There are always going to be opportunities for skilled tradesmen and tradeswomen," assured John-Gladue. "If you are interested in pursuing a trade or returning to finish the trade you were previously in, we can help. If you are a skilled apprentice and need a hand finding employment, we can help. If you are just entering the trades and need to find an indentured job that will pay you, we can help. If you need assistance to register for trades training, we can help. If you need advice or information contact us and we'll help you find a solution."
There are many opportunities, especially in the trades, and there are also many unemployed Aboriginal Albertans looking for opportunities to participate in a meaningful way, with a promise of a rewarding career and a secure future. Those goals can be realized; NEAAI has already helped many young would-be apprentices get into the trades and secure employment.
It's also important to note that NEAAI offers benefits for both apprentices and employers.
NEAAI helps employers get through the red tape and navigate through the paperwork and it helps them locate pre-screened apprentices who are available for work; there is no cost attached.
Tribal Chiefs Employment and Training Services Association (TCETSA) is one of thirteen organizations in Alberta to hold an Aboriginal Skills Employment Training Strategy (ASETS) with Service Canada, the Federal wing of Human Resources and Skills Development Canada.
A proposal initiated by TCETSA last year has seen the creation of a new program and one that promises to be the difference-maker when it comes to ensuring that Aboriginal peoples, particularly those living in the northeast regions of the province, are able to secure a future with meaningful training and employment opportunities.
There's an important event taking place at the Double Tree by Hilton (Mayfield Inn) Hotel (116th Street and 109 Avenue) on Monday and Tuesday, October 5-6. Hosted by the Tribal Chiefs Employment and Training Services Association and Oteenow Employment and Training Society, the Treaty 6 ASETS Workforce will be presenting a two-day Employment Partnerships and Job Fair.
The event will have much to offer to both employers and job-seekers, and will provide an ideal opportunity to network, meet with old friends, make some new ones and learn more about what's going on in Alberta's economy. The two-day event promises to be filled with an array of valuable information, guest speakers, great food and some outstanding entertainers from the Indigenous community.
NEAAI serves the local area as well as the First Nation communities of Cold Lake First Nation, Kehewin Cree Nation, and Frog Lake First Nation.
To contact the Edmonton office, call (780) 481-8585. To contact the Lac La Biche Office call: 780-623-5105 or fax 780-623-5355. To contact the Cold Lake Office call: 780-840-2118 or fax 780-594-640.
by John Copley