The beautiful art on the cover of the October issue of Alberta Native News is entitled Coyotchena Spirit Helper by the very talented artist Linus Woods.  His new art will be featured in an exhibit at Bearclaw Gallery in Edmonton from October 24 – November 5, 2015. The theme of the exhibit is "49 Flavours of Jelly Beans."
He won the first place award at the Peace Hills Trust 18th Annual First Nations Art Contest on Sept. 24, 2000, beating out second-place winner Jerry Whitehead of Vancouver and third-place winner Rocky Barstad of High River. In 2003 he was one of seven artists chosen for the Image Makers First Nation Art Exhibit in Los Angeles, California. In 2010, his work was included in Close Encounters: The Next 500 Years exhibition of contemporary Indigenous art organized by the Winnipeg Art Gallery, an important event that featured premier Indigenous artists from Canada, the USA and several other countries across the globe. His Rabbits on the Rez paintings were featured in 2002 at the Inuit and Indian Art Gallery in Hull, Quebec. His first solo exhibit was showcased at the well known Winnipeg-based Wah-sa Gallery in February of 2005. His latest works were showcased more recently at the prestigious Bear Claw Gallery in Edmonton, Alberta, where he participated (Sept. 28-Oct. 11, 2015) in the gallery's 40th Anniversary Exhibition, an event that highlighted the work of more than a dozen well-known and highly regarded Aboriginal artists, including Alex Javier, Aaron Paquette, Jane Ash-Poitras, Jonasie Faber, Maxine Noel, Jason Carter, Diane Meili and others.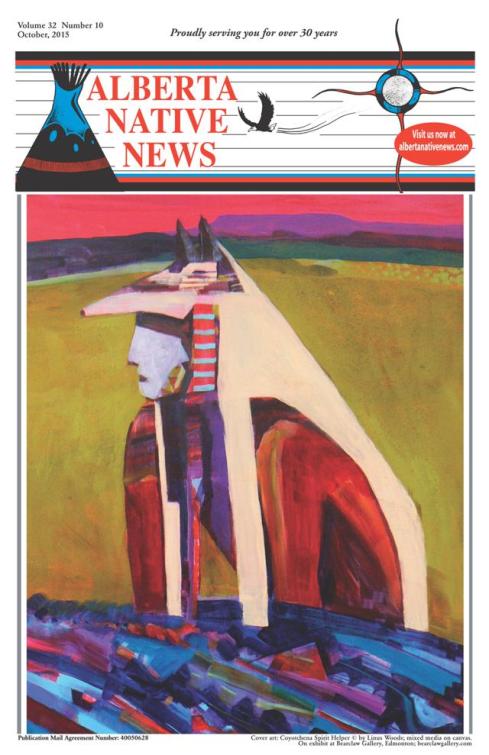 His name is Linus Woods and at just 48 years of age his name is already synonymous with success, and that's a real achievement, especially for an artist, whose career path seldom leads to fame or acclaim until long after he or she is deceased.
"I was born in Winnipeg (in June 1967) and raised by my mother, Carol Merrick and father, Ron Woods on the Long Plain Reserve in Manitoba," explained Linus. "I am part of the Thunderbird Clan. I was powwow dancing at the age of two and drawing pictures before I started school, and that's where my interest in art really began to grow. I went to school on the reserve and all of the kids in my class were artists; we could all draw. Of course not everyone continued with it, but I decided to pursue art and over the years have developed my own style."
And that style is both unique and unmistakable, as identified by journalist and art critic Clint Buehler, who in 2002 referred to Linus Wood's artistic style as being "so unfailingly distinctive and consistent that it is immediately identifiable."
Woods is pretty much a self-taught artist, though at one time he did take a few Native Studies and art courses at Brandon University. A complex individual and a master of many talents, Woods loves to create paintings that are influenced by the surroundings he's most comfortable around, his home on the Long Plains First Nation. He works with oils and acrylics and collage and creates beguiling pieces of work that often feature an array of geometric shapes and collaged images. His work, however, isn't confined to paintings that depict Indigenous culture. There's more than one kind of art, just as there are many reasons why artists paint what they do.
"I really enjoy the work that I do when it reflects the positive nature of our community and our culture and it's also the kind of work that galleries and collectors are interested in," noted Woods, "but I enjoy other forms of art as well. I guess I'm an artists' artist because I like to study the art created by other people, including the work of several European artists. One of my favourites is American painter Richard Diebenkorn. I was able to watch a documentary on him and saw that he experimented a lot with art, using different mediums and mixing different colours and that's what I was a doing – and still do. I was surprised to see that we had that in common."
Diebenkorn was a master of colours and one of America's most renowned painters. He is credited with defining the California School of Expressionism during the 1950s through his unique use of colours and his ability to bring balance to figuration and abstraction. In 2012 a painting he created in 1971 became the most expensive ever auctioned when it attracted a bid of $13.5 million at Christie's New York.
Linus Woods doesn't mix his artistic talent with politics. He said,  "My art is meant to tell a story and create a certain awareness or feeling, but I don't deliberately try to convey messages that condone or condemn the political state of Canada or any other nation in the world."
The artist also noted that he no longer titles his paintings; he wants the viewer to see the paintings he creates through their own eyes and not a title on the top of the work.
"A painting is something that is felt by the viewer and each person will have a different take on what the painting means to them. If you name it, you've already exposed the image to what you, as the artist, want them to see. I want each person to see and feel what the work means to them.  I try to capture a feeling and then pass that feeling on to the people who enjoy what I create, and are interested in my work. "
Linus said that he'd like to tackle a new project sometime down the road, one that would include a CD with every painting.
"There are a lot of good First Nations and other Aboriginal songs out there and new ones being created every day; I'd like to include a CD with each painting."
That music would reflect the feeling and mood of the painting – each painting with its own collection of music.
Linus Woods calls Winnipeg home, that's where his girlfriend, Angela Nicole lives, but he also shares his time in Edmonton where he often works with students at the Highland Junior High School.
"It's complex," he smiled, "because I really enjoy my time in Edmonton and working with the kids is a real treat, but I can't paint as much when Nicole and I are apart. She's an inspiration to me and long distance communication has never been something I've enjoyed."
Helping to educate youth about the various styles of painting and creating art forms has a special significance to Linus Woods. He enjoys watching the students put their new-found knowledge to work and said it's amazing to see that "so many young people have the ability to create something beautiful, and really enjoy the challenge of taking on new projects and vocalizing themselves through artistic expression."
When he's in Edmonton Linus Woods is Highland Jr. High's Artist-in-Residence. He uses an empty classroom to store and work on his art and in turn he works with students and helps them to gain a better understanding of artistic impression and how it can play a part in their lives now and into the future. A unique arrangement that benefits everyone in the school, Linus doesn't pay for the space  he uses and he doesn't get paid for the instruction he provides to students.
"We work with Linus and with three or four other artists," noted Principal Brad Burns. "Each brings a different discipline to the table and our student are the beneficiaries of being able to learn something new and different from each of the artists who work with us. Linus has been truly wonderful for us; he's brilliant with the kids and a real gift to the community. He works with the kids here for about three weeks a year.
"I'm also working with the district to get him out to other schools to share his historical narrative paintings in which he talks, in a contemporary way, about his community and the importance that art plays in the Aboriginal community. He combines narrative with painting and the students are just mesmerized by the work. We've developed a question list that teachers can ask when he's working with the kids so it's like an interview process that allows him to give insights into his culture, his background and his experiences. It is very inspiring for the students and for our staff."
Highland Jr. High goes the extra mile to ensure that students understand the long-standing plight of Aboriginal people. The school was among the first to embrace teaching students about the Truth and Reconciliation Commission and the 94 recommendations it developed during its six year investigation into Indian Residential Schools.
"This subject is so important; one of our Grade 9 students is the female youth representative for the Youth Council for Reconciliation. She's one of 26 students from across Canada that get together a couple of times a year to discuss what's happening in the schools and how the subject is being addressed."
Woods has been collecting sketches since he himself was in school and still retains a scrapbook filled with ideas for new work, some of it based on comedic scenes, cartoons, school paintings, extraterrestrial images and much more.
"I don't really have to have a vision quest to find new ideas," he smiled, "because I have many ideas that I've not yet put on canvas. I've already completed some of these ideas, one of them being the Rabbits on the Rez paintings featured in 2002 at the Inuit and Indian Art Gallery in Hull, Quebec."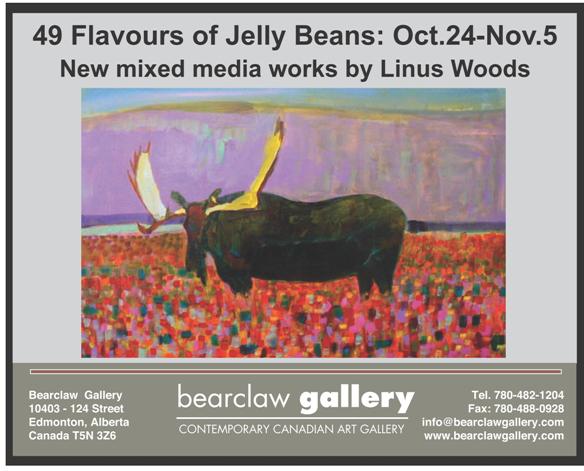 West of Winnipeg Linus's work can be found in various venues but he concentrates primarily on providing art for the Bear Claw Gallery in Edmonton and the Inuit Art Gallery of Vancouver.
Linus Woods' collections include: Winnipeg Children's Hospital, Long Plain First Nation, Curtis Joony Productions, Brandon University and Mae Moore. His work is also included in the collection of the Canada Council Art Bank. In addition to private collections in Canada, the U.S. and Europe, Wood's work can also be found at Brandon University, the Department of Indian and Northern Affairs, Arrowhead Corp., The Government of Manitoba, The University of Winnipeg, and the Peace Hills Trust.
Article and photos by John Copley