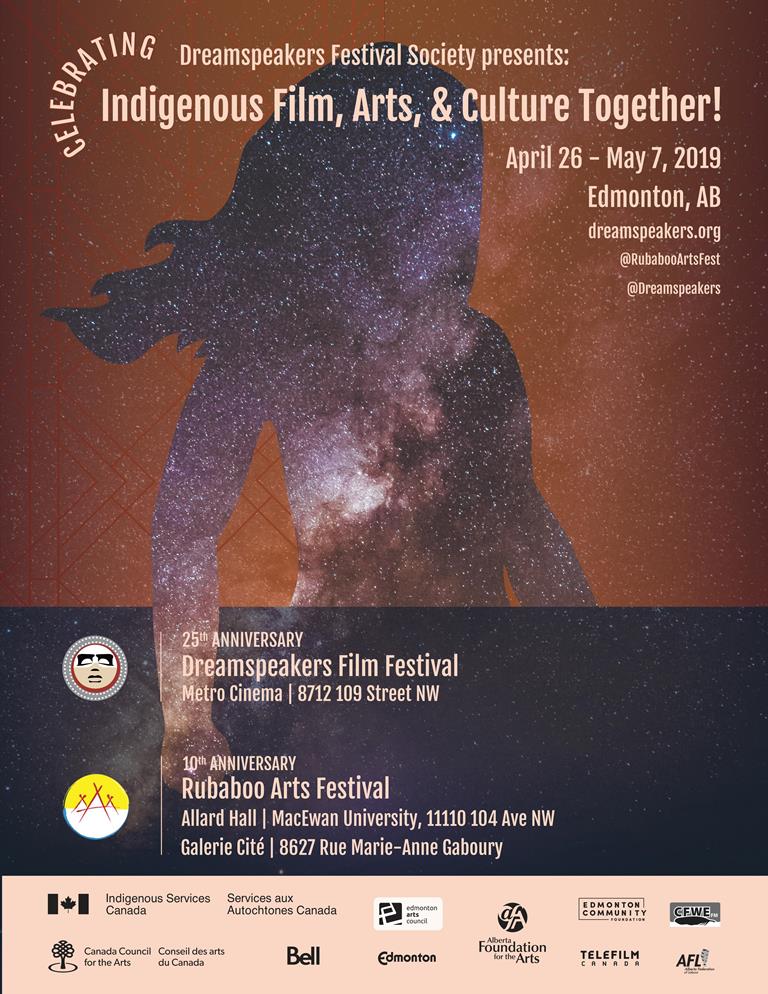 (Edmonton, AB) – Join us for the 10th anniversary of the Rubaboo Arts Festival and the 25th anniversary of the Dreamspeakers International Film Festival – April 26 to May 7, 2019. Presented in tandem, this celebration features extraordinary artists and their work, across multiple disciplines.
Dreamspeakers presents and celebrates local, national, and international Indigenous innovation in film. Rubaboo is Alberta's only Aboriginal multi-disciplinary arts festival, committed to developing and presenting new artistic works by cutting-edge Aboriginal artists.
"Art is Powerful Medicine and it leads much of the work of Reconciliation in Canada. Our Elders tell us art was participatory and embedded in our ceremonies meant to communicate our humanity to the Creator, and to each other," remarked Christine Sokaymoh Frederick, Executive Director of The Dreamspeakers Festival Society.
"We invite all Canadians, newcomers and visitors to join us in this celebration of expressed humanity and share in the work that builds our collective identity!"
View a unique Dreamspeakers selection of Indigenous films, including the award-winning Falls Around Her starring Tantoo Cardinal and directed by Darlene Naponse, and Three Feathers based on the graphic novel by Richard Van Camp.
Indigenous youth interested in film can participate in Dreamspeakers' Youth Day, and a free Talent Search with L.A. casting director Rene Haynes – who specializes in Indigenous projects, including Canadian features Rhymes for Young Ghouls, Indian Horse and the upcoming Blood Quantum and Night Raiders.
Rubaboo features Kaha:wi Dance Theatre and Santee Smith's Blood, Water, Earth, Making Treaty 7's Kaahsinnoniks, an inspiring meme creation workshop with @dadfights, Josh Languedoc's new play Rocko and Nakota, a classic Rubaboo Cabaret with award-winning hoop dancing by Arik Pipestem. It also features a Fusion performance at the Iniw River Lot 11 art park, a literary book launch with Anna Marie Sewell, an exploration of Body Sovereignty with burlesque artists Virago Nation and Iskotew Iskwewak, an empowering Tattoo Medicine for Land Defence Gathering & Action. There will also be a stunning display of Indigenous visual art at Galerie Cite, and a special Anniversary Gala to celebrate with films, artists and the Edmonton Symphony Youth Orchestra of Northern Alberta (YONA).
Tickets range from free to $20. Film tickets are available at metrocinema.org. Rubaboo tickets available At The Door. For TICKETS, DETAILS and FULL SCHEDULE please visit WWW.DREAMSPEAKERS.ORG
Find us on Facebook, Twitter and Instagram: @RubabooArtsFest and @Dreamspeakers
Both festivals are produced by The Dreamspeakers Festival Society, and are supported by Indigenous Services Canada, Canada Council for the Arts, Alberta Foundation for the Arts, Edmonton Arts Council, The City of Edmonton, Bell Media and Telefilm.