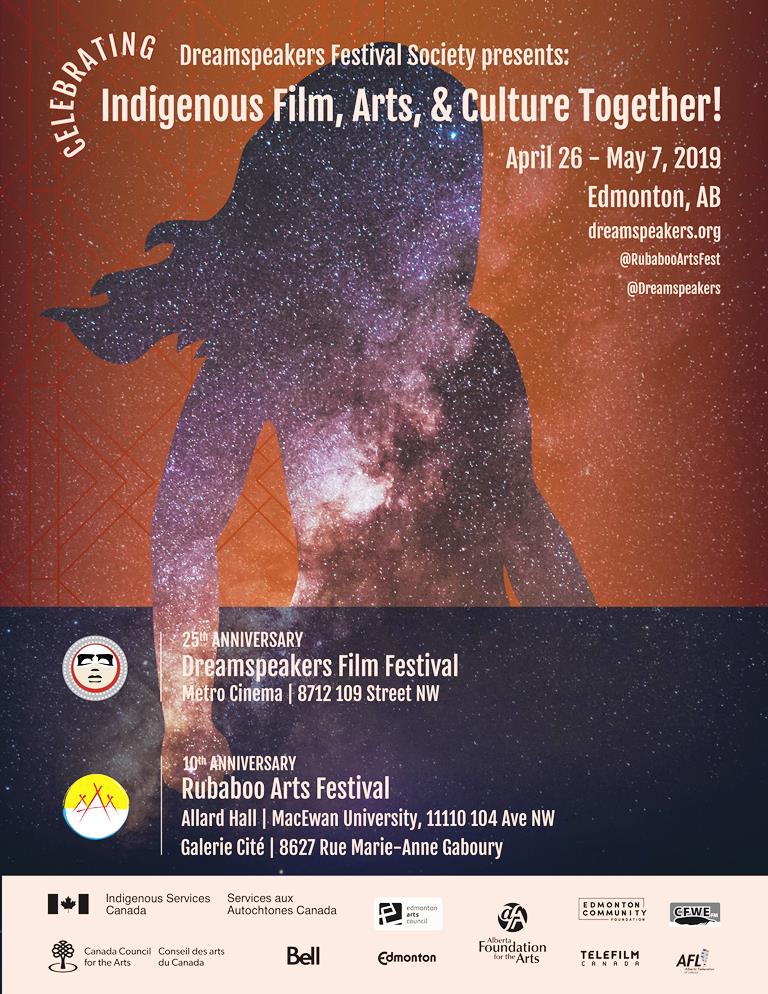 by John Copley
(ANNews) – 2019 marks a milestone moment for the Edmonton-based Dreamspeakers Festival Society (DFS); this is the organization's 25th Anniversary. From April 26 through May 7 the Dreamspeakers Film Festival will highlight some of those years and focus on some of the artists and the work they completed while participating in the organization's truly remarkable journey.
"It's been a great year for us," smiled organizer and DFS Executive Director, Christine Frederick. "We've been building for the past couple of years and we are very excited about our upcoming anniversary festival."
Alberta's capital will once again become the site of this important international gathering, one that highlights a variety of themes via feature films (longer than 41 minutes) and short films (40 minutes and less) delivered by Indigenous artists and filmmakers from across the province and beyond.
"We will once again present to our audiences an extraordinary selection of films as we explore various themes, host another Youth Day event and present five full days of film screening, most of which will be screened at the Metro (Garneau) Theatre. Most of our performing arts events will be held at the new Allard Hall facility at Grant McEwan University; there are three different theatres in that venue. We will also be activating several events in the beautiful atrium lobby.
"We also have a visual arts presentation that will take place in partnership with the Gallerie Cité at La Cité Francophone. They will be displaying our visual arts in their gallery from April to July. We have also formed a partnership for 2019 with the Rubaboo Arts Festival; that organization is celebrating its 10th Anniversary."
The entire event takes place from April 26 to May 7; the first day begins with the Opening Ceremonies, which will be followed by five days of Dreamspeakers film screenings. Youth Day will be held on May 2 and then the event will concentrate on performing and digital arts, which will culminate on May 7 with a large anniversary gala and closing ceremonies.
The location for the Opening Ceremonies hasn't been announced yet but Frederick is hopeful that the intro to this year's festival will take place at Beaver Hills Park.
"We're playing tag with Parks and Recreation right now," grinned Frederick, "but we are hopeful that this well-known park, which has played an important role in the Indigenous history of the area, will be our starting point for 2019."
The Dreamspeakers Festival Society is a registered non-profit charitable status organization that was created in 1993. The society produces an international festival that has been showcasing the latest works by Indigenous people's innovation in film, video, radio, and new media, presenting selections of Indigenous works from around the globe since its inception. The festival attracts and connects filmmakers, media artists, programmers, buyers, and industry professionals. The works accepted reflect the diversity of the world's Indigenous nations and illustrate the vitality and excellence of Indigenous art and culture.
But Dreamspeakers is more than an opportunity to meet, greet and share Indigenous perspectives on film, it is also about opportunities for youth.
"Definitely," assured Frederick. "In fact, for the past couple of years we have been focusing on community and the importance of bringing communities together and honouring our local filmmakers and artists. We want to make certain that we are doing what we can to promote community dialogue, panel discussions, meet-and-greet and other activities that focus on relationship building, encourage collaboration and create dialogue that pushes all of the art form forward, especially as it relates to our collective identity."
The goals of the organization have remained intact for the past 25 years.
"This mean that we endeavour to connect in a meaningful way, to learn how to be more impactful to the needs of artists and our greater community. The activities we propose will advance our effective strategic planning for years. It also puts us in a better position to honour the original vision of the Dreamspeakers founders to be a resource for Aboriginal filmmakers, directors, scriptwriters, cameramen, technicians, actors, musicians, storytellers, artists and craftspeople. We can create more opportunities and make a better impact on arts, culture and our collective identity, and we can do it all right here in Edmonton."
The Dreamspeakers Festival Society empowers young Aboriginal artists to express their creativity, entertain audiences, and share their visions. Youth Day is the organization's celebration of youth culture and a showcase for the richness and diversity of a new generation of filmmakers. The 2019 festival will once again introduce its Youth Day experience, but this year it will have an added touch.
"We're really building on the momentum we gained with the Youth Day event we held in 2017," Frederick explained. "There are a couple of themes this year and one of those is an internal theme which speaks to our strategic planning for the next four or five years. It is about identity and recognition of artists and art forms. One, though not official just yet, is about body sovereignty ; it's a theme we are looking at and that a lot of this year's artists are looking at as well. I guess it's our response to the Me-Too Movement; it is an acknowledgment of the sacred knowledge that Indigenous people have when it comes to health, sexual health and gender identity."
One piece of the Youth Day portion of the Dreamspeakers 2019 portfolio will be a retrospective of short films created over the past many years by Indigenous youth in a culmination of work that comes via "Dreamspeakers on Tour."
"This is a program we used to run where we'd take about 15 youth out of the city, teach them filmmaking in 10 days and then have each of them make a five-minute film," noted Frederick. "After editing the work, we would screen them, and the feedback was tremendous. We have many years of archived films created by youth from across Alberta. It's a beautiful treasure trove of work that one of our former employees, Carla Ulrich, will be viewing and putting together a retrospect that celebrates Indigenous youth and the art they create. This will give us a great opportunity to reconnect with the youth and the many people who have been involved with Dreamspeakers over the years."
Frederick noted that between 23 and 40 films are usually screened during the Dreamspeakers Festival, but the final tally will depend on the number of short films that have been submitted. "All of our films are in now and are currently being looked at by our selection committees so it will be a couple of weeks yet before we know the exact number of films we will be showing this year."
Audiences can expect similar numbers this year; there will definitely be many interesting feature films and short films to take in.
'There is one film in particular that I know audiences will be thrilled to see – and I am really looking forward to presenting it. It has just been confirmed that filmmaker Darlene Naponse's film, Falls Around Her, will be part of our feature films presentation."
Falls Around Her stars acclaimed Canadian actress Tantoo Cardinal. The film premiered at the Toronto International Film festival in 2018 and was subsequently screened as the opening gala of the imagineNATIVE Film + Media Arts Festival in October, where it won the Air Canada Audience Choice Award.
"One of the great things about this stunning film," noted Frederick, "is that despite the tremendous career that Tantoo has had as a trailblazer and an amazing artist, this is apparently the first film in which she plays the lead."
I won't share the synopsis of the film; I'll leave that surprise for the audiences that attend this year's festival.
Judging has come a long way since the first Dreamspeakers events, something that Frederick says she is really proud of.
"We have really evolved since those early days," she explained, noting that "once we not only hosted the event, but also helped in selecting the films. Over the years we have had fantastic support from the whole industry and from the community at large. Today we have a film selection committee that includes some of our board members, but also members of our community who are filmmakers themselves. We also have an international curator who works in tandem with the selection committee; his name is Antonio Coello. He is a remarkable artist who has worked with us in the past; we welcome his participation again this year."
Coello studied film in Mexico, Spain, and Cuba. His work is dedicated to exploring cultural diversity through anthropological observation and a sense of humour. He has received several grants supporting his creative work as well as awards for his short films. He is currently working on Seven Edges, his first full-length feature film.
Christine Sokaymoh Frederick is an urban Aboriginal Cree-Métis residing in Edmonton, Alberta. She is co-founder and the artistic director of Alberta Aboriginal Performing Arts and produces the annual Rubaboo Festival and is the Executive Director of the Dreamspeakers Festival Society. She is the first Indigenous Associate Artist of the Citadel Theatre, and the first Indigenous board member of the Edmonton Symphony Orchestra. She is former chair of the Edmonton Arts Council and former Vice Chair of the Alberta Foundation for the Arts. Christine served on the steering, working and selection committee for the ÎNÎW River Lot 11, one of the first Indigenous Public Art Parks in the world. She is the recipient of the 2007 Esquao Award in Arts, and the 2016 Mayor's Award for Excellence in Artistic Leadership.
No matter what type of film you enjoy you can be assured that you'll find it at this year's Dreamspeakers Film Festival – see the website at: www.dreamspeakers.org.