(Calgary) – Forward Summit, the gathering of Indigenous and industry leaders dedicated to economic reconciliation, has just announced that Teck Resources will present at the inaugural event taking place in Calgary from February 26-28, 2019.
Teck Resources, Canada's largest diversified resources company, will be at the table to participate in various discussions related to their Frontier Project which is currently being reviewed by a joint federal-provincial review panel.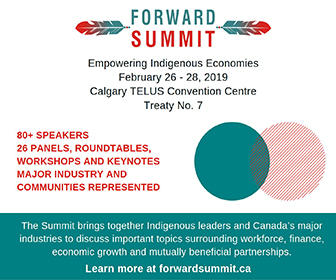 Over the last several years devoted to their Frontier Project, Teck has blazed a trail of partnerships and agreements with the Indigenous communities that neighbour the proposed mining area in Northern Alberta. The result is a shift leading to more open communication and acceptance between industry and Indigenous nations on industry led projects, as well as socio-economic, ecological, workforce and major financial implications.
The participation of Teck Resources at Forward Summit includes a dedicated panel session and roundtables highlighting their innovative approaches to economics, partnerships and environmental sustainability. Teck's conversations include both industry and Indigenous perspectives on how and why this unique and collaborative approach to large-scale projects has seen early success.
Attendees will hear from such innovators as Heather Lawrence, Manager Indigenous Affairs Teck Resources; Bill Loutitt, CEO McMurray Metis; Melody Lepine, Director Government & Industry Relations, Mikisew Cree First Nation; and Dr. Robin Johnstone, General Manager, Community & Indigenous Affairs, Teck Resources.
Delegates at Forward Summit will attend "Building Sustainable Relationships – The Frontier Project" panel session on day two of the three-day Summit with the opportunity to participate in the Q&A that follows.
Register now at forwardsummit.ca to hear from Teck Resources and other thought-leaders on economic and workforce opportunities with Indigenous communities at Forward Summit.
Forward Summit has also partnered with Lynx Indigenous Career Connection to present Indigenous Students Career Day taking place on February 27th at Calgary TELUS Convention Centre.
While hundreds of Indigenous and industry leaders from across Canada meet at the convention centre for Forward Summit, a few rooms over, Indigenous students and alumni from across Alberta will network with recruiters to build successful careers of their own.
Part of creating pathways to employment is providing channels for organizations to connect with the future talent in Canada. Lynx Indigenous Career Connection offers career opportunities with companies who are seeking skilled individuals for co-ops, internships, full-time or summer employment and posts around 800 jobs annually with no fee for students to participate.
Attendees at the career fair will network with employers and hear from successful, Indigenous community members like Denise Pothier, VP of Indigenous Relations at Stantec Consulting. Denise will share her journey to becoming an engineer and why education was critical to her success.
The Indigenous career day is an important component of Forward Summit. The theme of Indigenous inclusion and education will play a major role in the conversations at the summit.
Indigenous students and alumni are invited to register for free to attend Indigenous Students Career Day at forwardsummit.ca.
Business leaders, community members and HR professionals who are interested in the three-day Forward Summit can visit forwardsummit.ca to learn more about the important conversations scheduled to take place.