Edmonton, AB – Two cultures. Different legacies. New connections. Shumka presents ANCESTORS & ELDERS, exploring the power of tradition and truth, on March 8 2019, at the Northern Alberta Jubilee Auditorium in Edmonton. The multimedia show is back by popular demand, after its world premiere in April of 2018, featuring a cast of Shumka Dancers and multidisciplinary Indigenous artists.
ANCESTORS & ELDERS tells the story of Ukrainian and Indigenous dancers as they prepare to present their traditional dance in a modern setting. As they do so, we are taken inside their connections to dance; as they dance, we witness the power of their art to connect them to their heritage and the living spirit of this land both communities call home.
Survival, for both Indigenous and Ukrainian immigrant people in Alberta, often meant silence. In that silence, we have missed connections. There are also many lost stories of the linkages between our communities that have helped us both survive tremendous loss and struggle. We use dance to begin to break that silence; to remember those who came before us, the traditions they instilled, and the truths they endured. ANCESTORS & ELDERS is directed by Indigenous theatre artist Barry Bilinsky and Shumka's Joseph Hoffman, with a creative team of over 40 Alberta-based designers, artists, story-tellers, musicians and dancers.
"We must get beyond blame – we must get beyond guilt. Only then we can admire the beautiful reflection of one another we see in our dances, traditional practices, and communities. I hope that our piece reflects the journey we have undertaken to understand each other more deeply to begin a path of true ally Premiered in April of 2018, this collaborative production explores the relationship between the first Ukrainian settlers to Alberta and the Indigenous people they soon came to know. As the evening unfolds, the audience is taken on a spectacular journey that features similarities and differences, fear and respect and the power of tradition and allyship and conciliation," said Bilinsky.
Featuring Powwow Dancers: Adrian LaChance, Men's Traditional; Conway Kootenay, Men's Chicken; Patrick Mitsuing, Men's Fancy; Melody GoodStriker, Women's Jingle; Aura Cardinal, Teen Girl's Jingle; Marrisa Moccasin, Women's Fancy; Lakota Tootoosis, Hoop Dancer & More!
"Our hearts nearly burst. Far and away the best Truth and Reconciliation-inspired project on stage this year," remarked one audience member after enjoying the premiere performance.
"Marking this event is just one of the many ways Albertans can gain a deeper appreciation of our province's own deep ties to history and culture," stated Rachel Notley, Premier of Alberta.
Cast and Creative Team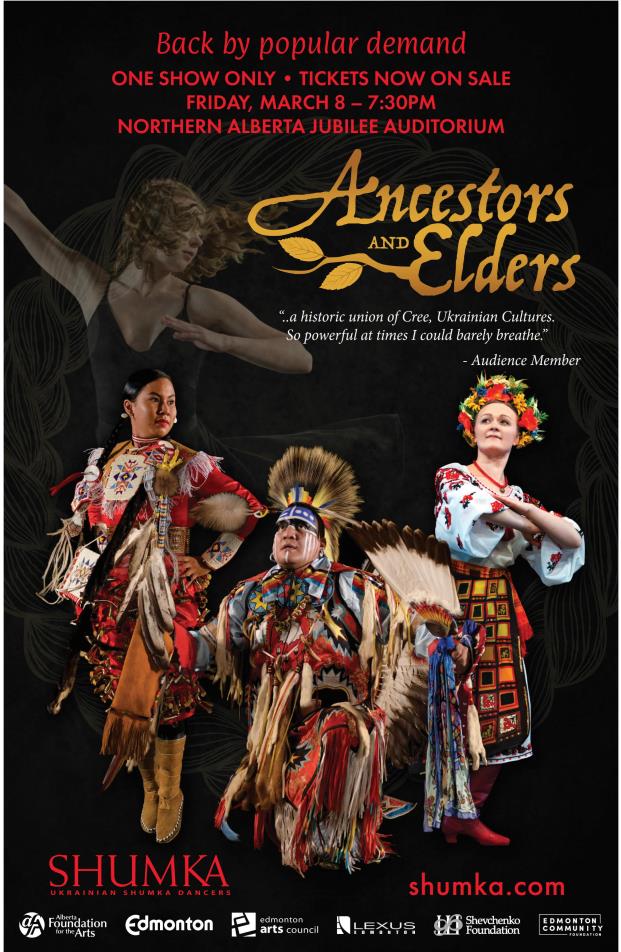 Darlene Auger, Performer
Jo Salvaloggio, Performer
Ayla Modeste, Performer
Katelyn Kuchta, Performer
Miika Whiskeyjack, Performer
Joanne Jerebic, Performer
Darka Tarnawsky, Executive Director
Barry Bilinsky, Co-Director
Joseph Hoffman, Co-Director
Anders Hunter/Carissa Klopoushak/Mike Romaniak, Musical Direction
Anna Mari Sewell, Story Consultation
Svitlana Kravchuk/Lana Whiskyjack, Visual Artistry
Megan Koshka, Costume Design
Jeff Osterlin, Lighting Design
Eli Lindenberger, Projection Design
Running Thunder Dancers & Drummers
ONE SHOW ONLY Performance – Northern Alberta Jubilee Auditorium
7:30 pm on March 8th, 2019
TICKETS are on sale for $15.00-$60.00 (plus applicable service & facility fees) at www.ticketmaster.ca