By Regan Treewater-Lipes
(ANNews) – Aabiziingwashi or Wide Awake is the National Film Board of Canada's new innovation in cinematic dissemination. The initial inception of the project began in January of 2016. The National Film Board (NFB) set forth on the long road that would eventually lead to Aabiziingwashi: a national tour of Indigenous cinema.
In a recent interview Executive Director of Programming and Production Michelle van Beusekom, reiterated that the philosophy of the tour itself was inspired by the NFB's founding ideology. "It's about making sure that Canadians have access to the films," she said. "Since 1939 the NFB has been committed to bring films to remote and rural areas. In the beginning, they had people travelling far distances to ensure that Canadian film found its way to the farthest reaches, sometimes even on horseback."
The tour therefore is a celebration of NFB tradition as it is not a conventional 'tour' but an initiative that brings over 250 Indigenous films from the NFB archives straight to any Canadian community. "People can go on the website and search through all the titles. Some of them can be streamed online, but people can also arrange to have public screenings in their communities," explained van Beusekom.
"We want to open an ongoing dialog. And now just seems incredibly right, we can showcase this fantastic collection and begin a discussion about Indigenous topics and issues through film," commented van Beusekom with excitement. Since 1968 the NFB has been supporting the production of films by Indigenous directors on Indigenous themes. As the project began in January of 2016, van Beusekom says that the sheer abundance of material and sorting through everything was a daunting task. "We had some films listed in our database more than once: with a French title, an English title, a Cree title. As you can imagine it took a great deal of time and effort to make sense of everything we had at our disposal."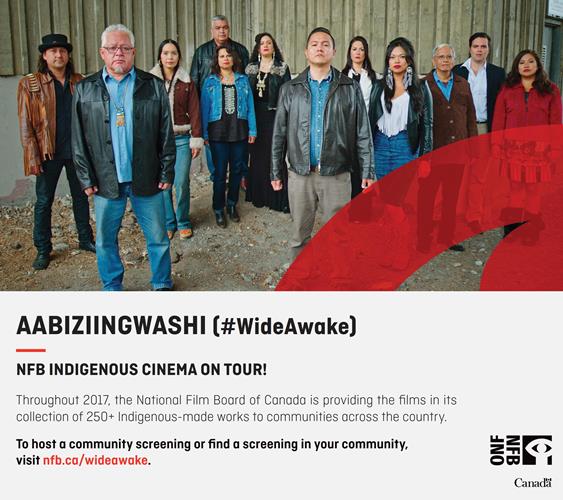 When asked about his thoughts regarding the tour, long-time Edmontonian Ben Tjosvold commented, "It's really awesome, I've really been looking forward to this." Tjosvold and his three biological sisters are the subjects of a documentary by Tasha Hubbard entitled Birth of a Family. The film casts a critical gaze upon the Canadian government and its treatment of Aboriginal families in the 1960s. Tjosvold and his three sisters were forcibly taken away from their birth mother as infants claiming that she was not fit to raise them. All four were adopted into different homes and spread across North America.
Hubbard documents the reunion of the four siblings, and their journey to get to know one another as adults. "It was my older sister who played detective and found all of us in any way she could," he explained, "she was determined." If we are to get an honest picture of Canadian history, stories like Tjosvold's need to be heard. "The movie has it all. There is laughter, sadness – you laugh, and then you want to cry, but when it comes down to it there's a sweet ending," said Tjosvold.
There are so many positive applications for the universal circulation of these films according to van Beusekom. "Yes, we want to bring the films to the far corners of Canada, but there are educational applications for the collection that are also being explored. Many of the films can be utilized as instructional material for educational purposes: in schools, by social workers, for cultural sensitivity training, for social awareness…" There are efforts being made in conjunction with individual provinces to integrate the films into existing school curricula. "Each province has a different curriculum so this is an ongoing part of the overall project," she elaborated.
Many titles have been digitized and are available to be streamed directly from the NFB's website. "You have to remember, in remote areas bandwidth is a huge concern," pointed out van Beusekom. "That's why we enable access through other means as well. The system is, people contact us, and we enable." Next month Tjosvold's story will be screened in Banff. "There was already a screening in Saskatchewan, where one of my sisters lives. Then there's the one in Banff, and I hope there will be a bunch more after that too," said Tjosvold.
Van Beusekom commented during her interview that "films are created in order to help people see things from a different perspective." The entire Aabiziingwahi project aims to promote greater awareness of Aboriginal social issues through film. Tjosvold shared similar sentiments, "What happened to the four of us wasn't okay, but it makes it worse if people go on not knowing that these things happened, because they happened a lot."
There are over 250 films included in the tour and anyone can search the NFB website or contact their offices to learn more. With such universal access to the sizeable film collection, Canadians have at their fingertips an unprecedented cultural resource – a chronicle of Aboriginal-Canadian cinema. Through these efforts the NFB hopes to impact national Aboriginal social awareness. By scrolling through the list of upcoming film screenings nationally it is evident that Aabiziingwashi's popularity is growing at the community level. Perhaps we will soon see this resource implemented within professional settings as well. But for Tjosvold and his sisters the project means so much more. "It's going to be aired on CBC in October I think. But, I mean, what if people don't get the CBC – they wouldn't see it. I'm so excited that people can just call up and they'll get to see the movie."
Viewers should remember that this universal access is free of charge. Instead of watching yet another predictable Hollywood flick, why not browse through the NFB's database and see things from a new perspective. For information, contact nfb.ca/wideawake.