Jane Ash Poitras doesn't need an introduction; Alberta Native News readers will certainly know she has long been recognized and respected as one of Canada's most celebrated artists. The recipient of many different awards and educational certificates during her near 40-year career, Poitras learned recently that she is once again being honoured. It's actually going to be a double-honour, because next month she will be presented with an Honourary Doctor of Letters (DLitt) degree from the University of Alberta and an Honourary Doctor of Laws (LLD) degree from the University of Calgary. The convocation ceremonies at the University of Alberta will take place on June 3, with the convocation ceremonies at the University of Calgary taking place on June 10.
"I've been fortunate throughout my career and as a result I have had a number of honours and awards bestowed upon me," smiled the 64 year old artist, printmaker, writer, lecturer and keynote speaker. "I have my favourites of course, those that are particularly special, but each of them has special meaning. An Honourary Doctor of Letters and an Honourary Doctor of Laws degree from two of western Canada's most recognized universities makes recognition very special."
Jane is a graduate of the University of Alberta (UA) with degrees in microbiology and printmaking. She also earned her Master of Fine Arts degree in Painting and Sculpture from New York City's Columbia University. A long-time lecturer for the UA Faculty of Native Studies, Jane Ash Poitras is a well known orator who remains a much-in-demand guest lecturer both in North America and abroad.
The two Honourary Doctorates will be the icing on the cake for Jane's fans, friends, art lovers and collectors from across the region and beyond. First on the artist's agenda is a new mixed-media presentation, Aliens and Shamans, an exhibit that will be featured at the Bearclaw Gallery in Edmonton from May 23 – June 4. Jane will be at the gallery from 1 – 4 p.m. on opening day.
"There are many similarities among the many pictographs and petroglyphs found on rock walls and in caves around the world," notes the Bear Claw invitation. "Some of them feature biped creatures similar to modern depictions of extraterrestrial aliens. There are those who believe that such aliens are the initial source of the knowledge, wisdom and powers passed on to today by succeeding generations of shamans."
"It will be different," Poitras grinned when I tried to pry information from her about the pieces she'd be exhibiting at one of the most respected art galleries in the country. "I don't want to give too much away – and then again, I'm still creating the work for that show – so no pictures today."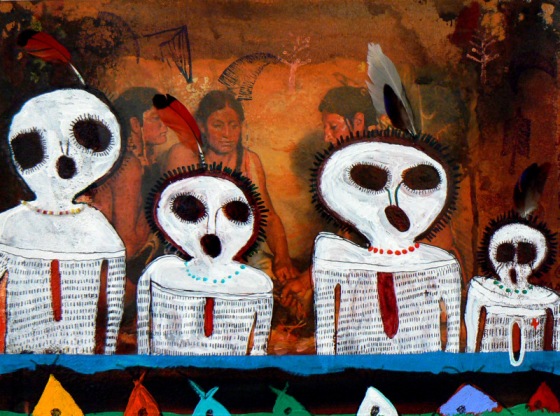 Ironically, eight years ago this month Jane's then-new "Shaman" series was introduced at the Bearclaw Gallery. "That's just a coincidence," she laughed, "There's nothing alien going on."
Visitors will find the Bearclaw Gallery to be spacious; the artwork tastefully displayed. Carvings and sculptures decorate the floors and open spaces, while paintings and other works hang from every wall. Delightful trinkets, souvenirs and jewelry fill the glass counters, each piece unique, each with its own history and story to tell. Original paintings, stone sculptures, jade carvings and Navajo jewelry, as well as beautifully made ceramics, baskets, textiles, masks, drums, and carvings in cedar and whalebone. Limited edition prints are also available, along with dolls, moccasins and other decorative pieces. If you haven't checked it out yet, there's no time like May 23.
Jane Ash Poitras is a busy person, and though she admits to not wanting to travel as much as she once did, the desire to create and the fire to make it happen, remain strong. The upcoming exhibit is the first for 2015 but she's been busy creating for other venues as well. One of the most recent was the creation and installation of the Utopia Series, two large mural-sized paintings which can now been seen in the Aviation Museum at the Fort McMurray Airport.
"These two pieces, Homeland Utopia and Northern Utopia," explained the artist, "are a tribute to my Indigenous peoples, especially my Mikisew Cree First Nation at Fort Chipewyan."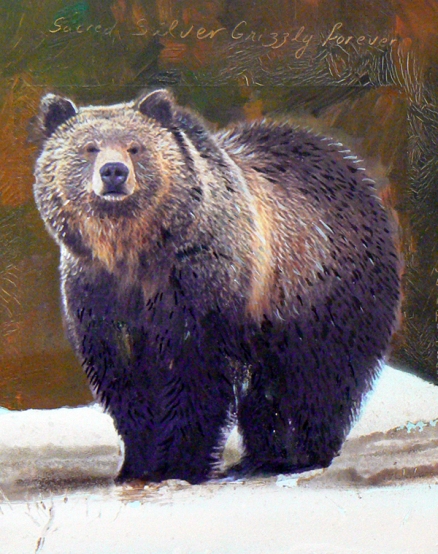 Both pieces represent the euphoria Jane experienced while awaiting the birth of her first child. The work blends an awareness of contemporary trends in Western art with insight into Aboriginal history and culture. Both pieces were generously gifted to the Fort McMurray Airport Authority by the Royal Bank of Canada (RBC).
Though both canvases are large in size, they are not the largest created by Poitras. That honour goes to Potato Peeling 101 to Ethnobotany 101 (2004), a triptych measuring 25 feet in length by 9 feet  in height. The piece, which was acquired by the Royal Ontario Museum in 2010, portrays a narrative of the experience of preserving Aboriginal cultural knowledge through the years of forced assimilation.
The honorary doctorate degree ceremonies are two of several very special moments for the artist. Others occurred in 2011 when she was named the winner of the Lt. Governor of Alberta's Distinguished Artists Award, and in the same year the University of Calgary Press published a book on her life and art. Cultural Memories and Imagined Futures is an outstanding and well-written book by author, Pamela McCallum. One of Jane's "most precious awards" came in 2007, when the Fort Chipewyan community presented her with the Mikisew Cree First Nation Member Recognition Award.
Jane`s art has been showcased in numerous solo and group exhibitions around the world, and can be found in many prestigious public, private and corporate collections. Several major solo exhibitions of her work have toured across Canada, and her art has been purchased and featured by many public institutions across Canada Those include the National Gallery of Canada, the Royal Ontario Museum and the Art Gallery of Alberta. International exhibitions of her art and her lectures have taken her to Paris, Amsterdam and Mexico City, and to Seattle, Phoenix, Santa Fe, Washington, DC and other locations in the United States.
Respected for her generous support of Aboriginal and community causes, her numerous honours include an Honorary Bachelor of Arts degree from Humber College in Toronto, the Queen Elizabeth II Diamond Jubilee Medal, the Lieutenant Governor of Alberta Distinguished Artist Award, the Alberta Centennial Medal, the National Aboriginal Achievement Award for Arts and Culture, the University of Alberta Alumni Award of Excellence and the City of Edmonton Cultural Hall of Fame Salute to Excellence.
Jane Ash Poitras' journey of discovery and creation has opened new doors to enlightenment as she combines her many diverse interests in pursuit of her distinctive artistic vision. Over the years, the artist has pursued many different routes of discovery, each reflected in the art she has produced.  Those journeys of exploration have taken her not only into rediscovering her Aboriginal roots – beginning by reconnecting with her birth family and her Mikisew Cree Nation – but also into such diverse topics as history, pharmacology, ethnobotany and linguistics.
Perhaps the real essence of Jane Ash Poitras, her outlook and her spirituality, can be gleaned by listening to what she (Gerald McMaster and Lee-Ann Martin, eds., Indigena: Contemporary Art Perspectives, Canadian Museum of Civilization) said in 1992.
"Real power is about finding our own spiritual guidance and helping others find theirs; it is about admitting our own limitations and ignorance so that spiritual power and wisdom can work through us; it is about empowerment and transformation."
Jane is represented in Edmonton by the Bearclaw Gallery, in Banff by Canada House Gallery, in Ottawa by Galerie d'Art Vincent, and in Toronto by Kinsman Robinson Galleries.
by John Copley