by John Copley
(ANNews) – A Friday evening Launch Party at Calgary's Glenbow Museum invited all-comers to help the popular museum celebrate its three newest shows: the June 16 – Sept. 9, 2018 opening of Alex Janvier's Modern Indigenous Master Exhibition; One New Works Series, entitled Gwenessa Lam: What Magic (June 16 – Sept. 9); and to highlight art and artifacts acquired by the Glenbow in 2017 in a collection entitled: Recent Acquisitions.
The Glenbow exhibition of Janvier's collection is the sixth and final stop on a cross country tour that has given tens of thousands of Canadians the opportunity to see and appreciate this significant retrospective of Alex's work, organized by the Art Gallery of Canada and curated by Greg Hill. The exhibition of work celebrates Janvier's 65-year career and his "lifetime of creativity, knowledge and perspective, gained through his love of the land, art and Dene culture. The exhibition features more than 100 remarkable paintings and drawings, including well-known masterpieces (and) works that have never been on public display."
"His paintings," points out exhibition curator Greg Hill, Audain Senior Curator of Indigenous Art at the National Gallery of Canada, "tell the story of his experiences: as a boy in residential school, through learning about art as a student, to the many years of working as a professional artist putting his work out there for all to see, and, over those many years, conveying what it means to be an Indigenous person in a country that for a long time sought only to eradicate any sense of self-identification or connection to one's (Indigenous identity). Viewers connect to the beauty and truth about humanity that comes through the paintings."
One New Work Gwenessa Lam: What Magic has been organized by the Glenbow and curated by Nancy Tousley. Calgary artist Gwenessa Lam uses and on-line image as a starting point in her examination of how something as simple as 'meaning' is made, lost and changed by the repetition and circulation of images on the web, and how the line between perceived and constructed reality is continually blurred.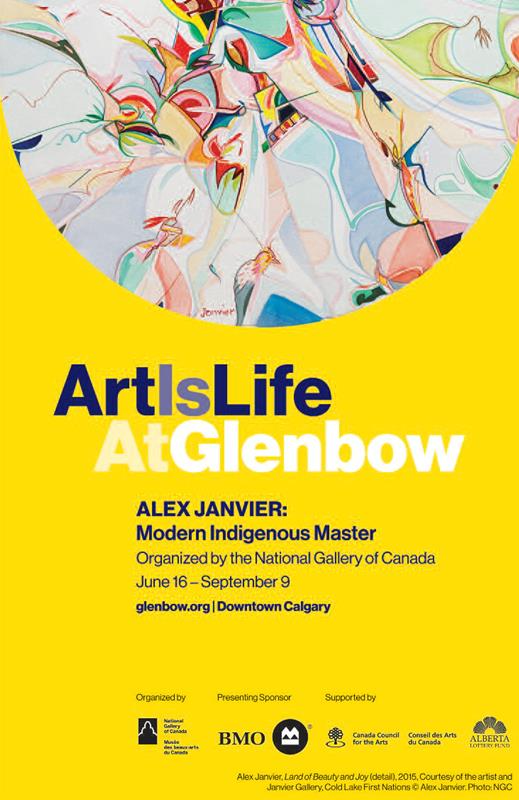 One New Work, explained Melanie Kjorlien, Glenbow's Vice President of Access, Collections and Exhibitions, "is a series that we've been doing for about two years now; a different artist is represented each time. Gwenessa Lam, originally from B.C. now lives in Calgary where she teaches at the Alberta College of Art and Design. Her work offers viewers an interesting way to think about the information we consume – and where it comes from."
The Recent Acquisitions Exhibit will open on June 30 and run until December 9, 2018. Organized by the Glenbow this exhibition presents an opportunity for enthusiasts to share some time with the museum and see some of the special items the Glenbow has added over the last year. For more than five decades the Glenbow has "collected art and objects that represent the culture and history of our region and beyond, with the intention to use these acquisitions to learn, understand and inspire."
New additions to the Glenbow collection include those that involve Indigenous Studies and Cultural History.
Kjorlien said that Glenbow continues to work on improving its Indigenous Studies Collection and is currently and "actively searching for and collecting fine crafts and art work that is being created by Indigenous artists today – work that reflects the culture of artists actively working today."
While you are visiting be sure to see the collections of magnificent works of art by such well-known artists as John Chalke, Jeff de Boer, Ron Spickett and Dorothy Henzell Willis.
Noting that the last half of 2018 promises to be an exciting time at the Glenbow, Kjorlien, said she was particularly pleased that Alex's work has come home to Alberta from its last stop in Fredericton, New Brunswick.
"It is quite fitting," she noted. "The artist is from Alberta and his magnificent work will be showcased at the Glenbow until September 9 – we invite all of your readers and their families and friends to join us this summer. There are many things to see her at the Glenbow – and throughout the entire region."
In a Question-Answer session with the Glenbow, Janvier spoke about the exhibition and what it meant to him.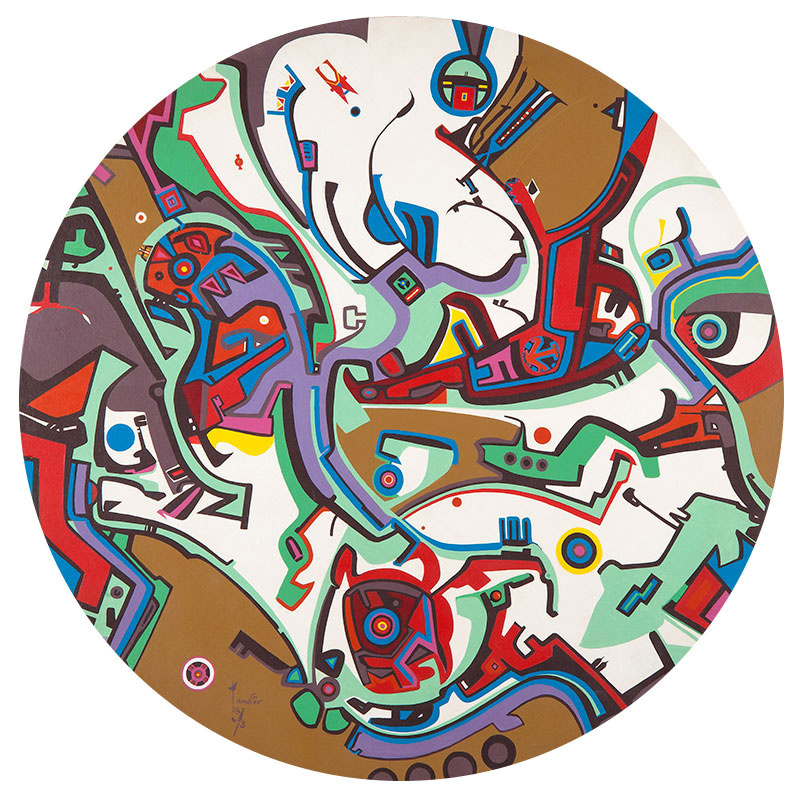 "This career retrospective," he said, "means many hopes for nearly all Indigenous peoples of Canada, and probably for people around the world. This retrospective is a testimony that nothing comes easy from the start.
He was also asked what pushes him to keep experimenting when he could easily maintain a single, distinctive style.
"A son of a traditional chief and a hunter with the tribal influence," he replied, "must be extremely resourceful in observing the surrounding land. Nature has influenced many artists, musicians and, story tellers and has given humanity gifts to be shared by all."
The Modern Indigenous Master and One New Work exhibits are both located on the second floor.
On the Summer Solstice/June 21, National Indigenous Day, the Glenbow will host: Keeping the Voices Alive: Stories from the Elders of Treaty 7. The 7 to 8:30 p.m. event is free and everyone is invited to participate and listen to the stories that will be presented by three local Treaty 7 Elders.
The Glenbow has several permanent exhibitions, including the Blackfoot Gallery: Niitsitapiisinni: Our Way of Life. The Blackfoot share their story through interactive displays and artifacts and through a circular narrative path that guides visitors through Nitsitapii history. This innovative permanent gallery, located on the third floor of the Glenbow, is the culmination of 10 years of collaboration and friendship and showcases artifacts and artwork from Glenbow's world-renowned Blackfoot collections.
"This unique exhibition of Blackfoot culture and tradition," explained Kjorlien, "was assembled with the input of the Blackfoot people. We worked with a team of Elders who told us their story and collaborated on what they wanted to say, and what they thought all visitors to the exhibit should know about their history."
The second floor of the Glenbow is hosting two major exhibits. They include: The Artist's Mirror: Self Portraits (March 10, 2018-January 6, 2019) and Power in Pictures: The Outside Circle and the Impact of the Graphic Novel.
The Artist's Mirror featuring self-portraits from the collections of Library and Archives Canada and Glenbow, the legacy of the artist's mirror lives on. Here artists are looking deeply at themselves, a practice reflected across a wide variety of media, artistic styles and time periods. From biographical self- expression to political commentary, the motivation behind creating a self-portrait is as diverse as the artists themselves.
Power in Pictures: The Outside Circle and the Impact of the Graphic Novel is the culmination of a series of workshops hosted at Glenbow that connected young people from USAY (Urban Society of Aboriginal Youth) with artist Kelly Mellings, illustrator of the graphic novel The Outside Circle by author Patti Laboucane-Benson.
"This exhibition," explained Kjorlien, "included a lot of different workshops with youth – who had a lot of input and ideas about issues that are affecting them, and society today. Healing and the healing process was one of the key topics discussed."
The Outside Circle is an important graphic novel that tells the story of two Aboriginal brothers surrounded by poverty, gang violence and drug abuse and their attempt to overcome generations of historic trauma. They are attempting to bring positive change into their lives and they have different ways of doing so. The story is powerful, courageous and deeply moving. The Outside Circle is a product of the author's 20 years of work and research on healing and reconciliation of gang-affiliated and incarcerated men.
"The Outside Circle and the Impact of the Graphic Novel is a smaller exhibition but it delivers a large and very interesting look at young people and the issues they are dealing with today."
Youth participating in the project were encouraged to tap into their own creativity to create comics and masks that drew on their own experiences to tell a story. A shared and collaborative space, the gallery features the art created by the USAY participants hung alongside that of the artist who taught them, creating a space where complex feelings and experiences are explored through art.
As a key cultural cornerstone in Calgary for 50 years, Glenbow has surprised and engaged generations of Albertans and visitors to the province with remarkable connections between art, culture and the world around us. Glenbow provides us with a sense of place — what it means to live in this amazing landscape — and an appreciation for the legacy of the remarkable people and events that have shaped our community.
"Glenbow's collection," notes the museum's outstanding website, "represents Western Canadian art and culture, both as a repository of important cultural history but also as a living record of contemporary life in this part of the world. Our collecting priorities respond to our community and over the past 50 years, the collection has shifted and adapted to incorporate new voices and perspectives. Our collection includes over a million objects, documents, photographs and artworks, making Glenbow one of the largest museums in western Canada."
Last year, more than 125,000 visitors passed through Glenbow's doors, including more than 65,000 school children who took part in their School Programs and Chevron Museum School.
The Glenbow Museum began with the remarkable vision of petroleum entrepreneur and lawyer Eric Lafferty Harvie. Mr. Harvie came into his fortune when oil was discovered on the land to which he held the mineral rights to, with the discovery in Leduc in 1947 and in Redwater in 1949. With this prosperity, he decided to pursue his favourite passion — collecting — and simultaneously return some of his good fortune back to the region that had been so generous to him. Mr. Harvie's goal was to collect the objects representing the history and culture of Western Canada as well as from around the world. One visit to the Glenbow will tell you that those goals were accomplished.
To learn more about the Glenbow Museum and its current and future exhibitions, see the website at: glenbow.org.