The evocative art that appears on the cover of the June 2015 edition of Alberta Native News is entitled "Ghosts of Hells Gate."  It is a gorgeous display of imagery and colour  by the very talented contemporary Métis artist Timothy Mohan.
In "Ghosts of Hells Gate" Mohan is depicting a haunting dream he had about being lost in two realities.
The artist explains, "Years ago I worked in maintenance on the air-tram at Hells Gate in BC. One night I had a weird dream that I was sitting on the tram and the sun disappeared. Within minutes everything was gone – just black sky and rock. Everything seemed gone and I was alone in the darkness.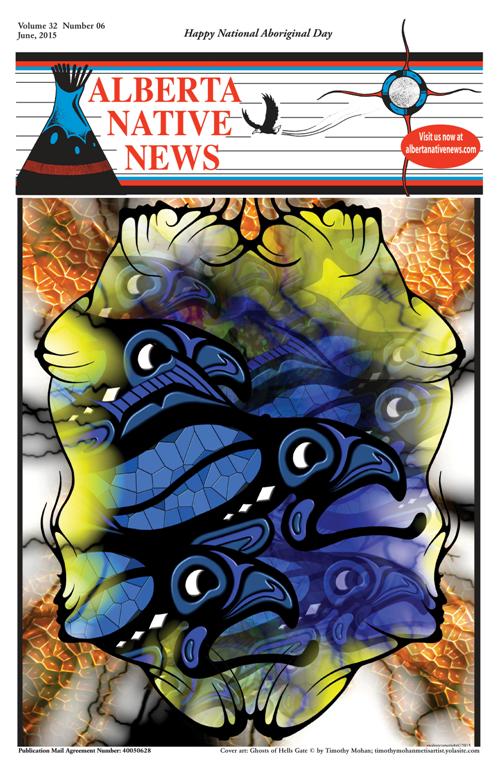 "I felt the emptiness of space; then I saw a raven, or just a shadow of what was.  His skeleton was so white that it jumped out at me. I could see his beak moving but there was no sound; it was an empty void. Then I looked below at the empty Fraser River. I could see the salmon making its way up stream fighting a current that was no longer there. Everything was dead.  For some strange reason in this dream I was caught between two realities."
"What a strange dream that was," laughs Mohan describing the inspiration for the beautiful image. "I wonder what a shrink would say about that one."
Mohan is known for melding imagery from the various components of his own ancestry. His creative paintings of animals and nature are a tribute to his proud Aboriginal roots and his use of vibrant colours give the paintings an extraordinary glow that is very spiritual and reminiscent of stained glass.
In "Ghosts of Hells Gate" the vivid colour cobalt blue and the repeating image of the salmon fighting upstream against the backdrop of the river's floor combine beautifully to form a magnificent cover image.
Mohan is no stranger to the Alberta Native News. His beautiful creations have been gracing our covers since 2002 and his artwork frequently appears on the inside pages as well. Most recently, his art appeared on the covers of our December  2014 and June 2014 issues, two of our most highly complimented covers over 30 years of publishing.
Most recently Mohan has been exercising his creative juices with incredible mixed media paintings of iconic people who have inspired him personally and artistically. Images include master carver Bill Reid  and actor Chief Dan George and also a fabulous collection of rock stars such as Metallica, Jimi Hendrix, Janis Joplin, Lennon and McCartney and several others.  These paintings are a fantastic tribute to these enormous legends and they are also a wonderful glimpse into the psyche and versatility of Tim Mohan.
Tim first received national acclaim for his motif "River Woman" used by Canadian fashion icon and recipient of the Order of Ontario Linda Lundstrom for her "La Parka" series. His artwork has appeared on the covers of dozens of publications and shown in countless museum solo exhibitions, including a special showing at the prestigious Toronto Intercontinental Hotel Centre during the Toronto 2010 G-20 Summit.
The self-taught artist combines both Woodland and West Coast influences into his work with his own unique approach to Native and Aboriginal art. Timothy's work is full of vibrant colours and spiritual energy, yet at the same time, it's very soothing and calming. Mohan's original paintings made their first television appearance during the Warner Bros. Television production of "Nikita" which aired February 17 2012.
In addition to being a gifted artist, Mohan is community minded and has used his talents to help important causes such as Ronald McDonald House, Big Brothers / Big Sisters, Mothers Against Drunk Driving and The Canadian Cancer Society.
For more information on the artist and to view his most recent creations visit timothymohanmetisartist.yolasite.com.
by Deborah Shatz