(ANNews) – The majestic art that appears on the cover of the June 2016 edition of Alberta Native News is entitled "Sad Wings of Destiny" and it is the creation of Timothy Mohan, a gifted contemporary artist.
"Sad Wings of Destiny" is a beautiful and powerful image that is part of a wildlife series which represents a new direction for the artist. The series fuses together Mohan's talents in photography, painting, airbrush and drawing. His colour choices are vivid and the imagery is strong. Each wildlife painting is comprised of many smaller wildlife images which are complete in themselves and they are also integral parts of a wondrous larger image. Each image contains many components and leaves the viewer in awe of what's been seen and what may yet be seen. Every viewing brings forward new discoveries.
"Sad Wings of Destiny" has a special meaning for Mohan. The painting represents the story of the Raven and Creation. "It is a statement," noted Mohan. "There's a black hole with the earth in it; the raven is the tie-in to the creation story or in this case the end of it."
The image is also related to cancer and the relationship between cancer and the environment. A 2014 study that linked cancer with Oil Sands development in northern Alberta was part of the inspiration for "Sad Wings of Destiny" which depicts the poisoning of mother earth.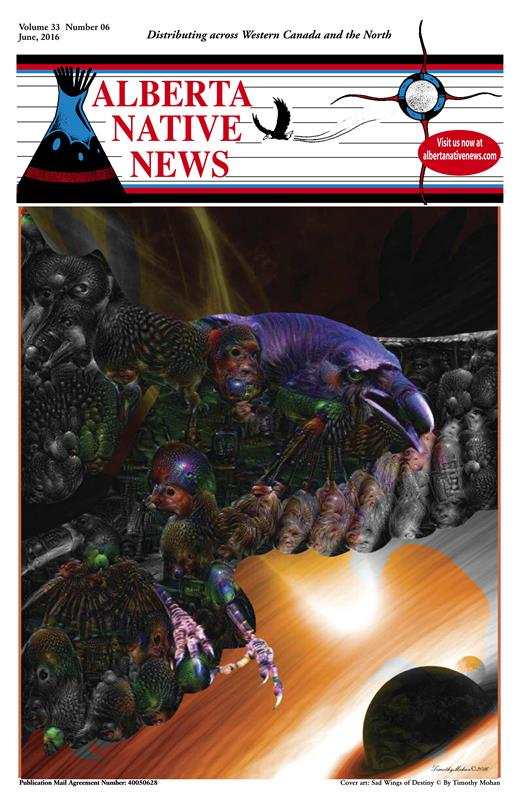 The study was a collaboration involving Mikisew Cree First Nation and Athabasca Chipewyan First Nation and scientists from the University of Manitoba and the University of Saskatchewan. The study used both scientific research and traditional knowledge around the complex environmental and health-related changes in the region, relying also on community-based participatory research.
The study found that Oil Sands development has created "a perfect storm of decline and opportunity, a storm that places these and other downstream communities at progressively increased risk." While researchers found that substantial employment opportunities are generated by the Athabasca Oil Sands, they concluded that this development "compromises the integrity of the environment and wildlife, which, in turn, adversely affects human health and well-being."
The author of the study, University of Manitoba professor Stephane McLachlan cautioned: "The results of this study, as they relate to human health and especially the increasing cancer rates, are alarming and should function as a dramatic wake up call to industry, government and communities alike."
Mohan found the study to be most alarming and it strengthened his resolve to reach out and collaborate with the Canadian Cancer Society.
"My heart is with the Canadian Cancer Society especially in Alberta/NWT Division," he explained.  "They do a lot of amazing things and help a lot of people."
Mohan is no stranger to the Alberta Native News. His beautiful creations have been gracing our covers since 2002 and his artwork frequently appears on the inside pages as well. He is known for melding imagery from the various components of his own ancestry. His creative paintings of animals and nature are a tribute to his proud Aboriginal roots and his use of vibrant colours give the paintings an extraordinary glow that is very spiritual and reminiscent of stained glass.
Tim is excited about the new direction that his art is taking. "Personally I really love the new artwork," he said. "I think it's the best work I've done in years and it will get better with time…It's given me the opportunity to use all the skills that I've taught myself over the years…Photography, painting, airbrush, drawings, it's all fused together…I guess I've become a multimedia artist."
Tim explained that the change in direction was "more of a personal growth issue than anything else. Last year I decided it was time to reinvent myself as an artist and do things that were challenging. It's so easy for artists to get comfortable with what they are doing and push out the same style of artwork year after year after year. It becomes stagnant. The wild life art is just me spreading my wings."
Tim Mohan first received national acclaim for his motif "River Woman" used by Canadian fashion icon and recipient of the Order of Ontario Linda Lundstrom in her "La Parka" series. His artwork has appeared on the covers of dozens of publications and shown in countless museum solo exhibitions, including a special showing at the prestigious Toronto Intercontinental Hotel Centre during the Toronto 2010 G-20 Summit.
The self-taught artist combines both Woodland and West Coast influences into his work with his own unique approach to Aboriginal art.  Timothy's work is full of vibrant colours and spiritual energy, yet at the same time, it's very soothing and calming. Mohan's original paintings made their first television appearance during the Warner Bros. Television production of "Nikita" which aired February 17 2012.
In addition to being a gifted artist, Mohan is community minded and has generously used his talents to help several important causes but none more dear to him than the Canadian Cancer Society.