(ANNews) – A powerful art exhibit entitled "Ripples of Loss" by contemporary artist Terry McCue is on display at the Art Gallery of St. Albert until December 2, 2017. The haunting image on the cover of the November edition of Alberta Native News entitled "Eagle Fan" is part of this thought-provoking exhibition aimed at increasing awareness and giving honour to the missing and murdered Indigenous women and girls across Canada.
McCue is a self-taught Ojibwa painter inspired by an array of influences and has spent much his life in First Nations communities, and his connection to them is clear in his work. Having enjoyed great success as a painter over the last 20 plus years, he is known for large, distinctive, bold works that represent the interconnectedness of all living creatures.
The Ripples of Loss works are a vivid visual departure from McCue's previous practice. After an exchange with an artist friend, McCue became compelled to paint these intense, brilliantly coloured images to raise awareness about the missing and murdered Aboriginal Women of Canada.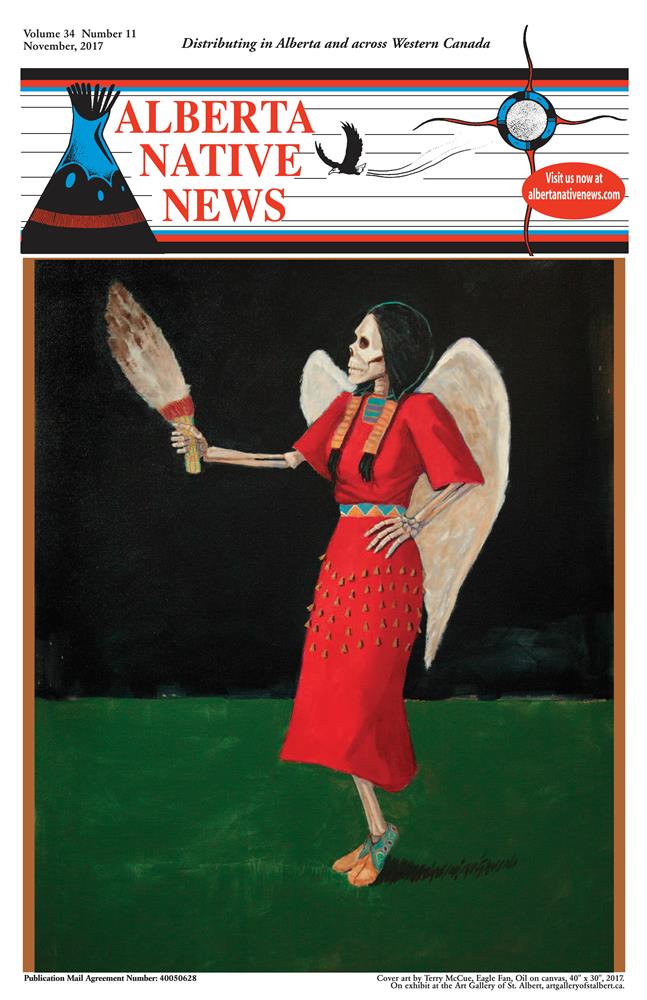 The resulting sombre and striking works emit the ghostly forms of the women dressed in red in an ever-changing landscape. McCue reveals the women in traditional aboriginal ceremonial attire: Ojibwa Jingle Dance dresses, Plains Cree tunics and cloaks. The skeletons of their spirit animals accompany them—sometimes leading the way, facing the incoming storm.
In a statement by the artist, McCue introduces himself saying, "I am an Ojibway artist originally from Curve Lake First Nation in Ontario, but calling Alberta home for 42 years. At 30 years of age I participated in ceremony and was granted the right to make my living as an artist. For the next 18 years I dedicated my life to providing community development work in native communities across Canada. When that work was finished, I began my journey as an artist.
"Most of my work has been devoted to figurative and wildlife subjects, with wildlife becoming the primary focus. I believe that someone must be the voice of those who cannot speak. This belief springs from traditional Ojibway teachings which address the human responsibility regarding the natural world.
"This new work is a complete departure from what I normally do. I can't say why this work is so important to me, only that I am compelled to produce it.
"I have been lucky enough in my life to have had the opportunity to follow my dreams. The missing and murdered Aboriginal women, who are the subject of these paintings, were not allowed this opportunity. And not only that, but they have also been denied justice in their deaths. I simply feel the need to stand up and speak for those who have no voice, because I can.
"These paintings are incredibly personal to me. It is my hope to add to the spotlight being shone on this tragedy with the creation of these paintings. I am trying to present a respectful depiction of what these deaths have visited upon our families and communities in the sense of loss of potential.
"The death of an individual is not just their loss. It also affects the lives of their family members and the community they are from. For many of the murdered and missing women's families, there is no end to the pain of wondering. I don't think these works can be ignored and that they will add light to the story."
McCue considers this new project his most vital artistic endeavour, paying homage and reverence to the women and girls vanished to violence. He now works fervently to capture the many images fluctuating in his mind's eye and commit them to canvas. For McCue this project further explores his spiritual calling to express the sacredness of all life.
Ripples of Loss will be on exhibit at the Art Gallery of St. Albert located at 19 Perron St, St Albert, AB. until December 2, 2017. For information visit artgalleryofstalbert.ca