(Edmonton) – On the heels of its award-winning festival circuit run and North American theatrical release, the critically acclaimed Canadian documentary "Rumble: The Indians Who Rocked the World" will be screened at Metro Cinema in Edmonton on December 5, 2017 as part of its Music Docs Series. The film will start at 7 pm with a live music performance at 6:30 pm by the very talented folk-rock performer Jay Gilday.
The film, which won the World Cinema Documentary Special Jury Award for Masterful Storytelling at the 2017 Sundance Film Festival, was a double award winner at the 2017 Hot Docs Canadian International Documentary Festival taking top honours for Best Canadian Documentary as well as the Audience Award.
Many artists and musical forms played a role in the creation of rock, but one of the most influential music pieces of all time is "Rumble", the 1958 rock power chord by Shawnee rock guitarist and singer/songwriter Link Wray. Wray, who's heavily featured in the film, was recently nominated for induction into the Rock & Roll Hall of Fame in 2018. The first song to use distortion and feedback, it was the only instrumental single to be banned from radio for fear it would incite violence.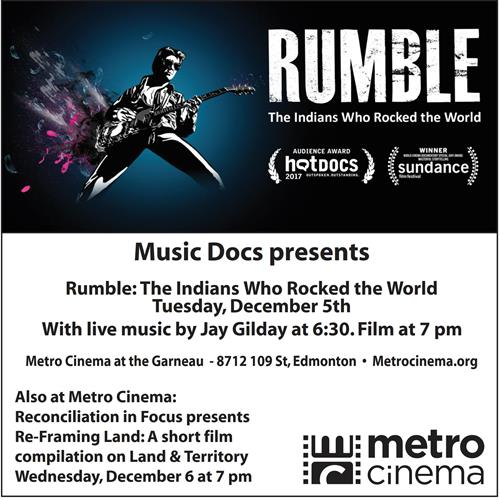 "Rumble: The Indians Who Rocked the World" explores how the Native American influence is an integral part of music history, despite attempts to ban, censor, and erase Indian culture in the United States and abroad. As the film reveals, the early pioneers of the blues had Native and African American roots, and one of the first and most influential jazz singers' voices was trained on Native American songs. As the folk rock era took hold in the 60s and 70s, Native Americans like Father of the Delta Blues Charley Patton, jazz singer Mildred Bailey, guitar wizard Jimi Hendrix, folk heroine Buffy Sainte-Marie, Robbie Robertson, Jesse Ed Davis, The Black Eyed Peas' Taboo, and Randy Castillo (Ozzy Osbourne), helped define its evolution and made their distinctive mark on music history.
"This whole film happened because I was playing sold out arenas and stadiums with Rod Stewart….and I started to wonder why there were no other Native Americans in the biz," explained Executive Producer Stevie Salas. "Then I discovered there were indeed others who, for reasons unknown to me, people didn't know about."
The documentary utilizes concert footage, archival images, playful recreations, and interviews to tell the powerful story of how Indigenous music was part of the fabric of American popular music from the beginning, and how those contributions were left out of the picture. It also features interviews with musicians, artists, historians, and family members including Martin Scorsese, Quincy Jones, Tony Bennett, Slash, Steven Tyler, Jackson Browne, Iggy Pop, Steven Van Zandt, and Buddy Guy.
The film is directed by Catherine Bainbridge (Reel Injun) and co-directed by Alfonso Maiorana, who also serves as director of photography. Producers are Catherine Bainbridge, Christina Fon, Linda Ludwick, and Lisa M. Roth. Executive producers are Stevie Salas (Apache) and Tim Johnson (Mohawk). Executive producers at Rezolution Pictures are Catherine Bainbridge, Christina Fon, Diana Holtzberg, Linda Ludwick, Jan Rofekamp, and Ernest Webb (Cree).
Metro Cinema, located at Garneau Theatre (8712 109 Street) in Edmonton, is a community-based not-for-profit society devoted to creating and fostering opportunities for the exhibition of diverse, unique shared viewing experiences.
The screening of "Rumble: Indians Who Rocked the World" on December 5 is part of Music Docs – a monthly film series featuring music documentaries, from classic to contemporary. Music Docs is curated by Tim Rechner, and co-presented with CJSR, Blackbyrd Myoozik, and Steamwhistle.
The next day, also at Metro Cinema, Reconciliation in Focus presents "Reframing Land" a short film compilation on Land and Territory. It will screen on December 6, 2017 at 6 pm.
For more information visit metrocinema.org.