(ANNews) – The beautiful image on the cover of this month's Alberta Native News is a detail from a painting entitled "Picking Saskatoons" by Leah Dorion, a brilliant artist from Saskatchewan.
The painting is part of an exquisite exhibit that will be held at Art Gallery of St. Albert, in their temporary location (6D Perron Street) from October 4 to November 10, 2018. An opening reception will be held on October 6 from 2:30 to 5 pm.
The exhibit is entitled "Dancing with the Earth" featuring paintings by Leah Dorion.
Leah is an interdisciplinary Métis artist from Prince Albert, Saskatchewan. Her vibrant and symbolic paintings honour the spiritual strength of Indigenous women and the sacred feminine.

In an artist's statement, she describes the impetus for the exhibit. "Dancing the Earth celebrates the beauty of the earth and the Energy of life that abounds within this great circle of life," notes Dorion.
Symbol systems are predominant in Indigenous art and are a powerful and dynamic way to pass historical and spiritual knowledge forward through generations. Dorion applies them in her art to convey a variety of important cultural teachings. Incorporating a range of mediums such as beads, birch bark, river rock, and shells, Dorion shares her Métis heritage through joyful, tactile contemporary works. Rich celebratory narratives pay homage to her First Nations and Métis women ancestors, sharing stories through active, intriguing imagery.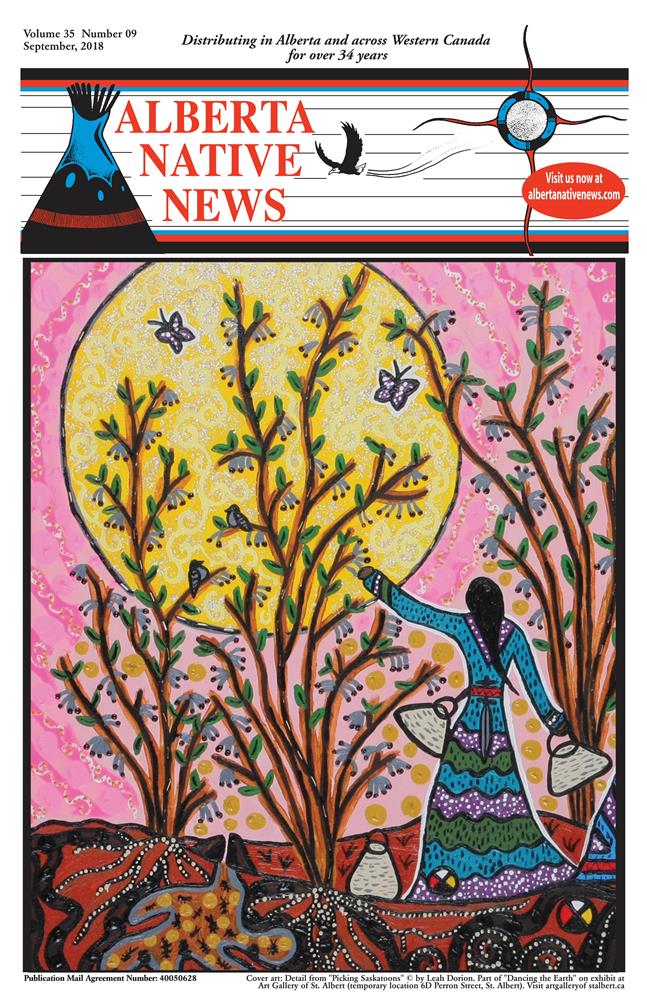 Leah is a skilled artist and storyteller; whether on the gallery wall or in the numerous books she has illustrated, her lively art creates a compelling visual dialogue and a potent spiritual expression.
This exhibition will also feature Métis artifacts from the artist's personal collection and the Collection of the Musée Héritage Museum.
During the 2017-18 Gallery Barrier-free renovation, Art Gallery of St. Albert is located at their temporary location at 6D Perron Street until December 2018.
Art Gallery of St. Albert features contemporary and community exhibitions, brought to life with public programs and events. Education programs offer visual arts opportunities for thousands of children, youth and adults throughout the year. Art Gallery of St. Albert's mandate is to provide enriching educational experiences that celebrate visual culture and artistic achievement through research, exhibition and interpretation. Exhibitions celebrate diversity, providing vision, inspiration and education for the community.
Art Gallery of St. Albert and Musée Héritage Museum are managed by Arts and Heritage St. Albert, a non-profit, registered Canadian charitable organization.