(ANNews) – The stunning art on the cover of the May 2016 edition of Alberta Native News is entitled 'So Great was Their Love' by Daphne Odjig, one of Canada's most celebrated and gifted Aboriginal painters and printmakers.
It is currently on exhibit at the Art Gallery of Alberta in Edmonton as part of the extraordinary 7: Professional Native Indian Artists Inc. (PNIAI) collection on display until July 3, 2016.
Odjig was the heart and the organizer of the group known as the Indian Group of Seven that helped catapult Canadian Aboriginal Art into the mainstream art world in the 1970s. The other members of the group were Jackson Beardy, Eddy Cobiness, Norval Morisseau, Carl Ray, Alex Janvier and Joseph Sanchez. Sadly, Odjig, Janvier and Sanchez are the only living members of the group.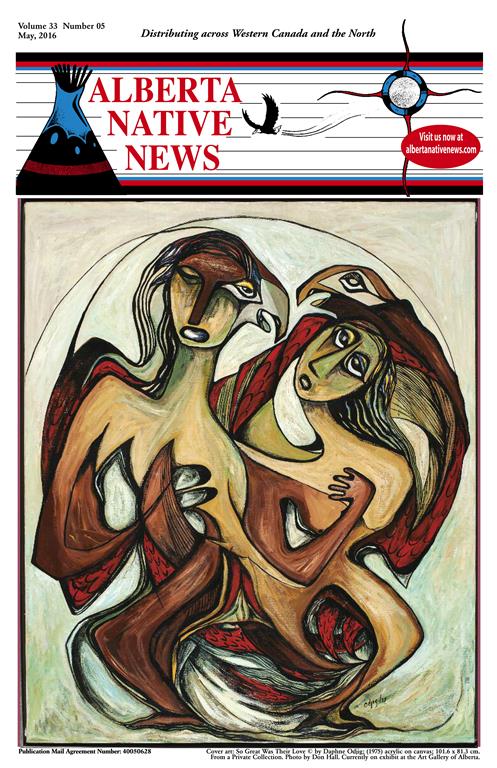 Born on Manitoulin Island's Wikwemikong reserve of Odawa, Potawatomi and English heritage, Daphne Odjig first learned about art-making from her grandfather, Jonas Odjig, a tombstone carver who taught her to draw and paint. She later moved to British Columbia. Odjig's style, which underwent several developments and adaptations from decade to decade, manages to always remain identifiable. Mixing traditional Aboriginal styles and imagery with Cubist and Surrealist influences, her work is defined by curving contours, strong outlining, overlapping shapes and an unsurpassed sense of colour.
"I see my paintings as a celebration of life," says Odjig. "My sub-conscious mind may well dictate some content and I'm content to leave it at that. I am uncomfortable with words – my paintings are perhaps my most honest and legitimate statement."
Her work has addressed issues of colonization, the displacement of Aboriginal peoples, and the status of Aboriginal women and children, bringing Aboriginal political issues to the forefront of contemporary art practices and theory. She is the winner of the 2007 Governor General's Awards in Visual and Media Arts.
Click here for more information about Daphne and the other members of the Indian Group of Seven or visit www.aga.com.