by John Copley
(ANNews) – Kalum Teke Dan is a talented artist whose powerful image "Sunset Song" appears on the cover of this month's Alberta Native News. His accomplishments have come about via the school-of-hard-knocks, that has enabled him to succeed because of his raw talent, his determination to do it the old-fashioned way – through trial and error, confidence, patience and perseverance and an ongoing desire to create art.
"I actually did go to school for a short time when I was younger," noted the 43-year-old Blackfoot artist, a member of southern Alberta's Blood Tribe and currently a Calgary resident. "I enrolled in the Alberta College of the Arts in my early 20's but a few months into the program I decided to set out on my own. As a youngster, I dreamt a lot about art and after painting a few pieces in my mid-teens I finally came to realize that I really did have some talent. I believe that art is just a part of me, a piece of who I am and after selling some of my work as an 18 and 19-year-old I realized that painting and creating art was all I wanted to do – and I've been doing it ever since."
Kalum received his inspiration not only from his dreams, and later his visions, but also from his grandparents, who were internationally known for their bead work and traditional regalia.
"They were both very talented and traditional people who inspired and encouraged me to seek out my own path and to work hard at whatever task I took on," he explained. "I was raised by my mother, Joanne, a strong-willed and determined woman who seldom missed a day of work. In fact, she was the first Aboriginal woman to retire from the City of Calgary after having contributed 30 years of service. My mother was my grounding force and she kept me on the straight and narrow; she always pushed me to continue with my art and I believe that her encouragement and support helped enable me to succeed and become the person I am today. Even now, I continue to push myself and am currently mentoring other artists who want to do what I'm doing for a living."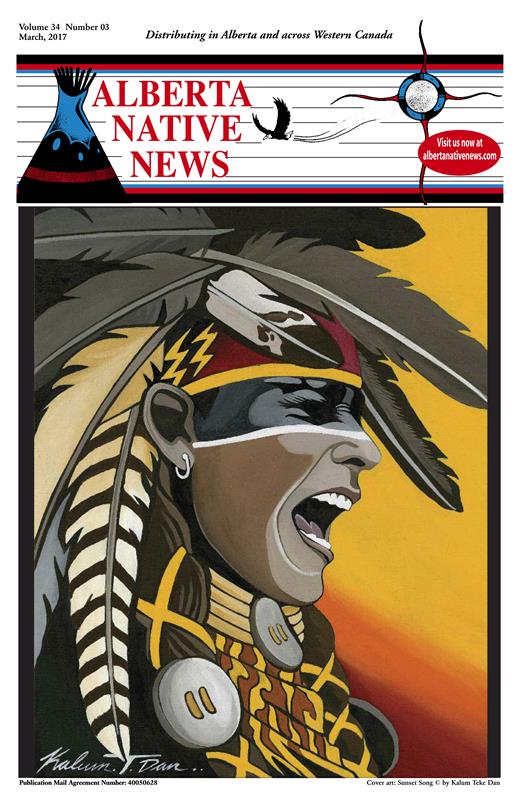 Kalum has worked with many galleries over the years and has travelled extensively to demonstrate his talent and showcase his art. His beautiful paintings have found their way into many corporate and private collections, including those of several premiers, international leaders and many of Canada's leading corporations. His work can also be found in galleries across Canada and the United States. In 2010 his art was on display at the VVC in Vancouver during the Winter Olympics and last year at the Western Oasis Showcase during the Calgary Stampede, where he exhibited his work along with that of about 60 other well-known Canadian artists. Kalum also has a new arrangement for anyone looking to purchase his original artwork.
"I recently signed on to an exclusive agreement with Lynn Harrison, owner of the Silver Tree Studio Gallery in Canmore, Alberta. Anyone interested in purchasing one of my original paintings can find them there. Lynn has an amazing list of talented artists whose work can be found at her gallery and I highly recommend that Alberta Native News readers and art lovers everywhere stop in and have a look at the amazing work always on display."
Kalum Teke Dan has been painting for more than 25 years. His art highlights his personal reflections and observations and offers an inside look at both the spirituality of his people and the energetic forces that surround us all on a daily basis. Chiefs, leaders, warriors, eagles, horses, bears, outdoor scenery, pottery and the list goes on – you'll find an amazing collection of art just by typing Kalum's name into your web browser. Self-taught in the finer techniques created on canvas via water colours, oils and acrylics, Kalum's work offers a stunning and realistic look at First Nation culture and traditions. His wildlife imagery jumps off the canvas, colours flashing, spirits soaring and everything in a stunning array of colours complete with realistic imagery.
An avid visitor on the powwow circuit and other traditional ceremonies, Kalum's portraits are based on actual people he's met or those he simply respects – people who portray the strength, the pride and the resilience of Indigenous culture and spirituality.
Kalum is currently in the process of completing a mural recently commissioned by NorQuest College; his creation will be etched into the glass front of the new building now under construction in downtown Edmonton.
"My plate is pretty full at the moment," he noted in a recent interview. "I'm finishing the mural for NorQuest College and then I'll be creating work for this year's Western Oasis. I plan to return to the Alberta College of the Arts to complete my last year of studies, but first I'll be going to Prague, capital city of the Czech Republic, where in November I will participate in an exhibition that will showcase my work as well as the work of several other artists. I am looking forward to that trip; it will be the first time I've ever travelled to eastern Europe."
One of the most exciting projects Kalum Teke Dan has participated in during the past few years came about last summer when, exhibiting at the Calgary Stampede, he met with author Diana Frost, who invited him to participate in her new book, "Colouring it Forward: Discover Blackfoot Nation Art and Wisdom."
"It was an interesting project and one that I really enjoyed; I'd never worked on a colouring book before," he explained. "Four of us collaborated and worked together on the project. Red Deer artist Ryan Willert and I created the images while Blood Reserve Elder Camille Pablo Russel, a spiritual counsellor with the Elbow River Healing Lodge, oversaw the project to ensure that the cultural component was accurate and authentic. It was his wisdom, based on stories and cultures that he learned from his grandparents, that ran throughout the text of the book. The finished project was devoid of colour – but then again that's the way it's supposed to be when you are creating work for a colouring book. It was a unique project and it was well-received by the public. In fact, it was the second best-selling book in Calgary last year. We received our copies in late October and by Christmas, the book was sold out."
For more information on Kalum Teke Dan and to view his work visit: emi090.wixsite.com/kalum or drop by the Silver Tree Studio Gallery in Canmore.