(ANNews) – The beautiful image featured on the cover of the July 2023 edition of Alberta Native News is by Linus Woods, a gifted contemporary artist from the Long Plain First Nation in Southern Manitoba who spends several months of each year in Edmonton.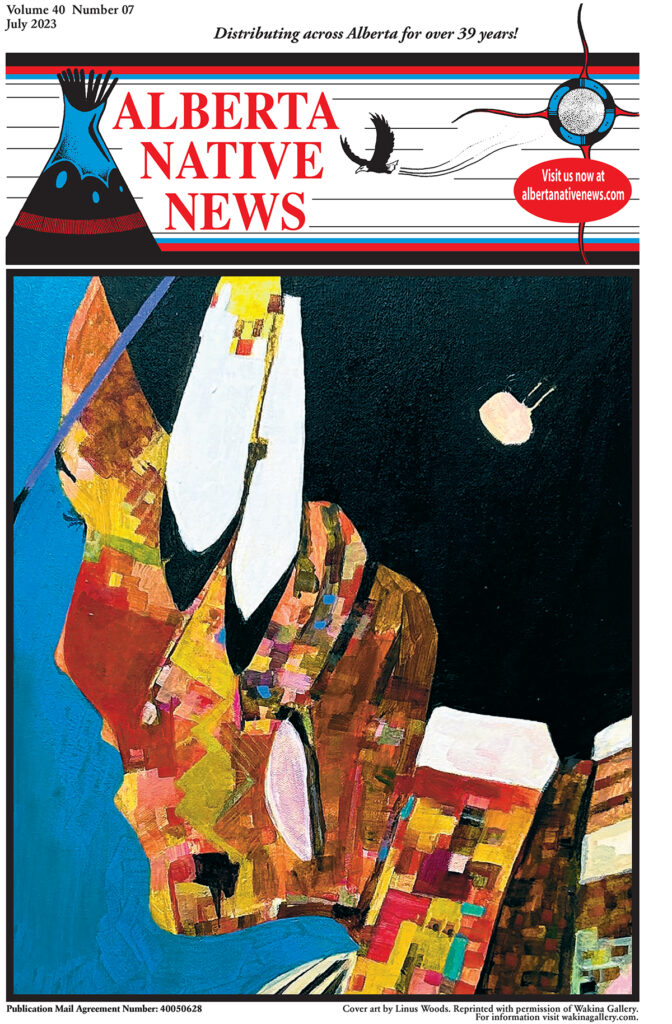 Linus is renowned for his distinctive use of deep, rich colours and many of his paintings feature spirit animals and Indigenous cultural themes.
He sees his paintings as expressions and extensions of his spiritual journey. His work is based on the oral traditions, dreams, stories and legends of his ancestors that he approaches with his own humour. He is also profoundly influenced by nature and his surroundings on the Long Plains Reserve.
Linus brings his images to life using mixed media, mainly acrylics and oils in layered compositions. As such Linus' works evoke memories of the past yet reflect current political and cultural Aboriginal issues.
Linus loves creating art and he also enjoys helping to educate youth about the joy and power of art. While living in Edmonton, he was Artist in Residence at Highland Junior High School where he worked with students and delighted in their ability to "create something beautiful and vocalize themselves through artistic expression."
Linus has received many awards and accolades for his paintings including the Peace Hills Trust Art Contest. In addition to private collections in Canada, the U.S. and Europe, his art can also be found at Brandon University, The Department of Indian and Northern Affairs, Arrowhead Corp., The Government of Manitoba, The University of Winnipeg, and the Peace Hills Trust.
The cover image is an acrylic on canvas and was reprinted with permission from  Wakina Gallery. 
Linus Woods has been associated with the newspaper as a contributing artist since the 1990's and he has been featured many times on the cover of Alberta Native News.
His images are among the favourites identified by readers of Alberta Native News.