By Deborah Shatz
(ANNews) -The 2017 Edmonton Folk Festival was once again a convergence of great music, a spectacular location on the hill at Gallagher Park near downtown Edmonton and a wonderful ambiance of friendly, peace loving locals exceptional volunteers and enthusiastic visitors.
A highlight was also the appealing array of juried artists that exhibit and sell their crafts in the Artisans Market. One of the gems each year is an exquisite women's fashion company called Dahlia Drive that specializes in gorgeous hand designed slips, shirts and kimonos. Dahlia Drive's fashions are ethereal, intimate, and delicately beautiful, perfectly suited to flatter the female form.
Fashion designer Wendy Van Riesen is an artist from the Vancouver area who has been designing for Dahlia Drive for over ten years. This year her designs feature a collaborative effort with renowned Haida artist Reg Davidson and the result is "Ravens, Eagles, Polka Dots" – a bold and stunning line that has catapulted her to forefront of Vancouver's fashion scene.
Van Riesen first met Davidson when she and her husband sailed to Masset BC on the north coast of Haida Gwaii in 2014. They were so enthralled by the culture and warmly welcomed by the locals that they moored their boat over the winter and stayed for nine months.
At the time, Davidson – a master Haida carver – was carving one of four sculptures commissioned by the Vancouver International Airport. The carvings are intricate red cedar designs that represent the Haida stories of Raven Stealing Beaver Lake, Raven Steals the Moon, and Blind Halibut Fisherman. Van Riesen, was invited by Davidson's cousin to watch him work one day.
"We ended up becoming friends, and then out of the friendship we were able to collaborate artwork that we do," she explains. "It came out of eating together and fishing together and being together, and that's just a lovely way to be able to create something."
Van Riesen specializes in using screen printing and dying techniques to renew recycled garments and textiles. She had long been interested in incorporating indigenous art into her designs and approached Davidson with the idea. He was keen to work together and the result of their collaboration was on display at the runway for Indigenous Fashion Week in Vancouver last month as well in the Artisans Market at the Edmonton Folk Festival held from August 10 -13.
The collection is based on the two main clans of Haida lineage: Raven and Eagle. The Raven Dancing silkscreen and the Eagle Drum painting were chosen to decorate the fabrics and the palette was inspired by the Haida Gwaii landscape and traditional colours used by Haida artists on their carvings: red cedar, red ochre, ash black and sea foam green.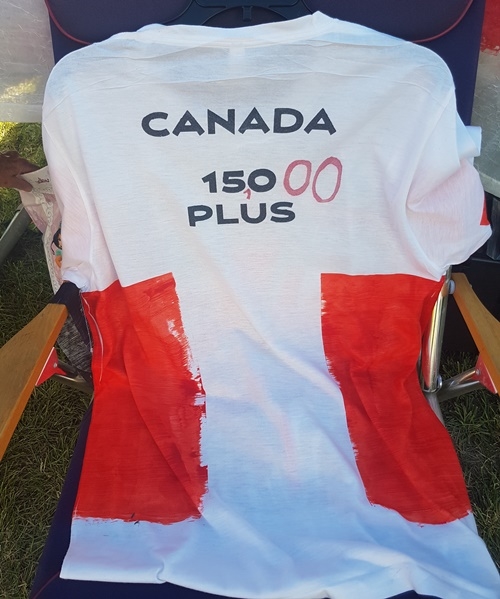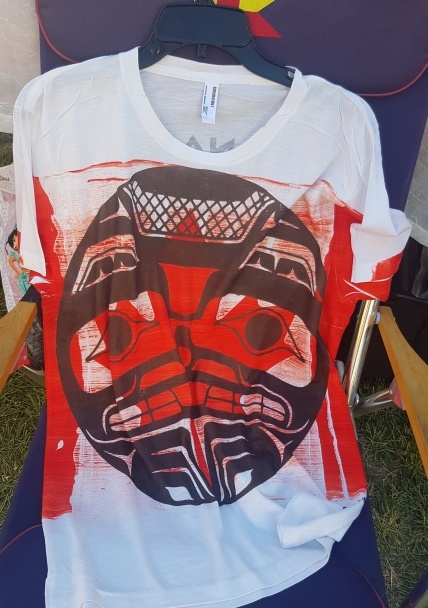 In addition to her artistic acumen, Van Riesen has strong views on environmental consciousness and cultural appreciation. She and Davidson decided to do a special t-shirt to commemorate Canada 150 that would better reflect the Indigenous perspective.
They chose the beaver, known for diligence and tenacity – which is both a crest of the Haida Eagle moiety and Canada's national animal. The maple tree is the national tree of Canada and its leaf is the central image on the Canadian flag. Maple trees are known for their strength and endurance. Red is a prominent colour in both Haida art and the Canadian flag.
Although Canada formally became a country 150 years ago, legend has it that Reg Davidson's Haida ancestors emerged from a clam shell on Naay Kun (Rose Spit) 15,000 years ago.
On the back of their t-shirt, Canada 150 has been corrected to read Canada 15,000 plus.
For more information and to view the beautiful Dahlia Drive designs visit dahliadrive.com or call 604-789-5848.