an overview by John Copley
(ANNews) – The two evening showings of Shumka's world premiere dance performance, Ancestors and Elders, concludes in Edmonton's Jubilee Auditorium this evening (April 28) at 7:30 pm. This spectacular and meaningful piece of art is a must-see presentation that highlights the coming together of Ukrainian and Indigenous cultures in a memorable evening that features the Ukrainian Shumka Dancers and the Running Thunder Dancers, led by the well-known entertainer, Adrian LaChance.
"The weight of Truth and Reconciliation is difficult for most of us," notes Darka Tarnawsky, the Executive Director of Edmonton-based Ukrainian Shumka Dancers & Shumka School of Dance in her welcoming address and introduction of the world premiere of Ancestors and Elders, on stage tonight at the Jubilee Auditorium. "What can we do? How can we possibly help? Telling this story of mutual respect and support, one that acknowledges the truth and celebrates our cultures collectively and collaboratively, is but one step in the healing process. Ancestors and Elders will have a long life beyond these performances. Its message must continue to be told. We are all human. We all have the same needs and wants. We wish to be loved and supported. We want to create and celebrate. We can do this together."
What you will see this evening is a compilation of two years of work, an effort that began with a vision and grew into a meaningful and exciting way in which two cultures came together to help further the Canadian public's quest for reconciliation. The production features over 100 Alberta-based artists, musicians, designers, dancers and storytellers.
"It's been an exciting journey," noted Co-Director Barry Bilinsky. "As a philosophy, Ancestors and Elders is about two magnificent traditions coming together – Ukrainian dance tradition, Shumka and all of the history that comes with powwow and Indigenous heritage, in this case, mostly from the Cree Nation."
The project, he noted, "started out as a look at Ukrainian settlement in Canada, what it entails and how did it play a role in the interaction with Indigenous peoples. It opened up a whole dialogue and a study to find out what our roles were in relation to one another and why these two dance traditions are so proud and powerful."
Bilinsky, who is a mix of both Ukrainian and Indigenous (Métis) culture only began to understand his Ukrainian culture as he grew older.
"I was raised primarily by my mother's side of the family, the Métis side," he explained. "I was born in Edmonton but eventually moved to the Bonnyville area. My grandmother is Cree, a Cardinal from Frog Lake and my grandfather on my mother's side is Métis, a Daniels from Fishing Lake; my dad is Ukrainian from Ontario so I'm learning the best of both worlds."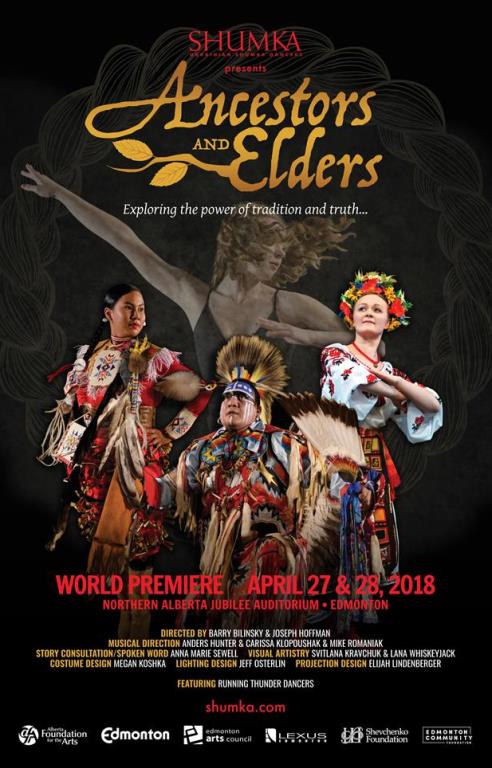 Bilinsky didn't know much about the residential school system and the history that comes with it until he enrolled in university; it was a subject that no one in the family really cared to talk about. "I'm still learning Indigenous culture," he noted, adding that he's been "travelling around the province and reaching out to my family and people in the community and participating in arts projects – because of them we are studying these stories and talking to Elders and this has given me an opportunity to learn more. I've been going out and doing some ceremony and learning; I'm approaching it as a learning experience and have come to realize just how grounded Indigenous culture is to this part of the country."
Bilinsky spoke briefly about the major differences and similarities between the two dance cultures and noted that though they differ, especially when it comes to the regimented discipline and practice schedules of the Shumka in comparison to the spontaneity of the powwow.
"It's been very interesting and rewarding just trying to navigate through the differences within two cultures that are actually very similar to one another in their own unique ways."
Ancestors and Elders delves into the lives of two matriarchal trios – grandmother, mother and daughter as they travel to a cultural festival where displays of both Ukrainian and Indigenous cultures are prominent.
"As we do this," noted Bilinsky, "we shift back to the past and we start to see what the two dance cultures are rooted in and how they developed the way they did. We get a hint of Ukrainian settlement and we get a hint of the Indigenous story of this territory, including parts of the Indian Residential Schools and how we are working to overcome this as we continue to dance."
The producer and directors of this beautiful and engaging performance want the audience to understand that each of us can participate in reconciliation just by our actions, our words and our understanding of each other.
"Every step forward," assured Bilinsky, "is a good step in the right direction. It may take a little while – just as this project did – but in the end the payoff is great because through understanding (and civility) we all get to move forward."
The program booklet highlights the fact that survival for both the Indigenous peoples of Turtle Island and Ukrainian immigrants who settled here often meant staying silent, but in that silence, much was lost.
"In that silence," notes the introduction to Ancestors and Elders, "we have missed connections; in that silence there are also many lost stories of the linkages between our communities that have helped us both survive tremendous loss and struggle. In Ancestors and Elders we use dance to begin to break that silence – to explore the power of tradition and truth."
Click here for ticket information.