by John Copley
(ANNews) – On December 9, Amiskwaciy Academy hosted its annual Christmas Winter Feast, an event that saw more than 500 guests enjoy an absolutely scrumptious feast that included a Christmas ham and turkey dinner complete with tasty homemade stuffing, potatoes, vegetables, several kinds of bannock and a berry dessert that embraced a combination of raspberries, strawberries, and very tasty wild berries that once finished, had you going back for more. The Christmas Winter Feast is always a particularly enjoyable dinner at Amiskwaciy Academy, prepared by the school kitchen staff and served by a dozen student volunteers.
The celebration got underway when Amiskwaciy Elders Francis Whiskeyjack and Jeanette Lean and teacher Terrace Mah, along with about 20 students made their way to the stage and performed songs to celebrate the season and welcome the large gathering who'd come to partake in the feast.
In his opening remarks, Elder Whiskeyjack spoke about the recent opening of the Academy's new sweat lodge, a beautiful structure designed by Stantec and built by Ledcor and a host of suppliers who contributed their time and materials to the project. Over a dozen Amiskwaciy students also helped with the project as part of their construction class. The building took about two months to construct and what was merely a vision four years ago, has become a reality today.
"The community support we received before and during the construction of this beautiful building is very much appreciated," assured Elder Whiskeyjack. "I am pleased to say that we recently held our first sweat in the new facility; the students participated and they really enjoyed the experience.
"We owe many people our gratitude for their involvement in this endeavour and I thank them all once again today. I'd like to thank everyone who passed on their positive comments about the sweat lodge and the important role it will play here at the school. I find that positive statements and positive attitudes are two things that make us stronger and help our youth move forward and succeed in all they do – and I thank you for that."
The spiritual component that the sweat lodge brings to the school can't be overstated and it goes a long way to helping Elder Whiskeyjack's words and wishes for Amiskwaciy Academy's students come true as he encourages them to make good choices and to be spiritually, physically, emotionally and mentally strong in all they say and do.
University of Alberta history professor Michael Polushin emceed the event and spoke about the Christmas season and the positive challenges that lay ahead for students once they graduate from high school.
"It is great honour to have been invited here today and to stand here and talk to you in this school, a world-class facility, a place that teaches me something new every time I come here," said Polushin, who introduced and thanked the school's Elders and others who came to enjoy the feast and offer their support to the students.
The university professor also spoke about his years as a student in both the Edmonton Public and Catholic school systems and lauded the work being done by Public School Trustee Ray Martin, who for the first time as trustee, was unable to participate in the Academy's Winter Feast. He also spoke briefly about other EPSB administrators and staff in attendance, including Superintendent Darryl Robertson. He thanked a long list of supporters and community partners and spoke briefly about the important role that they play to ensure everything from student success and safety to helping soon-to-graduate students apply to post-secondary education and trades training opportunities.
"This support is very very important," he stated, "because it is all about the students, it is all about learning, it is all about education and it is all about community."
Schools from across the district were invited to participate in the 2016 Winter Feast and as Polushin called out their names, students clapped and cheered, each a bit longer and louder than the last. Schools attending this year's festivities included the Argyll Centre, J. Percy Page, Eastglen, W.P. Wagner, McNally High, Mary Butterworth and Centre High Campus.
EPSB Ward C School Trustee Orville Chubb was the next person to address the gathering. He spoke about Treaty 6 Territory and noted that Edmonton was once a "traditional meeting place for the various tribes" in western Canada and the United States, "groups that included the Cree, Saulteau, Blackfoot, Dene, Dakota, Métis, Sioux" and others. "I'd like to honour these tribes and all First Nations whose footsteps crossed this land over the centuries."
Chubb acknowledged the drummers and dancers for their performances, honoured the Elders for their wisdom and work throughout the public-school system and congratulated and thanked "all of you here today; your support is important and appreciated."
Entertainment is part of every feast held at Amiskwaciy Academy throughout the school year and this year's Christmas/Winter Feast was no exception. The Métis Child and Family Dancers strutted their stuff across the stage as they performed several up-tempo dances that had the crowd clapping along in joy. Their colourful regalia and precision dance steps made their performance extra special. The dancing quartet was joined on stage by well-known fiddler Alfie Myers and his guitar-playing son Byron. These two musicians are always a pleasure to listen to and like every performance I've seen before, they were outstanding.
Elder Whiskeyjack offered a prayer before the Christmas luncheon and in doing so honoured the memory of Jerry Wood, a respected Elder and community member who passed away suddenly from a heart attack on Thursday, December 8, just one day before Amiskwaciy Academy's Winter feast.
"I worked with Jerry for many, many years," noted Elder Whiskeyjack. "Life is something that we take for granted every day, it is precious and we never know what the next day will bring. I'd like to pause for a minute of silence to think about Jerry, what he meant to the community and the many things that he accomplished."
After a few minutes of silence, Elder Whiskeyjack continued, noting that another person he knew also passed away recently, a person "who also worked with and helped many people in many ways. This year as we celebrate the Christmas season let us also think about the people in the hospitals, all of those who are lonely, those who are in jails, think about the women who are being abused, children who are in care and being passed from one family to another. With this in mind, remember that as we enjoy the luxuries of food and shelter and safety – all these things we take for granted – let us think of the less fortunate as we enjoy our feast today. During this season and into the future don't be angry with your neighbour but instead be grateful, be kind and be understanding."
Amiskwaciy Academy is about learning but it's also about culture and personal identity. Principal Fred Hines puts it all into perspective when he says: "At Amiskwaciy Academy students are at the centre of our initiatives. What we plan for, work toward and strive for is a community of forward thinkers. We are very fortunate to have several Elders involved with the school, including Elder Francis Whiskeyjack, a full-time member of Amiskwaciy Academy who offers advice, works with students and provides cultural awareness and training to both students and staff.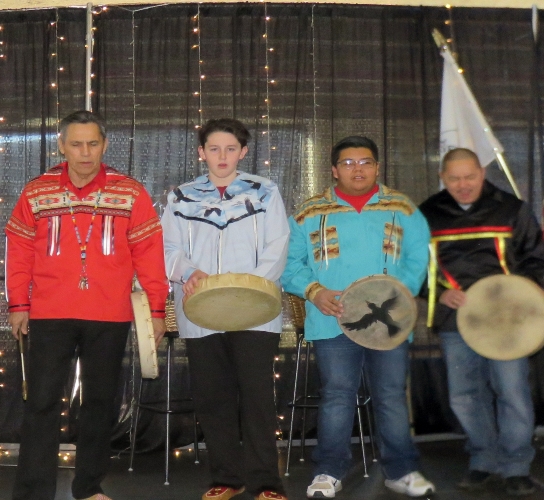 "Students learn about Cree culture through the Morning Song, Traditional Teachings, Sweats and through classroom enrichment. We work hard at giving our students the tools to become productive members of our society through the world of work or post-secondary education. As a community, we work to remove barriers that would impede progress for our students. We welcome you to stop in and join us for breakfast – the Morning Song gets underway every weekday morning at 9:00 a.m."