Poundmaker's Lodge Treatment Centre is hosting a very special fundraising gala in support of the Iskwew Healing Lodge on Saturday October 10, 2015 at the Italian Cultural Centre in Edmonton.  This promises to be an evening of fun in support of a very worthwhile cause.  Doors open at 5 pm, dinner is at 6 and the entertainment starts an hour later at 7.
The Italian Centre is located at 14230 133 Avenue in Edmonton and tickets are still available. For information and to reserve a spot or a table, contact Sara Cardinal at 780-458-1884 or [email protected].
Iskwew Healing Lodge is a natural extension of the Poundmaker's Lodge. It was established in September 2013, to address the gap in treatment services for women and the lack of aftercare facilities to assist women in transitioning back into the community. It is an addictions aftercare facility for women between the ages of 18 and 65. Iskwew Healing Lodge creates a space for women working on their sobriety to achieve increased health outcomes that are culturally appropriate, addictions specific, recovery based, and built in an Aboriginal Therapeutic Community Model.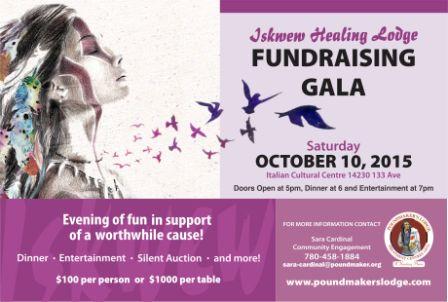 This residential facility provides an opportunity for women who have completed treatment programs to build on their addiction programming in a safe environment using their unique strengths to further develop their skills and readiness to return to their communities.
Poundmaker's Lodge Treatment Centre prides itself on its 40 year history of providing exceptional addiction treatment services to Aboriginal populations. As with all Poundmaker's programs, the activities at the Iskwew Healing Lodge focus on Aboriginal culture and healing, but women from all cultures are welcome.
 The Iskwew Healing Lodge offers aftercare programming via The Iskwew Transition Program, which allows residents to build stability in their addiction recovery through the guidance of Elders, Cultural Advisors and trained staff. Each client is assisted and supported in working toward and achieving goals established in their Wellness Plan thereby maintaining abstinence. The programming allows the residents of Iskwew Healing Lodge a transition process towards the goal of stable sober living outside of structured treatment programs.  The fundamental needs of women are met by The Iskwew Transition Program by providing essential support, tools, education, awareness and duration in a safe environment needed for sustainable sobriety.
"The Iskwew Healing Lodge provides a valuable service for women but receives minimal funding. Help us maintain these services by attending this fundraising gala. It is sure to be a wonderful evening with great food, great company and excellent entertainment – and it is all for a very worthwhile cause," said Community Engagement specialist Sara Cardinal.
"Don't miss this wonderful evening! Call 780-458-1884 to reserve your tickets today."