(ANNews) – NorQuest College's Alberta Indigenous Construction Career Centre (formerly the Alberta Aboriginal Construction Career Centre) is entering its third year of successful operation. This month a number of organizations and government agencies are being heralded as visionaries for investing in one of Alberta's most under-represented workforce groups: Canada's Indigenous Peoples.
"Our core purpose is to Think Different and Build Better," says David Whyte, human resources director for JV Driver, a multi-faceted construction company that is an original investor in the AICCC. "The reason we were attracted to the centre, and NorQuest, is because we saw that NorQuest was operating differently than other institutions in Edmonton. This program is different and it aligns with our core purpose. As a result, we have found great employees from the Indigenous community."
The Government of Alberta's Ministry of Labour also supports this creative initiative – an effort that is getting results and putting people to work.
A celebratory barbeque was held on August 15, attended by government, AICCC and NorQuest reps, industry, clients of the centre, and Indigenous community members. There, Minister of Labour Christina Grey officially announced that her government will remove the 'pilot' status that was placed on the program in 2015 and provide new funding to the tune of $1.5 million over two years.
"Your government's commitment, with gracious support from the Canada-Alberta Job Fund, is helping individuals and families help themselves and fill workforce needs," NorQuest College president & CEO, Dr. Jodi L. Abbott told Gray.
The original goal of the pilot project was to have 750 client intakes and put 300 people into job placements. The actual numbers to date are incredible: 1,900 client intakes with 65 percent of those gaining meaning employment in construction or related industries.
Having passed the two-year pilot era of its existence with flying colours, the AICCC is grateful for the support shown by government, and by industry partners.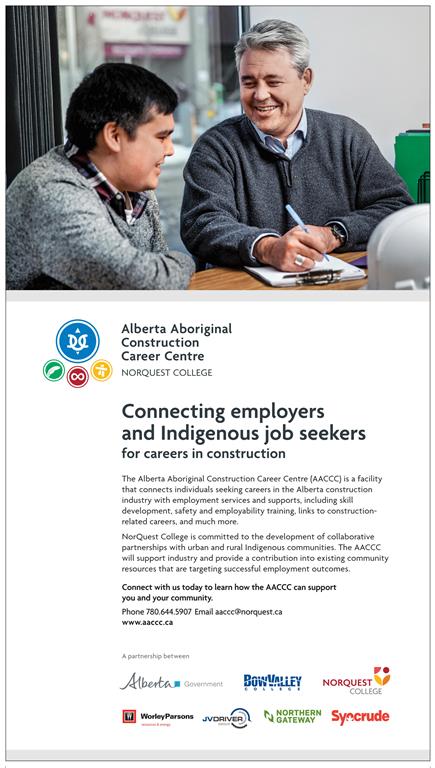 Backwoods Energy Services, the largest forestry services contractor in north western British Columbia is another example of a supportive industry partner.
"Backwoods employees are required to have safety tickets in order join our company," says Backwoods Energy Services Indigenous Recruiting Officer, Allison Yellowknee. "This is often a time-consuming process. However, we find that the AICCC is very accommodating when it comes to helping people earn their safety tickets. The centre is amazing for us when it comes to finding employment-ready career seekers. We have received a lot of positive feedback from people who have used the AICCC's services."
Clients who have been attending AICCC have found the Centre to be a friendly and helpful place to gain the skills they need to advance their careers.
"AICCC helped me get the skills needed to enter the oil and gas industry," noted Benjamin McDougall, a 23-year-old from the Dene Tha First Nation who used the centre to get his H2S Alive certificate. "Through training in H2S Alive and other related courses, I have been able to pursue a career in areas I had not thought possible.
The application process is also easy to initiate and very user friendly.
"The information provided on the AICCC Facebook page was all I needed to get me started," explained Rebecca Omeasoo, a 46-year-old Edmontonian from Maskwacis, Samson Cree Nation who used the centre to get her security officer certificate. "I didn't need to search out any phone numbers. I just clicked that I was interested in it … and I got a response right away. By noon the next day I had the application and paper work sent to me and I knew I was in. The program started Monday. ..This has given me skills and now I will be able to go out to a job and be more confident."
In addition to the funding provided to the AICCC at NorQuest, The Alberta Ministry of Labour, with support from the federal Canada-Alberta Job Fund, has committed $400,000 to the AICCC at Bow Valley College in Calgary.
The AICCC in both locations is devoted to helping Indigenous workers meet labour force demands through support and training. The centres also provide a variety of worksite supports to employers aimed at facilitating successful work relationships.
For more information call 780-644-5907, email [email protected] or visit aiccc.ca.