by John Copley
(ANNews) – On Friday, September 7, NorQuest College hosted a Stakeholder Barbecue on the campus' Parking Lot E on 108 Street and 102 Avenue in downtown Edmonton. The two-hour event, which took place on the last pleasant day before the snow and rain began to fall, was held to celebrate and share the success stories of the popular college and to acknowledge those whose contributions have made it all possible.
NorQuest President and CEO Jody Abbott took to the podium and before introducing Elder Delores Cardinal to offer a traditional blessing, acknowledged that the college, which is located on Treaty 6 Territory, remains "dedicated to ensuring that the spirit of Treaty 6 is honoured and respected."
The parking lot, converted to an outdoor patio setting for the occasion, quickly filled with participants and special guests that included Alberta Indigenous Relations Minister and MLA for Edmonton-Rutherford, Richard Feehan, Alberta Minister of Education and MLA for Edmonton-Calder, David Eggen, Randy Boissonnault, MP for Edmonton Centre, David Shepherd, MLA for Edmonton Centre, Rod Loyola, MLA for Edmonton Ellerslie, Edmonton (Ward 6) City Councillor Scott McKeen, and Alberta's Deputy Minister of Education, Curtis Clarke.
Minister Feehan created some laughter during his opening comments when he noted: "I can tell by the many politicians here today, that this is a very important event."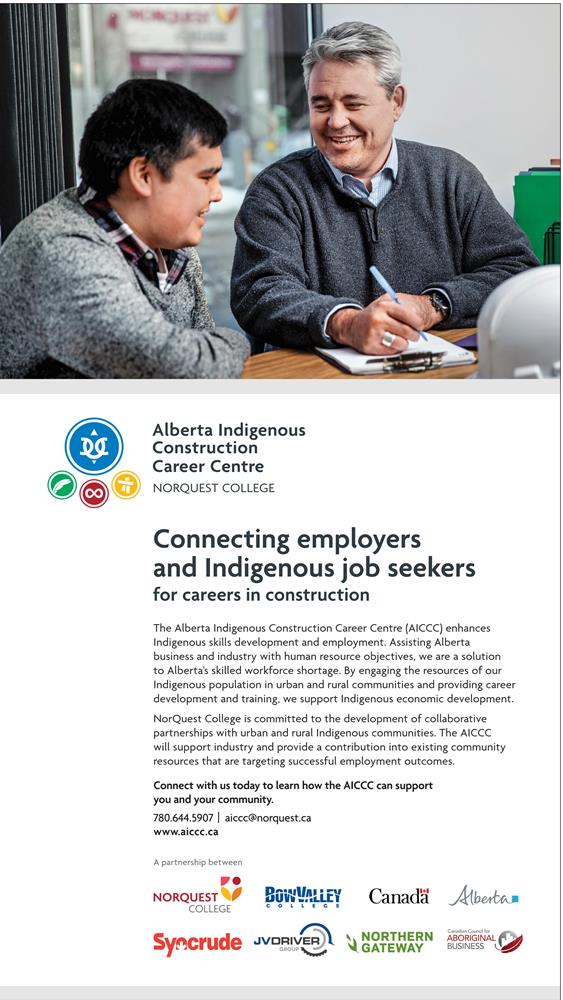 He went on to say, "This college is a place for real transformation and I am very impressed when I speak with students and see what they've done to enhance their futures. A big thanks to those students, who upon graduation, help us to create a very strong and stable workforce in this province. You are what we are here to celebrate."
He went on the praise the work being done by the Alberta Indigenous Construction Career Centres (AICCC), its manager, Ruby Littlechild and the rest of the staff who "have created a welcoming, safe and holistic space for students to grow, to celebrate and to add enrichment to Alberta's economy. Thank you all for sharing your cultural wisdom, your Indigenous ways of teaching and for creating a safe place in which to get the work done."
Abbott thanked Minister Feehan and the Alberta government for "your insight, your support and your courage in terms of funding this important (Indigenous Construction Career) Centre. We have many positive stories to share and this would not have been possible without your support."
MP Randy Boissonnault greeted the crowd saying, "First I just want to state that there is no relationship more important to this government than that with its First People – First Nations, Métis and Inuit. We are on a pathway of reconciliation and the Centre that we are celebrating today is an important step in that reconciliation. It has taken us many generations to get to the place we are in now and it will take many more generations to get to a path where we can all say that we are happy with our nation-to-nation relationship. I am thrilled that today we can talk about success. I worked with NorQuest in celebrating the first time you held a construction program here and you said: 'It'll be successful if we have 350 grads.' Well, at 1,300 I think it's been a roaring success."
Scott McKeen told the gathering it was an honour to be participating on behalf of Mayor Iveson and city council, noting that "it is a bit of a thrill in that today I don't have to follow Randy and MLA David Shepherd who are both great speakers and outstanding advocates for their ridings. We take so much pride here in Edmonton about the work that NorQuest does in uplifting the lives of so many students each year. The Indigenous people of Edmonton possess rich and distinct identities and they have significantly shaped our past and generously shared their knowledge and wisdom and have helped their city to become a thriving urban centre.
"We recently had a presentation before Council about how Edmonton is dealing with the influx of Syrian refugees and it was so thrilling to hear that the Bent Arrow Healing Society greets refugees at the airport when they arrive. This is historically apt because Indigenous people welcomed the earliest European settlers to this area and frankly helped to keep them alive. Indigenous people have a strong, strong voice in our city's future. We have the second largest urban Indigenous population in Canada and Edmonton's fast-growing Indigenous community represents vitality, strength and opportunity. Their involvement in our city's economic development is essential to its health and prosperity; they bring skills and perspective, and this makes them a highly valuable part of Edmonton's cultural and economic landscape. Programs like AICCC are so important and NorQuest is providing a solid platform which is helping a young and strong Indigenous population to pursue their passion."
Chandos spokesperson, D'Arcy Newberry spoke about the important role that the Aboriginal Construction Career Centre brings to industry. He spoke about Chandos' employees participating in Aboriginal Awareness initiatives and learning new skills as well as insight into Indigenous customs, beliefs and lifestyle. He thanked AICCC Program Manager Ruby Littlechild for enlightening and working with Chandos and for helping enable the company to gain a better insight when it comes to working with and speaking to Indigenous employees and clients throughout the province. He noted that "you can see the success of the initiative" on the work sites and in the office and as a "team player company we like to invest in people and projects and give them an opportunity to learn new skills and discover hidden talents that perhaps they never knew they had."
Abbott addressed the gathering and spoke about how difficult it is for Albertans who "want to contribute to their community but feel they've been left behind because of the differences in cultural ideals and understanding."
She told the gathering that "great steps are being made at NorQuest to help ease the sense of separation and inequalities, which has never been more important than in this time of reconciliation. NorQuest College is committed to the implementation of the Truth and Reconciliation Commission's Call for Action and we will continue to strive to create clarity for Alberta's Indigenous people. We understand the important elements they bring to Alberta's identity and economy.
"We will continue to challenge the status quo and enable unique and innovative creativity by empowering the uncapped Indigenous labour market. Did you know that between March 2015 and today, the AICCC has assisted approximately 3,300 clients; we have placed many of these individuals directly into meaningful and in-demand jobs. 7,700 safety and training certificates have been achieved, meeting the Alberta needs for labour. We are very proud of these numbers and we will do more."
Ruby Littlechild, in an interview following the event, said that "AICCC is transforming people and changing lives. We are very proud of our responsibility to help our clients transition to the urban city and to believe in themselves as they work to support their families. We work hard every day to empower our clients so that they can obtain employment and contribute to Alberta's economy. We do this via job skills and training and by breaking down the barriers by providing Indigenous Awareness training for our clients to be able to succeed in the mainstream workplace."
As of August 22, 2018, AICCC has succeeded in helping to put 65 percent of its intakes into meaningful jobs.
"Under the new Government of Alberta, Ministry of Labour Grant Agreement which ends March 31, 2019," she explained, "we are expected to see 1400 clients in the overall grant agreement. To date we are currently pleased to report that so far client intakes already number 1672; 72 percent have been placed into jobs. This means that we are currently ten months ahead of schedule."
The AICCC is a successful Community Economic Development model based on a strong sense of rural and urban community collaborations.
"We have the Alberta Government (policy makers), NorQuest College, Training Centres (educators) and Industry (employers) all contributing and working in partnership and responding to Canada's Truth and Reconciliation Commission of Canada's calls to action," added Littlechild, who noted that "our clients include general labourers, scaffolders, welders, pipe fitters, steamfitters, carpenters, concrete finishers, plumbers, insulators, Heavy Machinery Operators, mechanics, electricians, ironworkers, engineers and more.
For more information about AICCC or to learn more about this unique opportunity to become involved in a construction related career, contact Ruby Littlechild at 780-644-5907 or [email protected]