(September 21, 2018) – Its doors have always been open, but its new name makes it clearer that this place welcomes all.
The Encana Aboriginal Student Centre – the Indigenous space located on the first floor of the E building – has been renamed the Nîsôhkamâtotân Centre.
Nîsôhkamâtotân [Nee-so-ka-mah-to-tahn] is a Cree word meaning "let's help each other."
The Centre, which opened its doors in 2004, is a community gathering place where Aboriginal and non-Aboriginal students and staff network, study and share their post-secondary experiences. It's also a place to celebrate, honour and learn about the cultures, traditions, histories and worldviews of First Nations, Inuit and Métis peoples.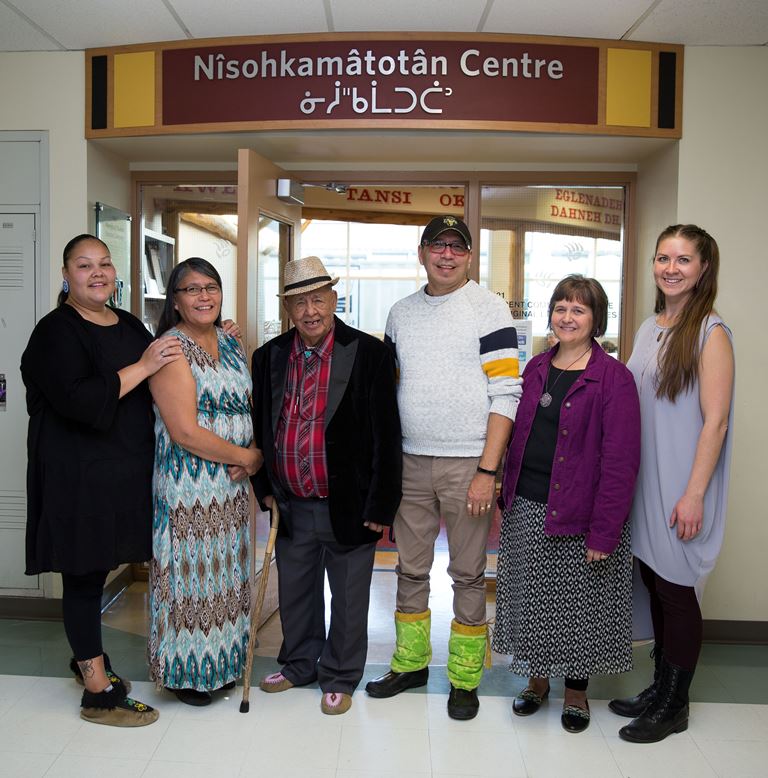 "(The new name) describes the holistic approach to what happens here every day," says Derek Thunder, manager, Aboriginal Liaison Services.
"It's about building community, family and a safe, inclusive environment where everyone has opportunity to learn and grow."
Toward Truth and Reconciliation
Conversations about the need to rebrand the Centre started in 2014, after Encana's 10-year sponsorship agreement expired. The name change, which came about after consultation with the community, is part of NAIT's new Aboriginal Strategy that's been in development over the past year.
The strategy responds to the Calls to Action of the Truth and Reconciliation Commission of Canada Report and the polytechnic's partnerships with Aboriginal communities. Now in its final stages, it's scheduled to launch sometime this fall.
"At its core, Nîsôhkamâtotân symbolizes our commitment to the recommendations in the report," Derek says.
Renaming and rebranding the Centre continues this focus by taking steps to normalize Aboriginal language and acknowledge the polytechnic rests on Treaty 6 land.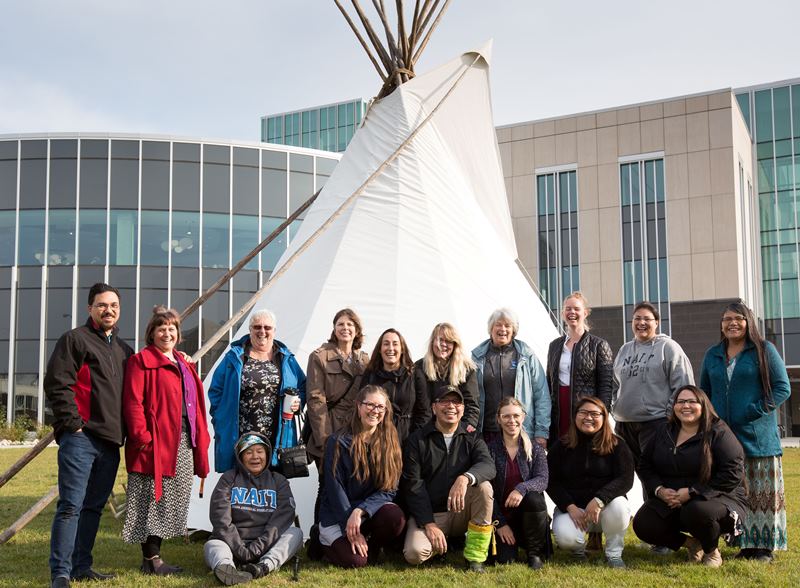 Response from staff, students and the community has been overwhelmingly positive, Derek says.
"They're thrilled," he says. "I'm hearing from many people that they support the name, because it reflects what this place is all about."
Glenn Feltham, our president, told the crowd gathered outside the Centre on Sept. 20 for the official announcement of the name change that the new brand aligns with the polytechnic's commitment to diversity and inclusion.
"NAIT is committed to providing a welcome and inclusive environment," Glenn said, "and the Nîsôhkamâtotân Centre supports that commitment."
"Today marks a significant moment in the Centre's history, as the new name reflects perfectly its ultimate goal."
Breaking barriers
The number of staff and students who take advantage of what the Centre offers has grown significantly over the past 14 years. Derek estimates that roughly one-third of students who self-identify as Aboriginal frequent the Centre on a regular basis.
But it's not only Aboriginal people who embrace its value.
"We see people from many cultures and backgrounds," Derek says. "This place is a magnet for anyone looking for community and conversation. It's a home-away-from-home for many."
For Walter Bonaise, who's been an elder at the Centre since the beginning, the change has special meaning.
"The new name will bring people together," he says. "When people ask, 'What does [the name] mean?' it will inspire conversations that will break down more barriers."
Thursday's renaming ceremony was part of this year's annual NAIT Aboriginal Culture Day, which featured several other events, including tipi-raising, smudging and men's pipe ceremonies, a women's circle, a traditional blanket exercise and a stew-and-bannock lunch.