by John Copley
(ANNews) – If you haven't heard of Daintre Christensen, then you've either just arrived from out-of-province or you're off to work before the morning news is broadcast on Global TV. That's where Daintre works as Traffic Anchor and Co-Host of Edmonton's #1 Morning News program.
A First Nation woman, Daintre is a member of Ontario's Nipissing First Nation, an Ojibwe and Algonquin community whose ancestors have lived on and around Lake Nipissing for more than 9,000 years. Raised at an early age in her home community, Daintre moved west with her mom and sister when she was ten years old. Without family or Indigenous connections in Alberta, she didn't have the opportunity to grow up in a traditional way, but that didn't stop her from succeeding.
"I've always had goals and aspirations but mostly I just wanted to be successful," she said in an interview. "I've always liked knowing what's going on in the world and why, so I think that interest was what really sparked my journey into broadcasting, though originally I was looking at a career in print media."
Another contributing factor to Daintre's career choice came as a result of advice she got from her dad.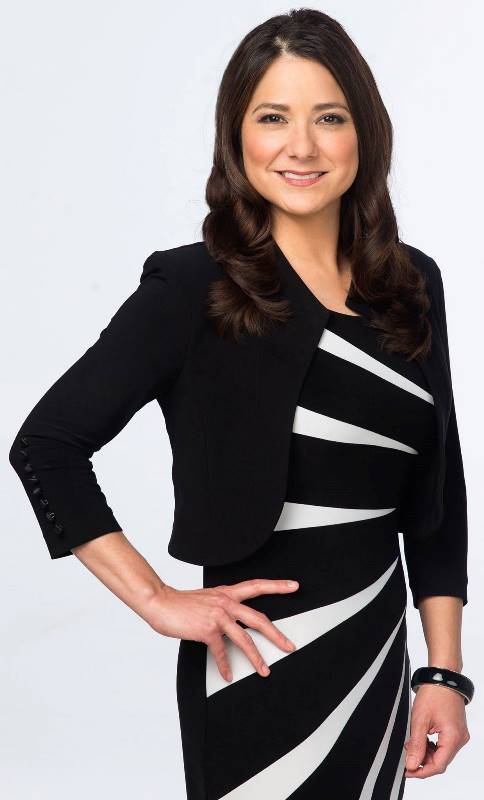 "My father was the one who convinced me to apply for a job at a local station while I was attending college," she explained. "I might not have had the courage to apply if he hadn't encouraged me to pursue it. My father is a huge influence in my life and has always supported my choices."
Once she knew what it was she wanted to do, Daintre went to college and applied for education funding, which would come from the Nipissing First Nation's education portfolio.
"I went before Council and told them I wanted to pursue an education that would allow me to achieve my goals, both in the broadcast industry and as a person," she said.
She was approved for the funding, completed her education and has since continued to move ahead via hard work, foresight and determination. She began her career behind the microphone at CISN Country 103.9 FM Radio and did Corus traffic reports live from the Global 1 helicopter beginning in 2006. Daintre's television broadcast career began in 2008, where she filed traffic reports for the Morning News, the Early News and various Corus radio stations.
On September 8, Daintre celebrated her 10th anniversary as Global TV Edmonton's Traffic Anchor and Co-Host.
"I have a great job, and I work for a positive and supporting employer. I really love my job because of the people I work with every day and because of the relationships I've formed with them; these relationships make the job especially enjoyable."
Working at Global TV has also allowed Daintre the opportunity to have a voice, a platform to help bring positive change to Indigenous peoples and communities. She does this primarily through social media and through volunteerism. This includes her participation as a panelist at the 2018 Women's Symposium (Strengthening Indigenous Women's Voices) and as emcee for the 2018 In Her Shoes Gala, a fundraising initiative held in June in support of Edmonton's WIN House, a vital, non-profit organization that provides a safe place for women and children fleeing domestic violence and abuse.
"I was invited to emcee the In Her Shoes Gala by Mrs. North America Globe Classic, Lisa Ground. I think that it is really important that we show women that they have a voice in our community and that we need to stand up and stand together for people who are experiencing domestic violence. They need to know that they are not alone and that they can speak up and that they will be supported when they do so."
In 2017 Daintre also had the opportunity to speak at the Institute for the Advancement of Aboriginal Women (IAAW) alongside her aunt, former Chief of Nipissing First Nation, Margaret Penasse Mayer, IAAW Founder Muriel Stanley Venne and Loon River First Nation Chief Bernadette Sharp, during an Indigenous Women in Leadership Workshop at Amiskwaciy Academy.
Daintre also speaks to students of all ages at the local schools and especially enjoys reading stories to the younger children.
"It's a wonderful thing to do and I really look forward to those moments," she smiled. "I say, hey kids, I'm here to read a story to you and to talk to you a bit about who I am and what I do. I like to inspire them just as I was inspired by Rick Hansen when he came to Edmonton and I met him during a school field trip to the Alberta Legislature. It was such a big deal! If we can be good role models for our younger generations, we will build an even stronger future."
Daintre is always interested in opportunities to speak with school children in their classrooms or auditoriums and welcomes requests to do so.
"I am definitely interested in these types of outings," she said. "If I'm invited I will find a way to participate."
Christensen was honoured to be invited by conference coordinator Georgette Look with BUKSA Associates to participate in the February 2018 Women's Symposium and pleased to see that the full house comprised a good balance of both Indigenous and non-Indigenous spectators and participants.
"Participation is important no matter what culture you represent," she emphasized. "Domestic violence doesn't affect just one community, it affects every community. Participation is vital; we are all part of a general community and we need to understand that despite any differences we have, we are all part of one bigger family."
As a panelist she spoke to the audience about leadership, her own career, and those who inspired her to achieve her goals – strong women who made a positive difference in her life.
"I also spoke about how valuable it is for young girls to have female role models to tell them that they can achieve their goals if they work hard and even though it takes some time, it's really worth it in the end."
A role model, mentor and advocate for women, children and animal rescue groups, Daintre is a strong believer in education and promotes it at every opportunity.
"I want to encourage every person to pursue their education," she said. "It's a huge thing for our community to get that post-secondary education and pursue a career of choice. Not only will you have a better life, but more importantly, you will inspire others to do the same."
Christensen said that Global TV "has always supported me, my Indigenous ancestry and anything I've done to support my Indigenous heritage, culture and community." It continues to give her the profile she needs to spread the word about "the positive things going on throughout the province's" Indigenous community.
"It is very important that we are able to highlight the positive things that are happening; for example, we recently had the Alberta Indigenous Games here and we can all see how that has grown. Instead of hosting the event every two years, it's been back-to-back this year and last. That's got a lot to do with the interest and the admissions they've had for the games; it's a good story that is getting better every year. This is just one of many success stories taking place in our Indigenous communities and we need to share them with everyone."
Daintre is an avid supporter of animal rights groups and in fact is foster-mother to three African elephants, an undertaking she became involved in after watching a documentary about the plight of the vanishing African elephant, hunted by poachers for their ivory tusks. Locally, she donates her time helping to promote animal rescue groups. In fact, she and her husband adopted their dog, Virgil, about five years ago, after he'd been found abandoned at a southern Alberta dump.
"Most animal rights groups don't get funding, and that includes the Edmonton Humane Society," she explained, "but they are all working tirelessly to help these animals and to cover the costs of veterinarians, food, shelter and other necessities. I emcee events and fundraisers to help ensure that these costs can be met and that we can help as many animals as possible.
"I utilize social media to talk about the plight of the elephant, but there's a wide range of animals that are undergoing similar treatment at the hands of humans. It's difficult to read about all the bad things that are happening when it comes to species such as sharks, rhinos, endangered orangutans and others. These are difficult issues to read about and understand but if we don't step up, speak out and actively try to do something – if we don't support these animal rescue groups and veterinarians who travel around the world to try and help these different species – eventually they won't be here anymore."
Daintre wasn't directly affected by the Indian Residential Schools that once dominated the Canadian landscape, but she knows about the issues, the stories, the suffering and the difficult time that many Indigenous people have when it comes to healing from past injustices against them.
"Healing from such tragedy cannot be an easy thing, but I believe it is important to tell your story, to meet and work with others who share your pain and to come to terms with the past in a way that best works for you. Sharing these types of stories is not easy and in fact is painful, but there are no easy solutions. I think that by sharing stories with others, survivors will be able to come to terms with the past, so they can experience a better life in the future. As a community, we need to listen, and we need to step up and support those who are trying to move on in life."
Outside of the Global Edmonton studios Daintre enjoys jogging with Virgil and target practicing at the indoor pistol range. She also enjoys traveling and has toured Germany by train, visited friends in England and visited her husband's family in Denmark.
"Copenhagen was my favourite place and we plan to go again," she noted. "But I also like Quebec City; we went there last year, and it was beautiful. That's another place I definitely want to go visit again."