Calgary, AB – June 21, 2018: Alberta Liberal Leader David Khan issues this statement:
"National Indigenous People's Day is a time for Albertans and all Canadians to celebrate the cultural diversity of Indigenous peoples. I encourage everyone to learn more about the rich tradition and history of First Nations, Métis and Inuit peoples across this Province and throughout Canada.
"It is not enough to celebrate Indigenous culture. We must also commit to improving the quality of life of all Indigenous Peoples. Past policies have caused incalculable harm to Indigenous Peoples and some current policies continue those regrettable effects. This is unacceptable and must change immediately.
"Colonial practices and contemporary underfunding on reserves have resulted in higher rates of drug use, mental illness, suicide, incarceration, and a modern "Sixties Scoop" or "Millennial Scoop" of Indigenous children being taken into state care. Some reserves are still challenged in accessing basic necessities such as clean water.
"Indigenous Albertans also face greater economic challenges as well. In 2017 the unemployment rate for Indigenous Albertans was 12 per cent compared to the 7.7 per cent unemployment rate for non-Indigenous Albertans.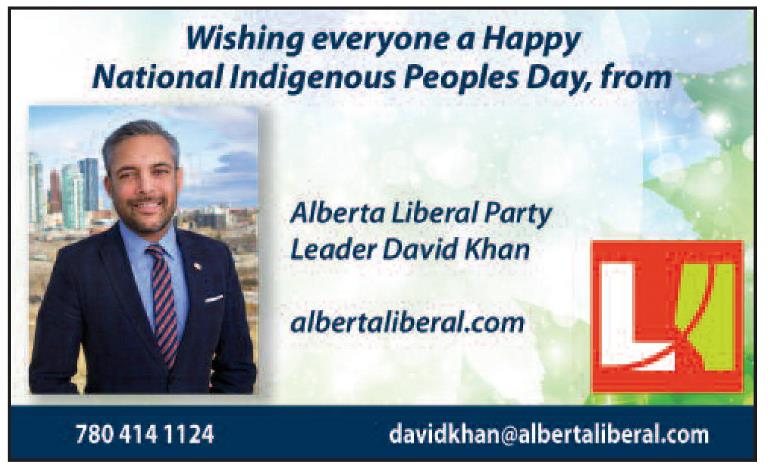 "Both the Alberta and Federal Governments must do more to resolve these serious issues. We must address the rising number of Indigenous children in state care, close funding gaps, guarantee access to clean water, improve education and eliminate the gap in funding for on-reserve vs. off-reserve schools, and provide sustainable police services.
"Jurisdictional wrangling must be overcome: First Nations governments and the Provincial and Federal governments all have a role to play, while respecting and enhancing First Nations sovereignty and governance, in the spirit of reconciliation.
"I encourage all Albertans and Canadians to celebrate Indigenous Culture and commit themselves to support real change.
"We must do this not just today but every day."