(Edmonton) – The SkirtsAfire Festival, March 8 – 11, 2018, is a 4-day multidisciplinary arts festival which celebrates women in the arts. It is held in various venues along Alberta Avenue (118 Ave) in Edmonton.
Each year, SkirtsAfire Festival recognizes an Honourary Skirt; an outstanding woman, who is accomplished in her work and community, and who inspires greatness in other women. This year, SkirtsAfire is thrilled to announce the Honourary Skirt for the 2018 festival is Muriel Stanley Venne. Previous Honourary Skirts include Linda Duncan (2017), Marguerite Trussler (2016) and Premier Rachel Notley (2015).
This year, on International Women's Day (March 8), SkirtsAfire Festival kicks off with Opening Ceremonies at the Nina Haggerty Centre for the Arts (9225 118 Ave), from 5 – 7 pm. SkirtsAfire is pleased to welcome Carola Cunningham, Executive Director of Niginan Housing Venture and Ambrose Place, to lead a Smudge Ceremony followed by the official Skirt Cutting of the winning 2018 Skirt Competition design. Honourary Skirt, Muriel Stanley Venne will perform the cutting tribute.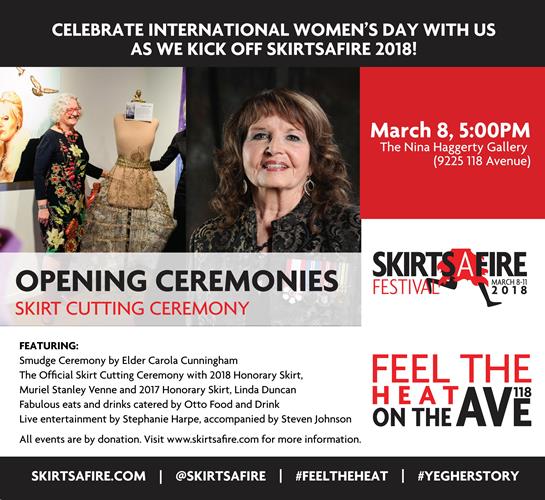 As President and Founder of (IAAW) the Institute for the Advancement of Aboriginal Women, Muriel Stanley Venne works tirelessly on the issues confronting Indigenous Women. Muriel along with Vice President Marggo Pariseau, created the Esquao Awards, a province wide recognition for Indigenous Women.
Muriel is one of the most decorated Aboriginal women in the province, receiving the Alberta Human Rights Award in 1998, the Queen's Medals in 2002 and 2012, the Indspire Justice Award in 2004, the Alberta Government Centennial Medal, as well as the Governor General's Commemorative Medal in honour of the Person's Case and the Order of Canada. In 2017, Muriel was recognized by the Province of Alberta when she became the first Metis woman to have a government building named after her, the "Muriel Stanley Venne Provincial Centre."
This VIP event is catered by Otto Food and Drink and also includes a performance by motivational speaker, musician and actress Stephanie Harpe, and the exhibit The Wombs We Come From, curated by Lana Whiskeyjack.
SkirtsAfire Festival is also thrilled to present Maria Dunn, headlining the Women's Choir Festival at St. Faith's Church (1725 93 St.) on March 10, 2018. Maria and the choir will be joined by featured instrumentalists, Shannon Johnson and Jeremiah McDade.
A true preserver of the spirit of folk music, 2017 Juno nominee Maria Dunn is often compared to Woody Guthrie for her keen social awareness and unvarnished songs about ordinary people. Her sixth album Gathering (2016) celebrates love – love of family, community, humanity that fires our actions to make the world a better place.
In this special performance, Maria, Shannon and Jeremiah will be guest artists at the Women's Choir Festival beginning at 7 pm. The Maria Dunn Trio will then perform their own show, beginning at 8:30 pm, for an unforgettable evening of music. Entry to festival events is by donation. SkirtsAfire is pleased to once again feature a mainstage show, The Romeo Initiative, March 1 – 11.
Tickets for The Romeo Initiative prior to the official festival dates can be purchased at Tix On the Square. For more information and a full festival schedule, visit skirtsafire.com.