Review by Deborah Shatz
(ANNews) – Richard Van Camp is a quintessential storyteller and he shines in his latest offering Moccasin Square Gardens – a delightful collection of short stories recently published by Douglas & McIntyre.
Van Camp's stories transport the reader to an alternate world and an alternate plane of consciousness – at times to his hometown of Fort Smith and other times (for example) to a world of human devouring monsters. Either way, he takes his time to really introduce the characters and unfold the true nature of the story and the circumstance of the journey. The reader needs to take a breath, relax and be present in the story. It is always worth the time because there are Van Camp gems embedded in each story.
The Edmonton book launch of Moccasin Square Gardens was held at Audrey's Books on May 4 and in true May 4 style, Van Camp had an amazing give away of Stars Wars paraphernalia to share with his audience. The force was with him as he gleefully shared his gifts of action figures, books and bookmarks, welcoming each member of the audience and extolling their virtues. His generosity of spirit, kindness and humour was brimming over as he gave gifts to his audience. Of course, his greatest gift was sharing the wonderful stories, from his new book.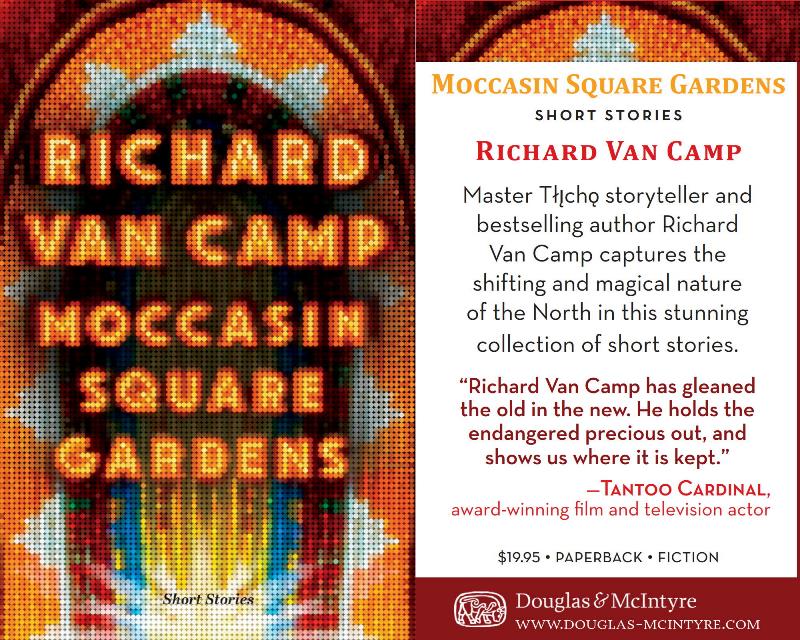 Van Camp's, Moccasin Square Gardens is a joyful celebration of Tłı̨chǫ Dene culture and small-town life. The characters inhabit Denendeh, the land of the people north of the sixtieth parallel and the stories are filled with a funny and loving look at in-laws, outlaws and common laws – regular people living their everyday lives. There are illegal wrestling moves, pinky promises, a doctored casino, extraterrestrials or "Sky People," love, lust and prayers for peace. There is mischief to make and lessons to learn in every story.
"Moccasin Square Gardens" is the nickname of a dance hall in the town of Fort Smith that serves as a meeting place for a small but diverse community. In the same way, this collection of stories functions as a meeting place for an assortment of characters, from shamans and time-travelling goddess warriors to pop-culture-obsessed pencil pushers, to con artists, archivists and men who just need to grow up, all seeking some form of connection.
Van Camp pokes fun at "leaders who use their careers to benefit themselves," rather than the people who elected them and he has some fun with "Aunties who gossip" and "Man babies who don't support their families." At the same time, he laments global warming, corporate greed, poverty and other pressing issues of our time.
In an interview, Van Camp explains that he "braids pop culture with Tlicho Dene culture with Fort Smith grace in this collection; it's funny, it's a little terrifying and with the help of Barbara Pulling, Cheryl Cohen and all the editors who published a few of the stories in various collections, we have earned every single word."
"I hope every story leaves the reader with a soul sigh," concludes Van Camp. "I put all I have into this collection. I have nothing left…It's so full of emotion and love and concern and hope. I gave all. I promise you Cousins. This is my Camel Clutch (wrestling move) for humanity: smarten up leaders and let's work together on taking care of what we have and each other for a brighter future for all."
Moccasin Square Gardens is a wonderful read, to be savoured like sharing a special moment with a good friend or a cup of tea with a favourite family member. It belongs in every bookshelf and every school library for readers aged middle school and up. And if you get an opportunity to hear Richard Van Camp read his stories in person, grab it. You'll be glad you did.
An internationally renowned storyteller and best-selling author, Richard Van Camp was born in Fort Smith, NT, and is a member of the Dogrib (Tlicho) Dene Nation. He acted as a cultural consultant for CBC Television's North of 60. A graduate of the En'owkin School of Writing in Penticton, he completed his Bachelor of Fine Arts in Writing at the University of Victoria and completed his Master's of Creative Writing at UBC. Richard was awarded Storyteller of the Year for both Canada and the US by the Wordcraft Circle of Native Writers and Storytellers. He is the author of 28 books including books for babies and also the award-winning novel The Lesser Blessed (Douglas & McIntyre, 1996).