by John Copley
(ANNews) – Art lovers in Edmonton are in for a real treat because the Art Gallery of Alberta (AGA) will be showcasing a new exhibition – Li Salay – that focuses on work created by Métis artists from across the country.
The exhibit opens with a fascinating symposium on May 25 and 26. There is no charge for the symposium but space is limited so tickets must be reserved through the website youraga.ca/lisalay.
The symposium begins on May 25 from 5 -7 p.m with a discussion about the depth and breadth of Métis art practices represented in the exhibit, followed by an opening reception on the ground floor of the AGA at 7:30 p.m. The symposium continues the next day from 11:30 a.m. until 1:30 p.m. Moderator Dr. Erin Sutherland and guest panelists Cathy Mattes, MJ Belcourt Moses, Dr. Sherry Farrell Racette and Marilyn Dumont will speak about Métis artists and their contributions to the Canadian art community. Discussion among the panelists will focus on the representation and lack of representation of Métis art and they will present critical dialogues that will continue beyond the context of Li Salay.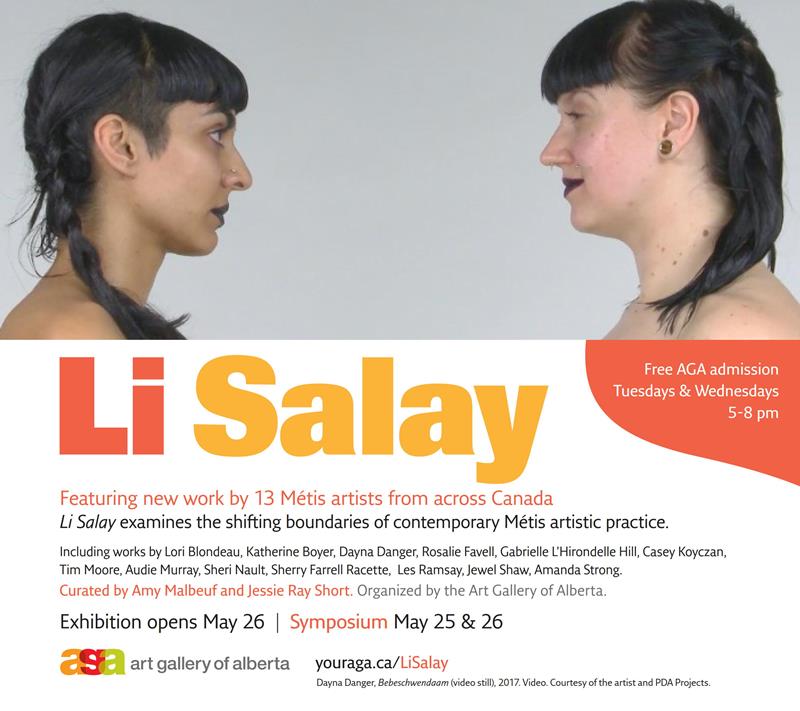 The Sun exhibition, or as it is known in the Michif language Li Salay, was inspired by an extensive and intensive cross-country research expedition carried out in 2016 and 2017 by co-curators, Amy Malbeuf and Jessie Ray Short. During their two-year mission the two met with more than 40 Métis artists. Their research revealed the emergence of common and often intersecting themes in the artists' work, including kinship, labour, the body and land.
In a summary, they noted: "An eclipse or a cloudy day may present an incomplete or partial vision of the sun. Similarly, Métis people are largely partially visible and partially understood within the cultural fabric of Canada. Li Salay acknowledges Métis people as always present and always whole, although they are often perceived as being partial. Métis art is often invisible due to being subsumed under broader notions of Indigenous art, leaving no space to be defined within its own context. Li Salay will examine the shifting boundaries of contemporary Métis artistic practice in an exhibition curated by and comprised of Métis artists."
"The Li Salay exhibition, which opens with a special two-day Symposium," explained AGA Marketing Coordinator, Lexi Pendzich, "will feature new work by 13 Métis Canadian artists. The exhibition will include art by Lori Blondeau, Katherine Boyer, Dayna Danger, Rosalie Favell, Gabrielle L'Hirondelle Hill, Casey Koyczan, Tim Moore, Audie Murray, Sheri Nault, Sherry Farrell Racette (see photo above – 'Our Lady of Laughter'), Les Ramsay, Jewel Shaw and Amanda Strong."
Li Salay is described by the AGA as "the first survey exhibition of Métis art presented at a large public art museum, and a 2-day Symposium that explores the importance of making space for dialogues exploring Métis art."
If you are interested in art and Métis culture you'll want to participate on May 25-26 by joining the Métis artists, curators, writers and academics who are participating in critical conversations on the current state of Métis art, understandings around material culture and themes surrounding their individual practices in a context of Métis art as well as their motivations and inspirations in participating in this unique exhibition of work. In conjunction with the symposium, an unprecedented exhibition of Métis art presented at a major institution, invites Métis artists to contextualize their work.
Both of the women curating his unique exhibition are experienced and educated professionals who bring a great deal of knowledge to every artistic venue they participate in.
Amy Malbeuf is a Métis visual artist from Rich Lake, Alberta. Through utilizing mediums such as caribou hair tufting, beadwork, installation, performance, and video, Malbeuf explores notions of identity, place, language, and ecology. She has exhibited her work nationally and internationally in over forty shows at such venues as Art Mûr, Montréal, Winnipeg Art Gallery; Museum of Contemporary Native Arts, Santa Fe; and Pataka Art & Museum, Porirua, New Zealand. Malbeuf has participated in many international artist residencies including at the Royal Melbourne Institute of Technology, (AUS); The Banff Centre; and Santa Fe Art Institute (US). She holds a MFA in Visual Art from the University of British Columbia Okanagan.
Malbeuf has been the recipient of such honours as the 2016 Lieutenant Governor of Alberta Emerging Artist Award, the 2016 William and Meredith Saunderson Prize for Emerging Artists in Canada from the Hnatyshyn Foundation, a 2017 REVEAL award from the Hnatyshyn Foundation, and was long listed for the 2017 Sobey Art Award.
Jessie Ray Short is an artist, filmmaker and independent curator whose cross disciplinary practice involves memory, visual culture and Métis history. In the past 10 years she has exhibited work nationally and internationally at venues including The Banff Centre for the Arts, M:ST Performative Arts Festival, Calgary AB, and at the Wairoa Māori Film Festival in Wairoa, Aotearoa (NZ).
Jessie Ray has been the recipient of several grants from the Canada Council for the Arts, Ontario Arts Council and the Alberta Foundation for the Arts. As a curator she has had the opportunity to work on various projects most notably Jade Carpenter: Mourn at City of Calgary Open Spaces Gallery and Mixed Berries: Amanda Strong and Bracken Hanuse Corlett at Gallery 2, Grand Forks, BC. She has worked for the Ociciwan Contemporary Art Collective, based in Edmonton, AB, and currently works as a program coordinator for TRUCK Contemporary Art in Calgary, AB. Jessie Ray holds an MA degree from Brock University with a focus on contemporary Métis visual culture.
The Art Gallery of Alberta, located at 2 Winston Churchill Square in downtown Edmonton, is a centre of excellence for the visual arts in Western Canada, connecting people, art and ideas.
Li Salay is on exhibit at the AGA from May 26 to September 9, 2018. For more information visit youraga.ca/lisalay or call 780-425-5379.