(ANNews) – K-Days – Edmonton's biggest summer festival of the year – will be held from July 20-29 for 10 days of thrilling rides, rockin' music, deep fried deliciousness, rodeo action, frenzied shopping, live entertainment and tons of fun! One of the highlights of K-Days is the third annual Pow Wow and cultural celebration.
"It is important to Northlands that we share the story of Indigenous people and celebrate being situated on the traditional territory of Treaty Six lands," remarked Northlands representative Mackenzie Parish. "We are pleased to be co-hosting a competition Pow Wow, in partnership with Alexis Nakota Sioux Nation, where we will celebrate members from Indigenous Communities within Treaty Six territory, as well as across Canada. The traditional dances and talented drum groups of this competition Pow Wow will leave you in awe!"
The Pow Wow will be held at Northlands Park in Edmonton (7515 118 Avenue) at Expo Centre in Hall C, July 24-26 from 12 noon to 10 pm.
"We want to welcome everyone to the Powwow," stated Chief Tony Alexis. "It is going to be an opportunity to see the rich culture and traditions of this region. There are many Nations here, in and around Edmonton. You'll see beautiful dancing and hear many songs and we invite everyone to come to the K-Days Pow Wow and witness that, first hand here in Edmonton."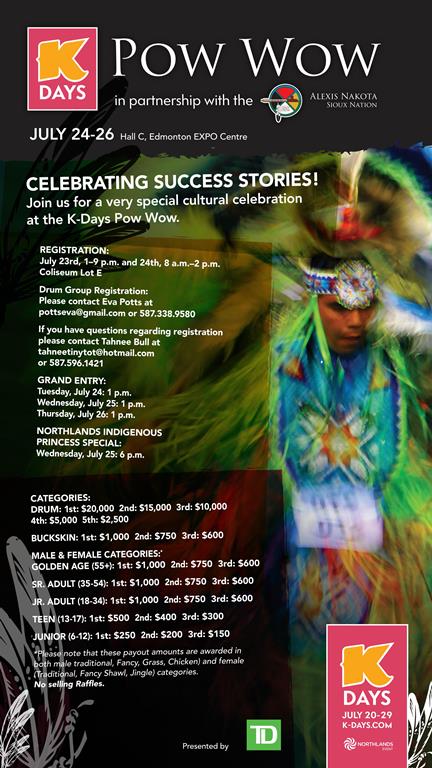 For Pow Wow competitors, registration at the Coliseum Lot E will be held on July 23 from 1 – 9 pm and July 24 from 8 am to 2 pm. Registration payment (includes competition registration and K-Days Admission): 1-day pass for $25 or 3-day pass for $40. Drum Group registration fee: $100 (includes gate admission and competition fee)
A grand entry will be held on July 24, 25 and 26 – each day at 1 pm.
For more information about participating, Chiefs, Dignitaries, Royalty, Dancers and Drummers should contact Eva Potts at [email protected] or 587-338-9580.
The Host Drum for the Pow Wow will be the acclaimed Blacklodge Singers from the Blackfeet Nation. Masters of Ceremonies will be Eugene Alexis and Glen Waskewitch. The Arena Directors are Dale Alexis Sr. and Allan Susan. The Drum Judge is Erwin "Bear" Scabbyrobe. The Head Dance Judges are Waniya Cardinal (for female categories) and Marcus Pahtayken (for male categories.
The Competition Powwow includes cash payouts in Drum and Buckskin Categories with payouts in the Drum category ranging from $20,000 for first place to $2500 for fifth place and in Bucksin, the payout ranges from $1000 for first place to $600 for third place.
There are also payouts for first, second and third male dance categories for Traditional, Fancy, Grass and Chicken and for female Traditional, Fancy Shawl and Jingle. The age groups for both male and female categories of competition are Golden Age (55+), Sr. Adult (35-64), Jr. Adult (18-34), Teen (13-17) and Junior (6-12).
If you have any questions about registering contact Tahnee Bull at [email protected] or 587-596-1421.
The annual K-Days parade will set the 10-day event in motion on Friday, July 20 at 10 a.m. The parade route starts on 108 St. & Jasper Ave., heading east on Jasper Ave., and north on 101 St., ending at 101 St. & 103 Ave. Get there early to grab a good spot. Immediately following the parade, at noon, the gates to K-Days open to the public as Edmonton's largest annual summer event begins.
In addition to the Pow Wow, K-Days visitors will experience the excitement as professional athletes ride, rope and bronc their way to victory in the world's largest one-header rodeo. Whether you are a seasoned veteran attending rodeos or this is your first time – you don't want to miss it! This year's rodeo will be hosting the 2018 Top 10 in the world and the Top 10 in Canada with the top five in the current season standings. Each night you will be able to watch Bareback, Steer Wrestling, Saddle Bronc, Team Roping, Tie-Down Roping, Ladies Barrel Racing & Bull Riding!
A dynamic range of performers has also been put together for the K-Days South Stage. This year's lineup will be: Billy Talent – Friday, July 20, Marianas Trench – Saturday, July 21, The Beach Boys – Sunday, July 22, Ice Cube – Monday, July 23, Walk off the Earth – Tuesday, July 24, Cheap Trick – Wednesday, July 25, Village People – Thursday, July 26, The Rural Alberta Advantage – Friday, July 27, Lil Jon – Saturday, July 28 and Kongos with special guests Elijah Woods x Jamie Fine – Sunday, July 29.
Enjoyed by hundreds of thousands of people, K-Days is 10 days of fun. During the heart of summer, the grounds at Northlands are transformed into an arena of endless games, rides, entertainment, concerts, shopping, food and family activities. Thrill seekers spin-out on the crazy rides and midway games; families get up and on their feet with daily children's performances and the playful activities of Family Fun Town and Fun Town Farm. There's tons of shopping, food and entertainment in the Edmonton EXPO Centre and as the sun goes down over the midway, the night ignites with the TELUS Stage concert series and closing fireworks display. Plan to attend summer's biggest all-you-can-eat-scream-and-play buffet: K-Days.
For more information visit K-Days.com.