(ANNews) – Every summer, Alberta comes alive with a wonderful selection of music festivals that delight residents and visitors alike and make our summers spectacular. This year, legendary performer Buffy Sainte-Marie will be headlining the Edmonton Folk Music Festival and the highly acclaimed A Tribe Called Red will be on the mainstage at both Edmonton's Interstellar Rodeo and the Calgary Folk Music Festival.
A Tribe Called Red, named Group of the Year at the 2018 JUNO Awards, produces an incredibly unique sound, mixing traditional powwow vocals and drumming with cutting-edge electronic music to celebrate their Indigenous culture in an open, wild party. Enjoy their high energy performance in Edmonton on July 20 and in Calgary on July 27 and 28.
Buffy Sainte-Marie is an iconic Cree singer-songwriter; she has been a trailblazer and a tireless advocate, an innovative artist, and a disruptor of the status quo for over five decades. Buffy has spent her whole life creating, and her artistry, humanitarian efforts, and Indigenous leadership have made her a unique force in the music industry. Watch her perform in Edmonton on August 9 and 10.
This is going to be an amazing summer for music!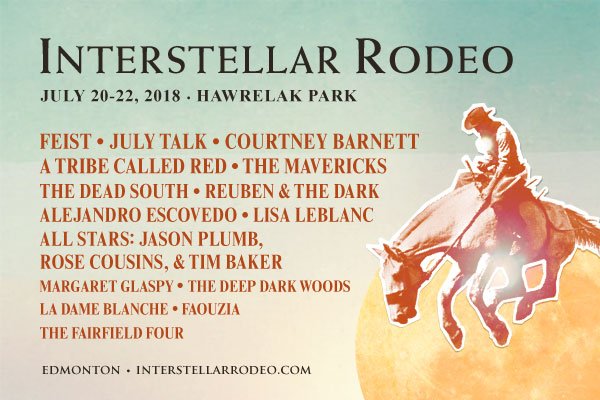 Always a highlight of Alberta summer festivals, Edmonton's Interstellar Rodeo takes place in the beautiful Amphitheatre at Hawrelak Park from July 20–22. This year the lineup really showcases Indigenous artists, who make up one-third of Interstellar Rodeo's total lineup, and represent a broad range of genres including roots, folk, electronic, pop and blues. Friday night headliners include the wonderfully powerful and energetic Tribe Called Red followed by Feist, with soulful Metis singer songwriter Celeigh Cardinal as an interlude performer.
Saturday night headliners are Margaret Glaspy and Juno Award Winning July Talk with Edmonton Music Awards Singer Songwriter of the Year Jay Gilday as the interlude performer. Sunday night headliners are renowned singer songwriter Alejandro Escovedo and Australian Indie Rock Star Courtney Barnett with acclaimed Inuk throat singer and musician Riit as the interlude performer.
Other Indigenous performers to watch for are Diga, frontman of award-winning band Digawolf from the Tlicho First Nation and Blues rocker Josh Q from Iqaluit who performs with the popular Jerry Cans and also the acclaimed Trade Offs.
Interstellar Rodeo is proud of their new initiatives that promote diversity and inclusivity on stage and on site. "Building community is at the heart of what we're about at Six Shooter. This extends to Interstellar Rodeo, where we aim to be as inclusive as possible of all the people in our community," says label/festival boss Shauna de Cartier. "Working towards cultural and gender parity is an important part of our values and informs how we program and operate the festival."
The Jerry Cans and Riit, recent additions to festival producer Six Shooter Records' artist management roster, have announced a very special pre-party in conjunction with Interstellar Rodeo. Northern Rodeo will take place July 19 at the Starlite Room. The Jerry Cans, recent two-time JUNO nominees, also celebrate the release of a new song called "Ilinnut" ("For You"), available worldwide on Friday, June 22. The song features guest vocals from Josh Q.
Interstellar Rodeo is also be featuring a special design collaboration with local artist Jason Carter, a member of the Little Red River Cree Nation. Carter, a celebrated sculptor, painter and illustrator whose work has been shown at the Royal Alberta Museum and the Art Gallery of Alberta, will be unveiling an exclusive limited edition Interstellar Rodeo t-shirt for 2018.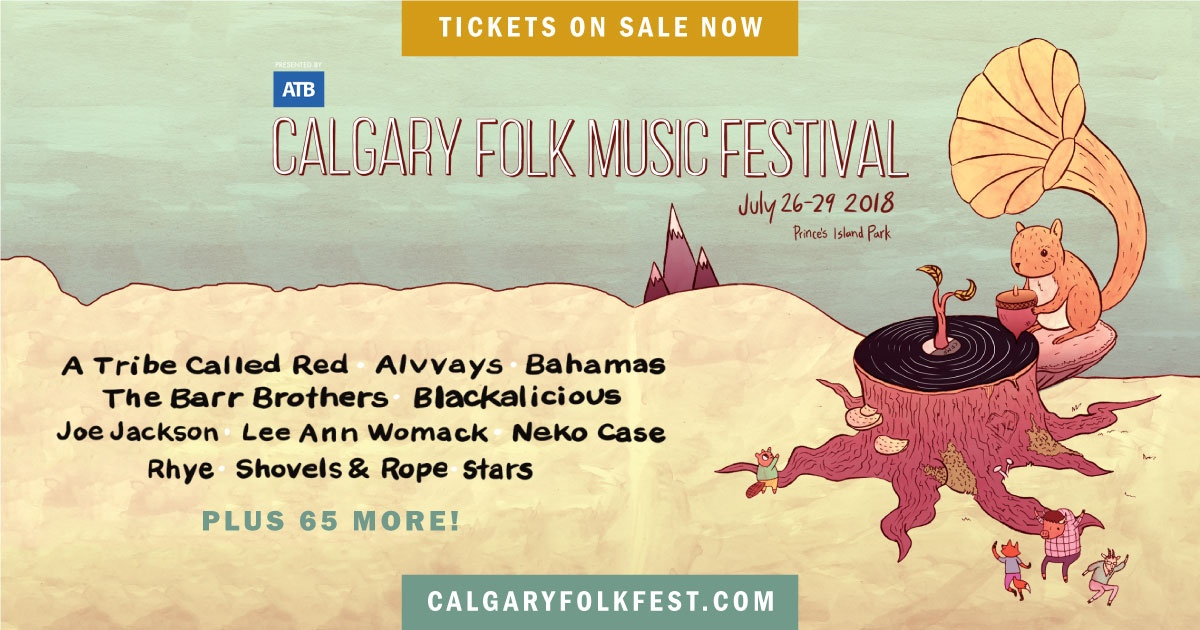 The Calgary Folk Music Festival will be held once again this year at the beautiful Prince's Island Park. From July 26 – 29, the park is transformed into an oasis of art, music and atmosphere. The fabulous mainstage lineup features Dr. Nativo, Land of Talk, The Milk Carton Kids, Passenger and The War & Treaty on Thursday, Saul Williams, Stars and Joe Jackson on Friday, Reuben and the Dark and A Tribe Called Red on Saturday and Shovels and Rope, Neko Case and Bahamas on Sunday.
There is also a great lineup of amazing artists that will be performing throughout the weekend including Mayan performer Doctor Nativo, Maliseet singer, composer and multi-instrumentalist Jeremy Dutcher, The Mission Songs Project and The Yellowknife duo Quantum Tangle.
Gemini Award winning actress Michelle Thrush will also be performing as Kookom Martha and also as Majica the Aboriginal Healing Clown in the Family Zone.
Every summer, the Edmonton Folk Music Festival brings a taste of paradise to the city with a unique combination of Gallagher Park ambiance, a wide variety of musical genres and a wonderful camaraderie that adds up to a total festival experience right in the heart of the city. This year's festival, August 9-12, will no doubt carry on with the exceptional tradition.
The mainstage lineup for the Edmonton Folk Festival is outstanding. August 9 features Buffy Sainte-Marie, followed by the Decemberists; August 10 features Neko Case, followed by Lord Huron. August 11 features Ry Cooder with the Hamilitones, followed by Michael Franti & Spearhead and August 12 features Nick Mulvey, followed by The Milk Carton Kids.
There will also be an amazing array of talented artists performing at the mainstage and small stages throughout the weekend.
Each year the music at Edmonton Folk Fest is great but it is the atmosphere that is truly unique. Gallagher Hill becomes a natural amphitheatre that has magical properties and the entire festival grounds become a village of peace and harmony.